Amnesty International attacks 'Big Four' accountancy firms for opposition to Hong Kong's pro-democracy movement
Cahal Milmo
Wednesday 02 July 2014 10:52 Comments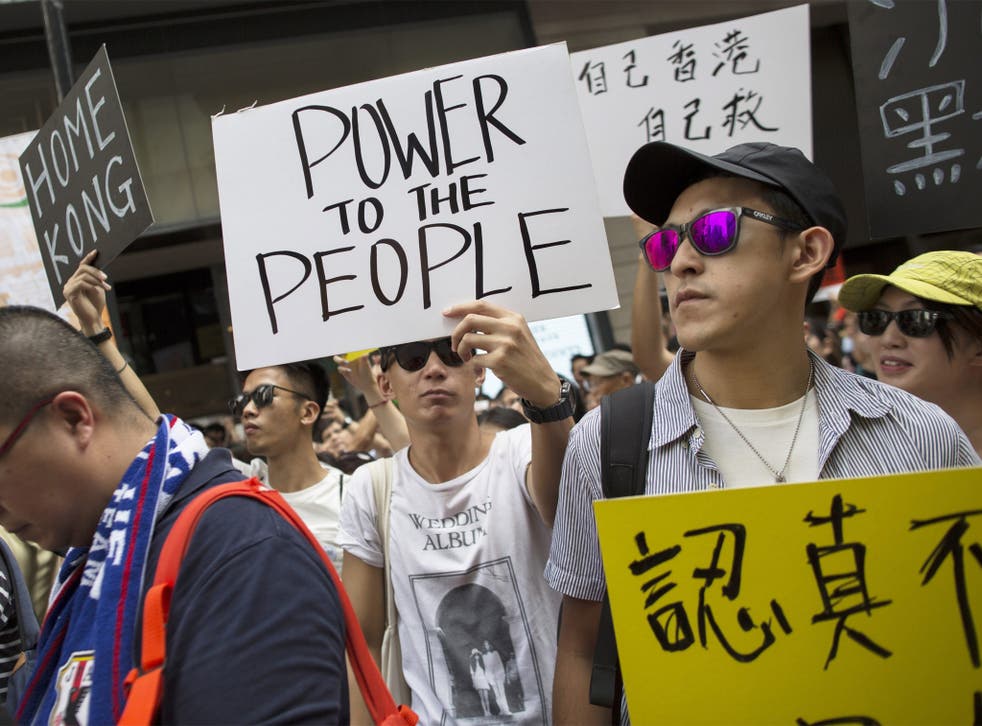 Amnesty International have accused the "Big Four" international accounting firms of acting in "bad faith" after they took out newspaper adverts in Hong Kong saying they were "opposed" to the former British colony's pro-democracy movement.
The human rights group joined sharp criticism of the extraordinary move by Ernst & Young, PwC, Deloitte and KPMG to publicly state their opposition to the Occupy Central movement calling for electoral reform in Hong Kong, which the corporations described as a threat to the rule of law.
Tens of thousands of Hong Kong residents took to the streets today for the annual 1 July demonstration to mark the surrender of the territory to Chinese control in 1997, in what organisers said they hoped would be the biggest challenge to Communist Party rule in a decade. As many as 500,000 demonstrators - some singing a Cantonese version of "Can you hear the people sing?" from the musical Les Misérables - were expected to take part days after nearly 800,000 people voted in an online "referendum" organised by Occupy Central calling for full democracy.
Protesters are incensed that a promise to introduce universal suffrage to Hong Kong by 2017, made by China as part of its agreement with Britain, is being tweaked in an attempt ensure that only candidates from a Beijing-approved list can stand for the post of the city's leader or chief executive. A policy document released by Beijing made it clear that Hong Kong only enjoyed autonomy at its behest and such freedoms were not enshrined.
The audit firms, who between them had global revenues last year of £66.3bn and employ more than 700,000 people worldwide, joined the fray by placing adverts in three Chinese-language newspapers criticising Occupy Central, which has suggested it will stage a sit-in to block traffic in Hong Kong's business district as part of its campaign.
The advert said: "We hereby announce that we are opposed to this movement, and are concerned that 'Occupy Central' would have negative and long-lasting impact on the rule of law, the society and the economy of Hong Kong. We hope that the disagreements could be resolved through negotiation and dialogue instead."
In pictures: Hong Kong's 1 July demonstration 2014

Show all 8
The statement, which suggested corporations might leave Hong Kong because of such a demonstration, has been condemned by campaigners and academics for opposing protest and appearing to side with Beijing's agenda for the semi-autonomous city of 7.2m inhabitants. PwC and Ernst & Young both have their global headquarters in Britain and between them the Big Four audit 99 per cent of the companies in the FTSE 100.
Mabel Au, director of Amnesty International Hong Kong, told The Independent: "Amnesty considers the advert an act done in bad faith and it's capable of contributing to violations of the human rights of those looking to exercise their rights to freedom of expression and peaceful assembly. Business considerations do not take precedence over human rights."
The accountancy firms have been heavily criticised in Britain for their role in helping corporate clients reduce their tax exposure using complex avoidance schemes.
The House of Commons public accounts committee last year said the companies were actively marketing schemes which they calculated stood only a 50 per cent chance of being deemed lawful if challenged in court. The firms rejected the criticisms saying they were legally obliged to ensure their clients' tax affairs were as efficient as possible.
Richard Murphy, founder of the Tax Justice Network, said: "These companies have shown by placing these adverts the world they live in: one in which protest is seen as a threat to business and therefore to be opposed. In the meantime, their work continues to reduce the tax income of democratically elected governments."
Concern about the adverts, which were reportedly placed without the knowledge of the Big Four's global headquarters, has even reached within the companies themselves.
Employees this week took out their own advert in an anti-Beijing paper saying the statement did not reflect their views. The advert in the Apple Daily read: "Boss, your statement does not represent our stance."
All four companies said they had nothing to add to their statement when contacted by The Independent.
Register for free to continue reading
Registration is a free and easy way to support our truly independent journalism
By registering, you will also enjoy limited access to Premium articles, exclusive newsletters, commenting, and virtual events with our leading journalists
Already have an account? sign in
Join our new commenting forum
Join thought-provoking conversations, follow other Independent readers and see their replies