Aung San Suu Kyi has abandoned us, say Burmese rebels being bombed into submission
Kachin troops tell Eric Randolph in Laiza of their forgotten plight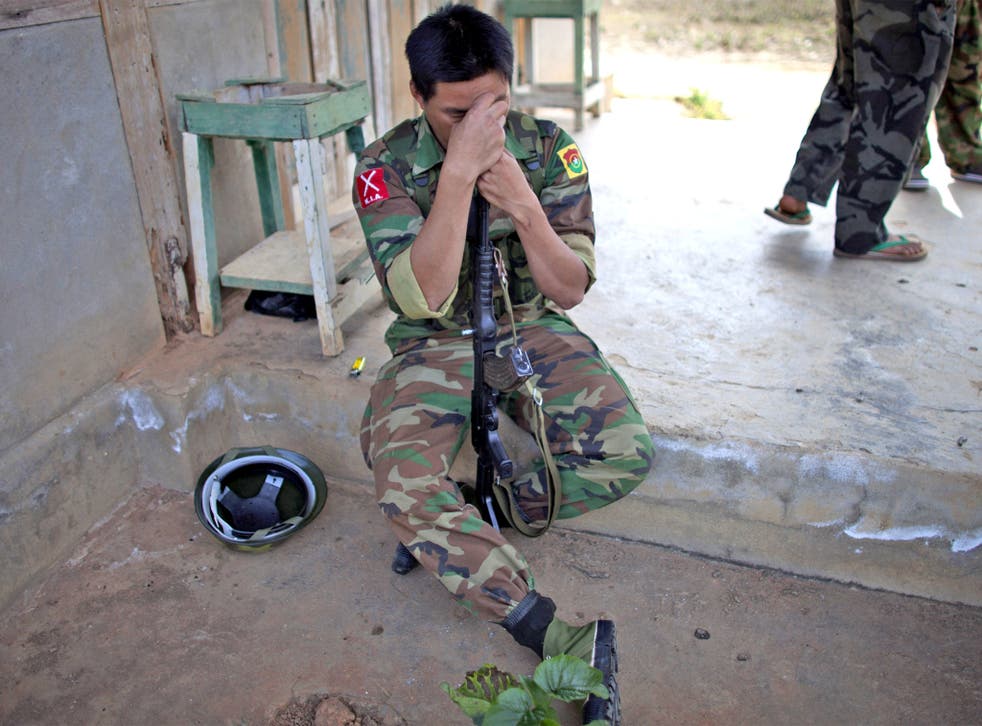 Ethnic Kachin rebels in north-eastern Burma are digging a new front line just three miles from their headquarters in Laiza, after losing a series of their strategic mountain outposts in battles with the Burmese army.
Kachin Independence Army (KIA) troops have only tattered sheets of tarpaulin to protect them against an aerial bombardment, which they expect any day from the Burmese battalion stationed less than a mile away on the adjacent slope, near the border with China.
"We are not afraid of their ground troops but they have so many powerful weapons," said Brang Bhawng, a 53-year-old sergeant with the KIA. "Sometimes they drop 100 or 200 mortars on us in an hour. You can't even open your eyes when that is happening."
The Kachin have spent half a century fighting for greater autonomy within Burma and an end to discrimination against their Christian community. In June 2011, a 17-year ceasefire broke down and up to 100,000 civilians have been displaced amid reports of human rights abuses by the Burmese military.
As government troops approach Laiza, the rebels feel increasingly abandoned by the country's icon of democracy, Aung San Suu Kyi. While the KIA was being bombed out of its mountain redoubt at Hka Ya on Saturday, Ms Suu Kyi was addressing a televised luncheon in Hawaii, at which she made no mention of the war raging in her country's second-largest state.
"Her focus is collecting awards and becoming President, rather than the suffering of our people" said Khon Ja, the founder of the Kachin Peace Network, which organises aid for the displaced. "Kachin community leaders have been asking to meet her for over a year, but she has continuously refused."
Ms Suu Kyi told The Irrawaddy newspaper earlier this month that she had limited powers to directly comment on the war. "We will only be able to avoid such conflicts if we begin to practice a culture of negotiation," she said.
Ms Suu Kyi's diplomatic language sits uncomfortably with reports from Human Rights Watch and other international organisations of extensive "sexual violence, forced labour, torture and summary executions" as the Burmese military has advanced through Kachin state.
In a camp for refugees on the edge of Laiza on Monday, one woman recounted the fate of her brother when he returned to look after his rice farm. "There had been no fighting for a few days, so he thought it was safe to return, but he was caught by the Burmese army," said La Sam Kho, 50, who now runs the women's association in the camp. "They cut off both his legs before they shot him".
The government of President Thein Sein, who has been lauded for his efforts to reform Burma's repressive military regime, says it is acting in "self-defence" against the KIA's "terrorist actions and atrocities".
But there has been international condemnation as the military has intensified its assault on Laiza in the past month, including the use of jet fighters against rebel positions, which the US government called an "extremely troubling" escalation.
Back at the front line, Lieutenant Sham Tu was defiant. "This is our last defence line so we will hold it," he said. "We are fighting against injustice, trying to protect our people and our identity. If I'm ordered to fight I will not retreat. I will keep fighting until I die."
Join our new commenting forum
Join thought-provoking conversations, follow other Independent readers and see their replies