Bangkok second bomb Sathorn pier: CCTV footage shows blast showering pedestrians in debris
A second bomb has detonated in the capital, with no reported injuries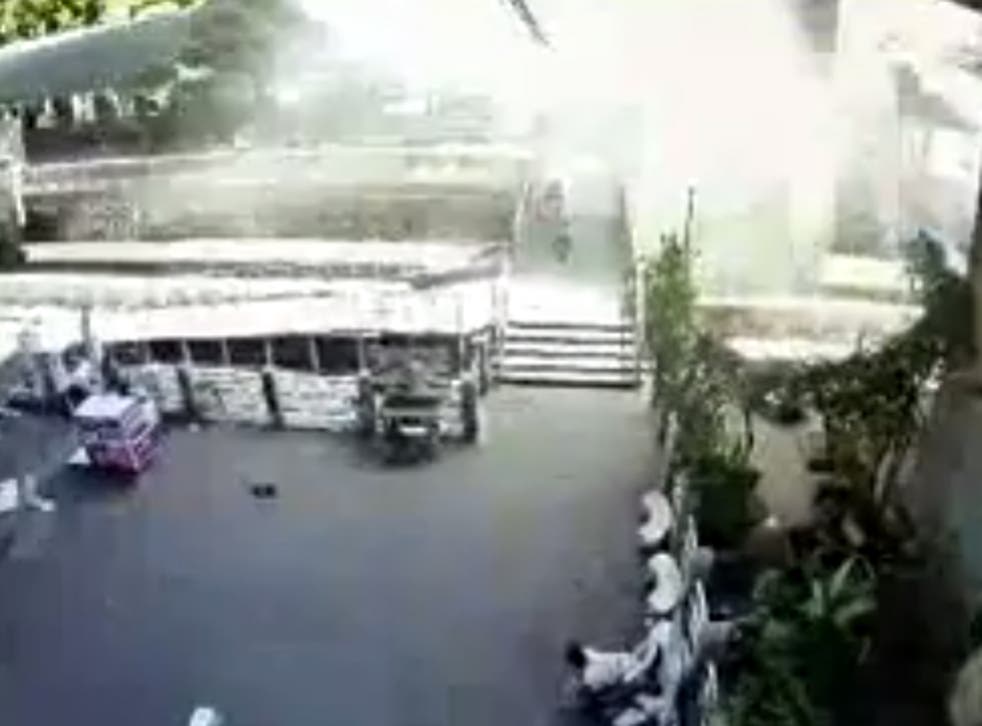 New CCTV footage from Thailand has emerged appearing to show the moment a second bomb exploded in Bangkok, a day after a large blast near the Erawan Hindu Shrine killed at least 20 people.
Thai police reported a second explosion in Bangkok, with no injuries, with reports suggesting witnesses saw an explosive device thrown from the Sathorn bridge, bouncing into the water and exploding.
The second bomb came a day after the initial deadly blast on Monday evening which injured over 140 people and was described as the country's worst attack in its history by the Thai Prime Minister.
Authorities have now released images, captured on CCTV near the Erawan Hindu Shrine shortly before the suspected pipe bomb detonated at around 7pm local time, appearing to show a young man dressed in a yellow T-shirt carrying a rucksack. He is sought after by police in relation to the Monday explosion.
No one has yet claimed responsibility for the attack, believed to have been aimed at Bangkok's tourist industry.
At a press conference, national police chief Somyot Pumpanmuang said the unidentified man could be a Thai national or foreigner.
"That man was carrying a backpack and walked past the scene at the time of the incident. But we need to look at the before and after CCTV footage to see if there is a link," Mr Somyot said.
The release of the images follows remarks by the defence minister Prawit Wonsuwan. Earlier, he told reporters that authorities had a "much clearer" idea of the identity of the attacks but stressed he was unable to reveal more details.
Bangkok Bombing

Show all 10
Authorities are remaining tight-lipped on the possible identities behind the attack. Police said on Monday they had not ruled out any group, including elements opposed to the military government who took power in a coup last year.
Additional reporting by the AP
Join our new commenting forum
Join thought-provoking conversations, follow other Independent readers and see their replies