Bangladeshis protest after blogger is hacked to death in the street
Islamist group says it killed Avijit Roy, a US citizen and outspoken secularist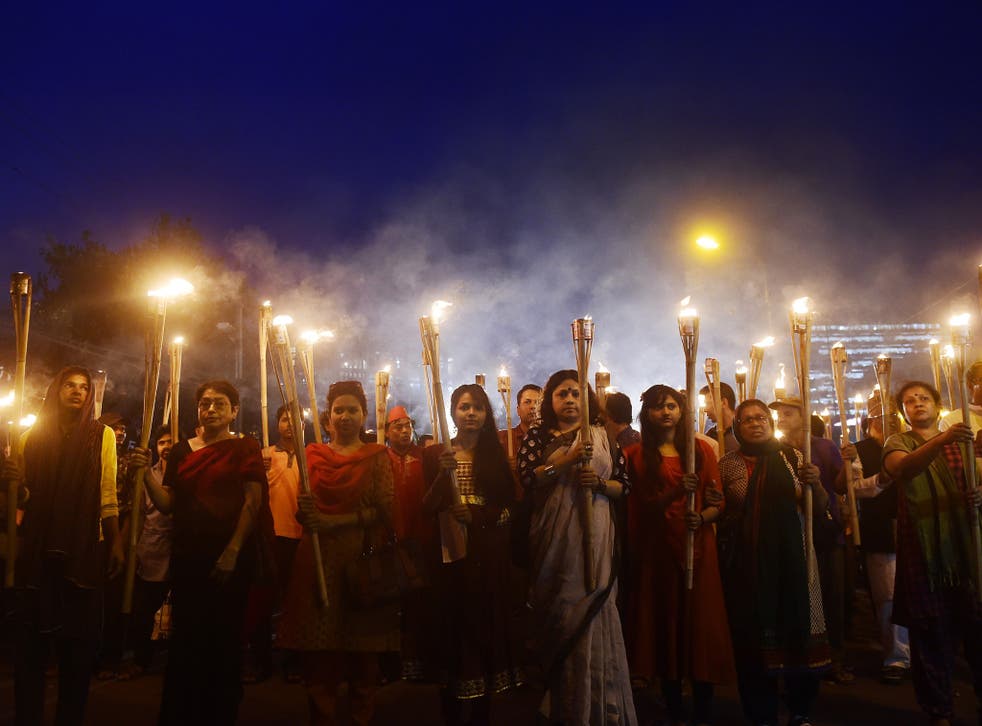 Students and teachers protested in central Dhaka yesterday, demanding swift action by police after the author and blogger Avijit Roy, an outspoken secularist who frequently criticised Islamist tendencies in his native land, was hacked to death on a city street.
Dr Roy, of Bangladeshi origin but a US citizen, and his wife, Rafida Ahmed Banna, were walking home from a book festival at 8.45pm on Thursday when a mob armed with machetes ambushed them. Photographs posted online showed three youths, who had made no attempt to disguise their appearance, attempting to hack Dr Roy's head from his body. Others showed him lying lifelessly, his face in a pool of blood, while his wife – her face and clothes streaked with blood – appealed for help. Bystanders stared impassively at the writer's body.
His wife, Rafida Bhanna, who suffered head injuries and reportedly lost a finger in the attack, remains in hospital in a serious condition.
Bangladeshi Islamists quickly tweeted their jubilation at the fate of a man who had defied their death threats for several years. "Target is Down," one wrote. Another tweeted: "Lol!! They have switched off the target's blogsite… No prob. Target is Down & wait for the next… InshaAllah."
According to The Daily Star, witnesses said there were police in the vicinity, but "no one came forward to resist or catch the attackers even as Banna screamed for help".
Dr Roy had returned to his native city a week ago to attend the literary festival and was due to go back to the US.
In December, Bangladeshi media reported that Farabi Shafiur Rahman, an outspoken Islamist, had written on Facebook: "Avijit Roy lives in America and so it is not possible to kill him right now. He will be murdered when he comes back." Subsequently Rahman and other Islamists who had made similar threats were arrested. It was not clear whether they were free at the time of Dr Roy's murder.
Krishna Pada Roy, the deputy commissioner of detectives with the Dhaka Metropolitan Police, said police were investigating several possible motives for the killing, including extremism. The climate of intolerance against secularists has worsened dramatically in recent years in Bangladesh, a nation that is more than 90 per cent Muslim but founded on the "Four Principles" of nationalism, democracy, secularism and socialism. Exactly two years ago a new group calling itself Ansar-al-Islam (Defenders of Islam) claimed responsibility for the fatal stabbing of a sociology professor, Shafiul Islam, who was one of three Bangladeshi bloggers killed within the space of a few weeks.
Dr Roy was the author of several books in the Bengali language, many of them dealing positively with subjects that are anathema to Islamic fundamentalists including atheism, the theory of evolution, scepticism and rationalism. His two most recent books were Obisshahser Dorhson ("The Philosophy of Disbelief") and Biswasher Virus ("The Virus of Faith").
Taslima Nasreen, a Bangladeshi poet and novelist who fled her homeland in the mid-1990s after threats to her life, tweeted from Delhi: "We're living in Dark Ages." On her website she wrote that Dr Roy "dedicated his life to enlightening people who live in the darkness of ignorance", adding: "Bangladesh has become a secret Isis land. Islamic terrorists can do whatever they like. They can kill people with no qualms whatsoever."
The killing occurred against a background of high political tensions in the country, with strikes and protests by the Bangladesh National Party and allies, including the fundamentalist Jamaat-e-Islami party, against the government of Sheikh Hasina.
Join our new commenting forum
Join thought-provoking conversations, follow other Independent readers and see their replies