Beijing warns US: 'We will fight back' as battle of words escalates over South China Sea
China reveals 'active defence' military strategy after US flies surveillance jet over disputed territory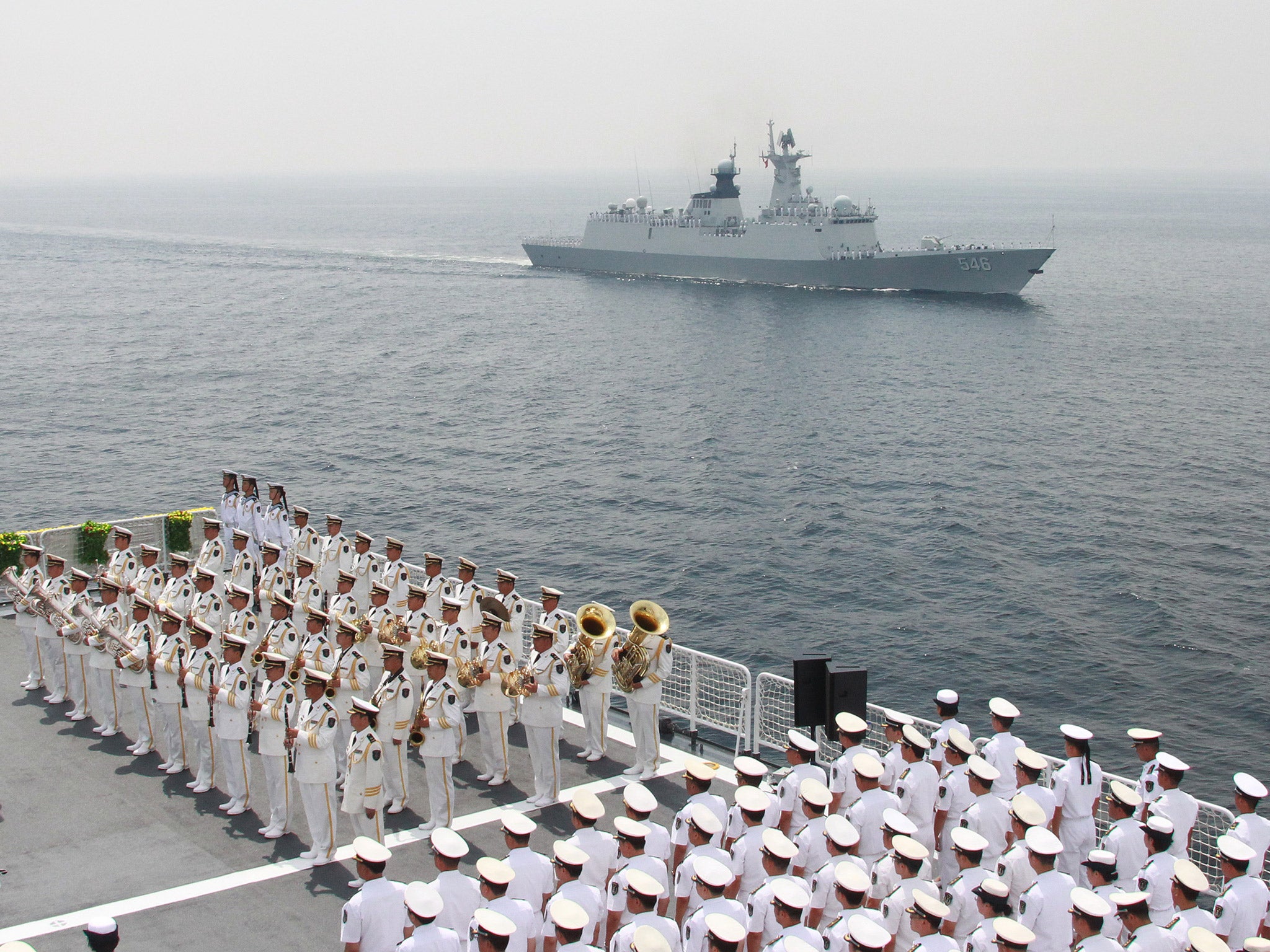 China has upped its military posturing, issuing a strategy paper saying Beijing would "surely counterattack if attacked" by an enemy amid concerns from the US and neighbouring countries over its developments in the South China Sea.
The release of the document came shortly after Beijing lodged a complaint against the US for flying a surveillance jet over disputed territory in the South China Sea, where China is building artificial islands.
Chinese state media reported that the white paper, issued by the state council, the country's cabinet, underscored that Beijing was committed to world peace and believed that a world war was unlikely. But it added that "small-scale wars, conflicts and crises are recurrent in some regions". The state-owned news agency Xinhua highlighted one particular phrase, which appeared in the "Strategic Guideline of Active Defence" section: "We will not attack unless attacked, but we will surely counterattack if attacked."
Much to the concern of its neighbours and the US, China, the dominant powerhouse in the region, has been building artificial islands and buildings in the disputed South China Sea, where the Philippines, Vietnam, Malaysia, Brunei and Taiwan all have overlapping claims.
In one area, the Spratly islands, the US says China has created 2,000 acres of land, with satellite images showing what appears to be an airstrip.
The paper said that China's armed forces would work to "resolutely safeguard China's sovereignty [and] security and development interests" and work towards "realising the Chinese dream of achieving the great rejuvenation of the Chinese nation".
Announcing its release, the People's Liberation Army spokesman Yang Yujun appeared to be referring to the US when he said that "outside powers" were attempting to "tarnish the Chinese military's reputation and create an atmosphere of exaggerated tension." He added: "We cannot eliminate the possibility that this is to create excuses for the actions that certain countries may be planning to take."
Although President Barack Obama recently said that China was acting like a "bully" towards its neighbours in the South China Sea, the US refrained from having a physical presence in the disputes until it flew a spy plane over the region. The move sparked a diplomatic row, and the Chinese foreign ministry spokeswoman Hua Chunying called the flyover "provocative behaviour".
China's rampant land reclamation efforts in the sea have alarmed its neighbours and the US over Beijing's potential military ambitions there. But despite satellite images showing runways and helipads, Beijing has never acknowledged that the building work is military in nature.
On Tuesday, it compared the building efforts to simple road construction.
"Every day all around China, there are all kinds of construction projects being started [such as] building homes, paving roads, building bridges, opening new farmland, etc," Mr Yang said. "Looking from the angle of sovereignty, China's development of construction on its islands is no different at all from all the other types of construction going on around the country."
Taiwan's President Ma Ying-jeou proposed a peace initiative yesterday for the South China Sea, asking claimants to cast aside disputes and concentrate on sharing resources instead. "We demand that freedom of navigation and overflight be respected in the South China Sea," he said, urging a resolution before "major conflict breaks out."
The statement was rebuffed by Ms Hua, who said in response: "We believe Chinese people on both sides of the Strait have a duty to jointly protect China's territorial sovereignty and maritime rights and interests and safeguard the stability of the South China Sea region."
Join our commenting forum
Join thought-provoking conversations, follow other Independent readers and see their replies