Black magic murder: Fury in India over killing of anti-superstition activist Narendra Dabholkar
Narendra Dabholkar received threats for his work against mysticism and spirituality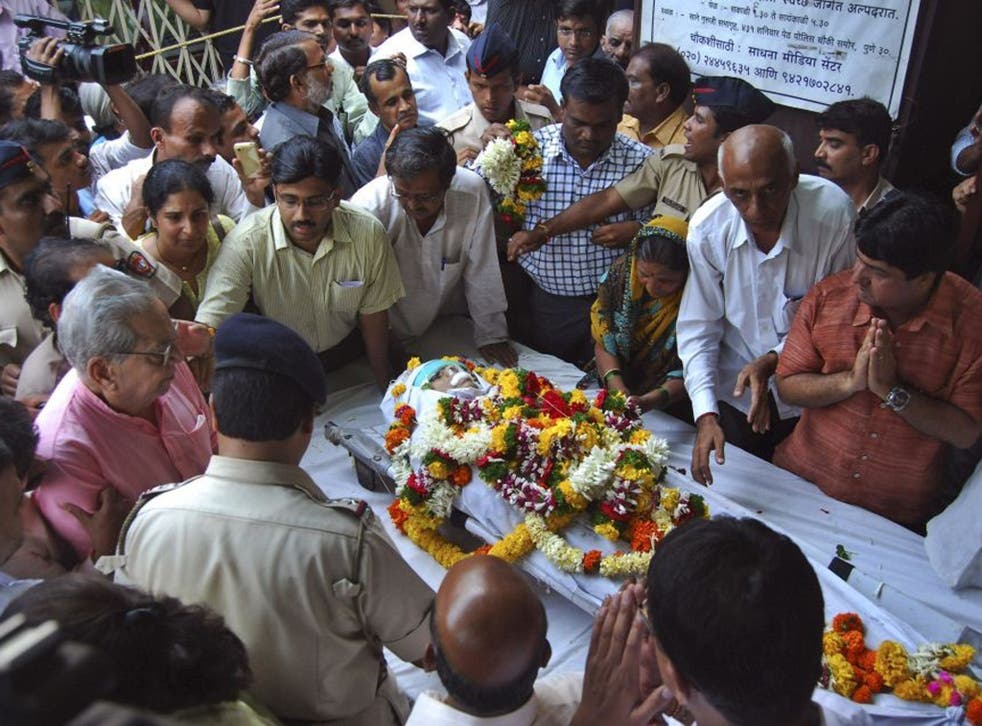 Students are marching through the streets in the Indian city of Pune to protest against the killing of an outspoken campaigner against religious superstition and black magic.
Narendra Dabholkar, 67, was gunned down in daylight while taking a morning walk on the Omkareshwar Temple bridge on Tuesday. Two attackers on a motorcycle fired four shots from close range, according to reports.

Hundreds of chanting students and activists are marching through the streets of Pune to protest the murder in Pune. Mr Dabholkar battled for decades against superstition and black magic.

Police have released a sketch of one suspect and are searching for two men on a motorcycle who are believed to have carried out the killing.
"We do not know who is involved in this and we are probing the case from all angles without ruling out any possibility," a police official told reporters.
Mr Dabholkar founded the Maharashtra Blind Faith Eradication Committee and had been been receiving death threats for his decades of work against mysticism and practices involving animal or, more rarely, human sacrifice.
His friend and fellow activist, Deepak Girme, said Mr Dabholkar had been receiving the threats since he began travelling by public buses to hundreds of villages around Maharashtra state to lecture against superstitions, religious extremism.
"He would say he was a medical doctor but that superstition was a bigger disease causing a lot of harm, especially to the poor and the gullible," Mr Girme said. "He wanted to expose the people who cheat the poor in the name of gods, who promise false cures for cancer or do black magic to perform so-called miracles."
"Half of India is hungry, half is uneducated. These babas and gurus who preach all this humbug, it doesn't translate into betterment of society. It's like the Dark Ages in Europe."
The organisation urged the Maharashtra state government to pass long-stalled legislation to ban such practices.
On Tuesday the chief minister of the state expressed his grief at the murder and announced a reward for any information. The killing comes days after the state government said it would introduce a controversial anti-superstition bill, according to media reports.
Join our new commenting forum
Join thought-provoking conversations, follow other Independent readers and see their replies