A-bomb anniversary: Nagasaki mayor criticises Japan PM for 'betrayal' over refusal to sign weapons pledge
Discord rises 68 years after 70,000 were killed by US plutonium bomb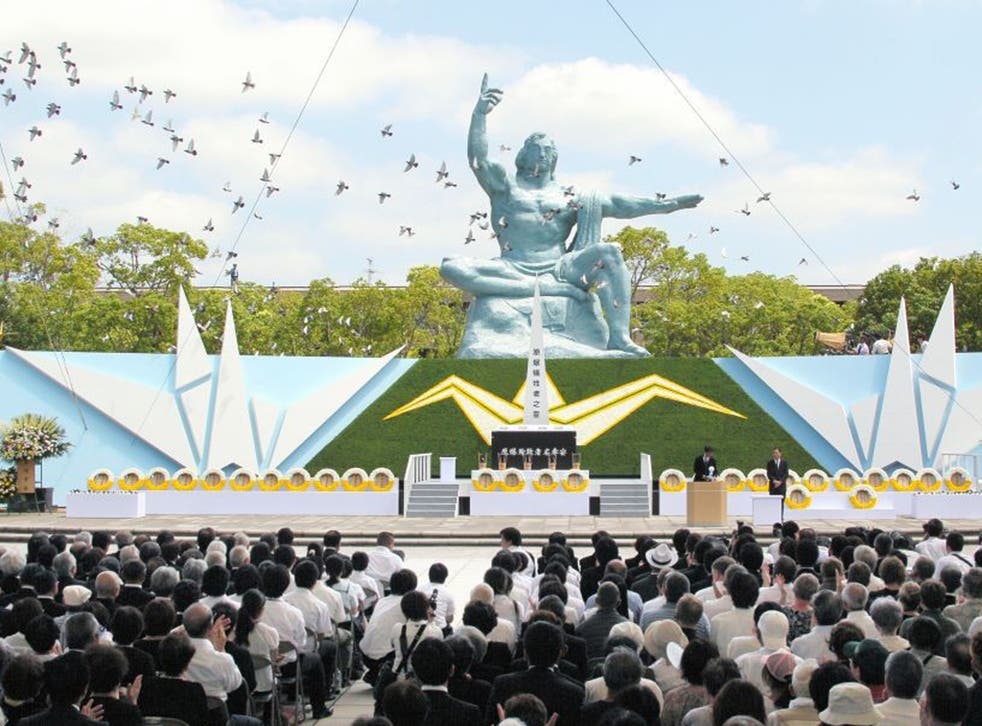 The mayor of Nagasaki has launched a strongly worded attack on Japanese Prime Minister Shinzo Abe, accusing him of not doing enough to abolish nuclear weapons as the country marked the 68th anniversary of the atomic bombing of his city.
Tomihisa Taue told an audience at the city's Peace Park yesterday that Japan's failure to sign an international accord rejecting the use of nuclear weapons under any circumstances "betrayed the expectations of global society."
Mr Abe said this week Japan had a "responsibility to realise" a nuclear free world but then surprised reporters by defending Tokyo's refusal in April to sign a UN pledge to never use the A-bomb.
He justified the apparent contradiction by saying Japan faced a "severe security environment" living so close to North Korea, which this year carried out its third nuclear test.
The pledge was also snubbed by Russia, India, Pakistan and the United States - all nuclear powers. It is considered largely symbolic, but as the world's only A-bomb victim, Japan was expected to sign.
Mayor Taue said Mr Abe's comment "implies that the government would approve of their use under some circumstances." Japan does not have nuclear weapons but shelters under the US nuclear umbrella.
About 6,000 people, including US Ambassador to Japan John Roos, gathered to hear Mr Taue's speech, commemorating the destruction of Nagasaki by a US plutonium bomb on August 9, 1945. About 70,000 people were instantly killed in the blast. Thousands more subsequently died from radiation.
During a ceremony three days earlier to mark the A-bombing of Hiroshima on August 6, 1945, Mr Abe said Japan had a responsibility to "pass on to the next generation…the inhumane nature" of atomic weapons. Around 140,000 people died in the Hiroshima explosion.
Mr Abe has triggered controversy in Japan by pushing to export Japan's nuclear reactors and technology to developing countries, just over two years after the Fukushima disaster.
Mr Taue also criticised the prime minister's decision to sign a nuclear cooperation deal with India, saying it made the Treaty on the Non-Proliferation of Nuclear Weapons (NPT) "meaningless."
"Japan's cooperation with India would also provide North Korea, which withdrew from the NPT and is committed to nuclear development, with an excuse to justify its actions," he said.
The mayor urged Mr Abe to again take the leadership of the global anti-nuclear movement. "I call on the government of Japan to return to the origin of our pledge as an atomic-bombed country," he added.
Film director Oliver Stone yesterday condemned the bombing of Hiroshima and Nagasaki, calling the US claim that they ended World War II a "tremendous lie."
Mr Stone, who is in Japan to promote a history documentary, said the Soviet Union's declaration of war on Japan in August 1945 was a "strong factor" behind the decision to incinerate the two cities. "The United States was able to get away with it because we were the winners," he told Japan's Kyodo News. "But as a result we lost our moral compass."
Join our new commenting forum
Join thought-provoking conversations, follow other Independent readers and see their replies