Boy, 13, filmed being beaten to death in Bangladesh by laughing attackers
The gang accused Samiul Alam Rajan of stealing a rickshaw before murdering him at a bus station in Sylhet and putting the footage on Facebook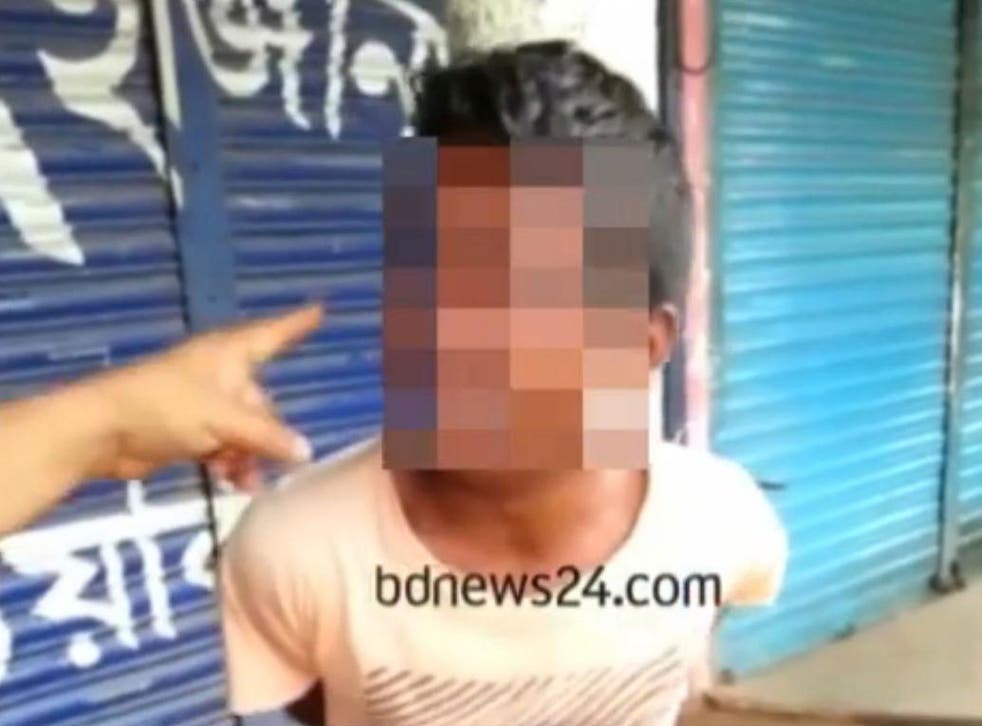 Police are hunting for a group of men in Bangladesh who beat a 13-year-old boy to death and put a video of the torture online.
One man has already been arrested on suspicion of murdering Samiul Alam Rajan in Sylhet on Wednesday and another has been detained, the Dhaka Tribune reported.
Footage of the child's death, which has gone viral in Bangladesh, shows him being beaten by a group of men for almost half an hour at the deserted Kumargaon Bus Station on the outskirts of the city.
Warning: The Independent is not showing the full video, but some people may still find the footage distressing.
The boy is seen being tied to a post with his hands bound behind him as he is beaten with a metal bar, with one attacker dragging him up by the hair when he falls down in pain.
One of his tormentors, who accused him of stealing a rickshaw, can be heard laughing as he cries and begs for mercy.
An attacker seen beating Rajan asks him to tell them his name, admit that he stole the van and own up to who else was involved, bdnews24 reported. The group later discuss putting the video on Facebook so the "whole world can see it".
When Rajan asks for water after being beaten continuously for 16 minutes, the men tell him to drink his own sweat, and after they untie him and force him to walk, one of the gang can be heard saying: "His bones are apparently intact, beat him more."
A post-mortem concluded that the cause of the child's death was a brain haemorrhage and found more than 60 wounds on his body, officials told bdnews24.
One suspect, 22-year-old Muhit Alam, was arrested by local residents after reportedly being found trying to dump Rajan's body on the day of the murder.
The boy's parents learnt of his death after going to police to report him missing and have insisted he was not a thief.
Rajan's father, Sheikh Azizur Rahman, told the Dhaka Tribune that his son dropped out of school to support the family by selling vegetables from a rickshaw.
The newspaper reported that Muhit, his brother Kamrul Islam, 24, Ali Haider, 34, and Moyna Miah, 45, have been charged with murder.
Three of the men are believed to be on the run, while a fifth man, Ismail Hossain Ablus, 32, has been detained for questioning over suspected involvement.
Join our new commenting forum
Join thought-provoking conversations, follow other Independent readers and see their replies