Burma elections: Aung San Suu Kyi confident of landslide victory after millions flock to vote
In Rangoon, thousands flocked to polling stations before dawn, waiting up to two hours for them to open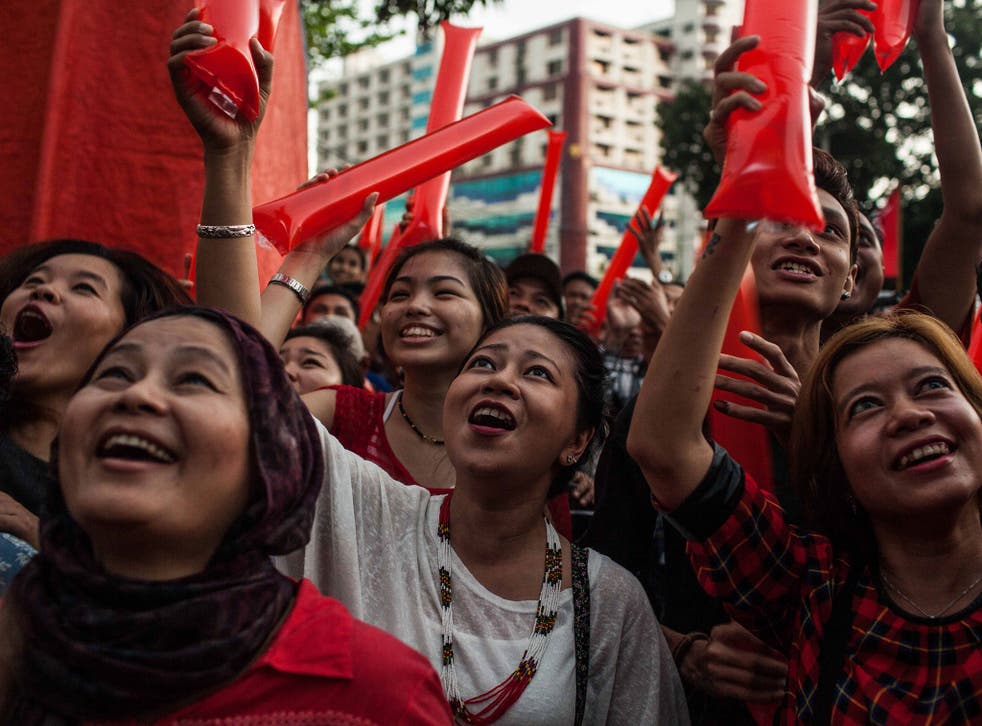 Millions of Burmese supporters of Aung San Suu Kyi were told to expect a good result after they flocked to vote, some for the first time in their lives, in a landmark national election.
Although the official result has not been announced, the popular conviction that Ms Suu Kyi's National League for Democracy (NLD) would win by a landslide remained intact.
The party's co-founder, U Tin Oo, told thousands of supporters gathered outside the party headquarters: "We won't be able to announce the results yet. All I can say is that the NLD is in a very good position." Ms Suu Kyi was said to be too exhausted to address the crowds, who had gathered hoping for news of a quick victory and were urged to return for the results on Monday.
After 25 years, one more night might not seem long to wait. But there is a hunger about the popular response to this election, a yearning for the vindication of triumph at the fourth attempt.
In 1990 the NLD won by an overwhelming margin: the junta responded by throwing the MPs-elect into jail. In 2010 the NLD did not participate because Ms Suu Kyi was still in detention and many other senior figures still in jail. In 2012 it crushed the ruling Union Solidarity and Development Party (USDP) in by-elections, winning 43 out of 44 seats – but as a small opposition force in parliament it remained far from power. Now that prize is within its grasp, and its supporters can't wait.
In Rangoon, thousands flocked to polling stations before dawn, waiting up to two hours for them to open, as if afraid that they would otherwise lose the opportunity. Voting was heavy throughout the day. In an electorate of 30 million, more than 70 per cent were said to have voted in some constituencies; some estimates put it even higher.
Ms Suu Kyi voted in the wealthy Bahan quarter of Rangoon, squeezing stony-faced through a scrum of photographers and cameramen and making no comment.
A mile away in the poor section of Yankin, the primitive local primary school was packed, with waits of up to two hours. "I came here to vote for my country," said Daw San Te, 65, a vegetable seller. "No, I'm not worried about the army trying to rig the results. Buddha would not allow the truth to be ignored."
Naing Naing Yee, 55, a volunteer monitor, said: "I was really surprised by the numbers waiting to vote. I volunteered during 2010, too, but that was a silent election: people knew the system would not change whether they voted or not. Today they know things will change."
Voting around the country passed off peacefully, according to U Nyan Win, the NLD's spokesman. "We haven't heard about any violence," he said. "Only disputes over voter lists and complaints over people losing the right to cast votes."
But several claims of attempted corruption were reported. In one town voters were said to have been offered loans of 100,000 kyats (£50) which they need not repay if the USDP won. Advance voting, one of the main devices used to rig the election of 2010, produced anomalies this time, too.
But 10,500 local and international observers seem to have kept the election on track, and the USDP's ex-military politicians are beginning to grasp how deeply unpopular they are.
Join our new commenting forum
Join thought-provoking conversations, follow other Independent readers and see their replies