Burma elections: Aung San Suu Kyi woos the Muslim vote with call for unity in Rakhine
Ms Suu Kyi and her National League for Democracy party are expected to do well in the polls
Timothy McLaughlin
Thandwe
Saturday 17 October 2015 23:56 Comments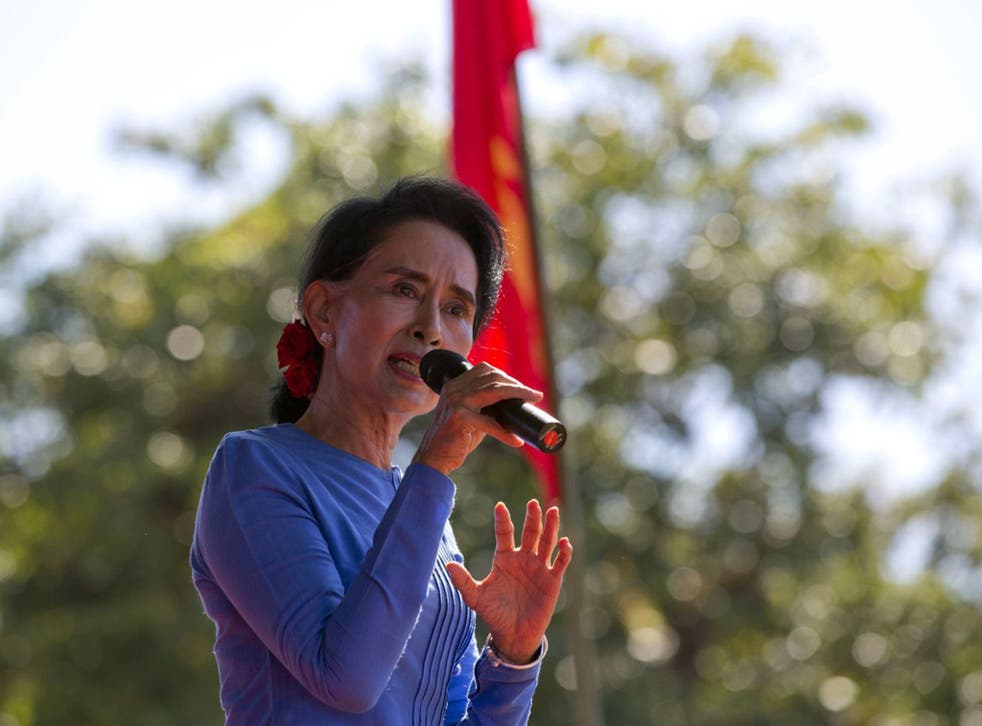 Burma's opposition leader, Aung San Suu Kyi, has called for unity in the state of Rakhine – a region that has seen a number of outbreaks of violence in recent years – as she continues her push for victory in landmark election next month.
Ms Suu Kyi, and her National League for Democracy (NLD) party, are expected to do well in the polls and could push out the army-backed ruling Union Solidarity and Development Party in what are seen as the first free and fair elections in the country in decades.
Burma faced isolation and poverty over its half-century of military rule, before a nominally civilian government was introduced in 2011. But divisions between Buddhists and the minority Muslim population have shaken the country since.
"It is very important that all people, regardless of race and religion, living [here] must be safe," Ms Suu Kyi said during a rally today. "We can have peace in our country only if the people feel safe both mentally and physically," she added.
The Nobel Peace laureate has faced criticism from some in the international community at her silence over the treatment of Muslims in Rakhine, particularly the Rohingya Muslim group, with 140,000 displaced by violence in 2012.
Ms Suu Kyi's remarks were carefully worded, given a spike in tensions during the election campaign stoked by the anti-Muslim hardline Buddhist group Ma Ba Tha. The group has sharply criticised the NLD for what the group sees as its support for Muslims.
However, those who attended the rally said they hoped a lead by the NLD would improve their lives in Rakhine State. The Muslims have put their hopes in the NLD, even though it did not field a Muslim candidate on its lists of more than 1,100 hopefuls standing in the 8 November election.
Aung San Suu Kyi walks free

Show all 3
And many Muslim residents of Thandwe, a seaport in Rakhine, where five Kaman Muslims were murdered during a flare-up in religious violence in October 2013, and the surrounding villages who came to see Ms Suu Kyi said they still supported her and hoped that the NLD would help to end their discrimination and foster reconciliation between Buddhists and Muslims. "We have a little hope," said Win Naing, 41. "We don't have equal rights. I hope that if Mother Suu wins the election, we will get equal rights."
Ms Suu Kyi made no mention of the violence in Thandwe during her speech; nor did she speak of the 2012 killing of 10 Muslims, who were pulled from a bus by a mob, during a speech in the nearby town of Tongup on Friday.
Unlike the marginalised Rohingya, who cannot vote in the polls as they are seen as Bangladeshi immigrants, the Kaman from Thandwe are one of Burma's 135 recognised ethnic groups. Ms Suu Kyi will not visit the state capital, Sittwe, or the northern parts of Rakhine where the Rohinyha predominately live – many in displacement camps – during her trip.
Register for free to continue reading
Registration is a free and easy way to support our truly independent journalism
By registering, you will also enjoy limited access to Premium articles, exclusive newsletters, commenting, and virtual events with our leading journalists
Already have an account? sign in
Register for free to continue reading
Registration is a free and easy way to support our truly independent journalism
By registering, you will also enjoy limited access to Premium articles, exclusive newsletters, commenting, and virtual events with our leading journalists
Already have an account? sign in
Join our new commenting forum
Join thought-provoking conversations, follow other Independent readers and see their replies