Burma's first book festival points the way to a brighter future
Although authorities objected to the choice of venue, the event is a source of optimism in this fledgling democracy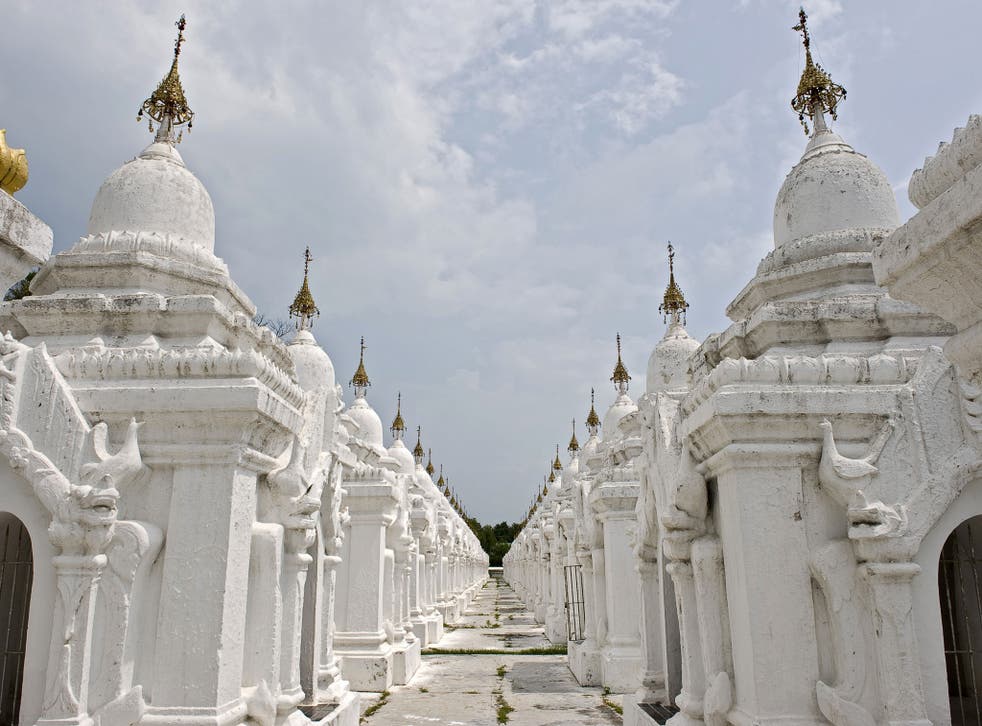 It was a clear sign of official favour: a senior minister in the office of Burma's president told the organisers of the second edition of Burma's first-ever literary festival that, for their base in 2014, they could use Kuthodaw Pagoda in Mandalay, one of the nation's most auspicious places and a Unesco World Heritage Site.
There, the whole canon of Theravada Buddhist scripture is stored, carved on 729 marble slabs, each within its own small stupa. The place is known, for obvious reasons, as "the world's biggest book". What better spot to situate a gathering of writers?
But barely 12 hours before the festival was due to start Thursday 13 February, the organisers received a curt letter, saying permission had been withdrawn: such events were never staged here, it said, and allowing it to be used in this way would create an unfortunate precedent. The minister had made a mistake.
Such are the perils of running an event like this in a democracy that is still finding its feet. Yet even three years ago, the very idea of a literary festival in Burma would have sounded like a joke. The real reason behind this bureaucratic glitch remains obscure, but at least it was not a pretext for banning the event. And with some very fancy footwork and the full-blooded cooperation of the general manager of a hotel nearby, the festival opened in the grounds practically dead on time.
Four days on, festival director Jane Heyn and her colleagues can congratulate themselves on pulling off a worthy successor to the first edition, held in Rangoon, which was listed as the third best such festival in the world after Jaipur and one of the Hay franchise. Festival patron Aung San Suu Kyi starred in two events on Saturday 15 February, including a panel discussion of literary heroes and villains chaired by Martha Kearney and featuring Louis de Berniers and Jung Chang, author of Wild Swans.
The festival's genesis dates back to 2009, when Jane Heyn arrived with her husband Andrew, newly appointed British ambassador, and their 15-year-old daughter.
"Emma is a voracious reader... and we were going around Rangoon searching for books," she recalled. Burma itself, although very little of its literature has been translated, is an intensely literary country which for centuries has enjoyed a high rate of literacy and a rich poetic tradition.
But ferocious censorship during 50 years of military dictatorship combined with deep poverty and the exile, imprisonment or suppression of many of its best writers – one served 15 years in jail after an allegedly subversive poem was found in his home – drove literary culture deep into the shadows. Mrs Heyn conceived the outlandish ambition of trying to winkle it out.
"It was always in the back of my mind that I wanted to do anything possible for people in Burma who loved literature but couldn't get to it," she said, as the festival wound down.
In November 2010, Ms Suu Kyi emerged from house arrest for the last time and a couple of months later Jane seized her moment. "I said to her, if we organised a literary festival, would you support it? She immediately said yes."
Ms Suu Kyi, a prolific writer who once dreamed of setting up a chain of libraries in the country, was the ideal ally: a dedicated reader, who as an undergraduate at Oxford tried and failed to change her degree from PPE to English.
Her name was also magic; combined with the literary networking resources of the veteran diplomat Giles Fitzherbert, Evelyn Waugh's son-in-law, they made a formidably effective team.
The second edition of the festival made the most of such bridges as already exist between Burmese writers and the Anglophone world, recruiting authors Thant Myint-U, grandson of UN Secretary-general U Thant, novelist Wendy Law-Yone, the poet Ko Ko Thett, featured in the first-ever anthology of translations of contemporary Burmese poetry, Bones Will Crow, among others.
Although the foreign writers are selected with care, Jane Heyn said: "It's a fundamental principle that any Burmese author who wants to take part is free to do so." This policy freed her and her colleagues from the invidious task of picking writers in a culture they knew little of, but it provoked a boycott attempt by at least one Burmese writers' group, who objected to the inclusion of writers who had been favoured by the military regime. Those who chose to ignore the attempted boycott "were under a lot of pressure", she said. "Some of them have been in and out, in and out."
If the festival has a problem, it is perhaps the scale of the task it has embraced. The Burmese and western literary worlds remain a very long distance apart: generations of Burmese writers grew up during the dictatorship with minimal knowledge of books outside their own country.
And the problem goes far deeper than that. In 1857, when King Mindon was commissioning "the world's biggest book" at Kuthodaw pagoda, Japan was about to embark on a course of modernisation that would make it a world power within 50 years. Little more than half a century after that, many Japanese authors were revered in the West, thanks to brilliant translations. In its literary culture, Burma is still at the very start of that road. No-one listening – even uncomprehendingly – to the flights of rhetorical power exhibited by some of the poets at the festival can doubt their potential.
Peter Popham gave a presentation on his biography of Suu Kyi, 'The Lady and the Peacock', and co-hosted a workshop on practical journalism at the festival
Join our new commenting forum
Join thought-provoking conversations, follow other Independent readers and see their replies