China one-child policy ends, but do people feel rich enough to have larger families?
The brutal, mercilessly enforced policy is now over, but high education and living costs and a less buoyant economy means having a second child is a huge economic burden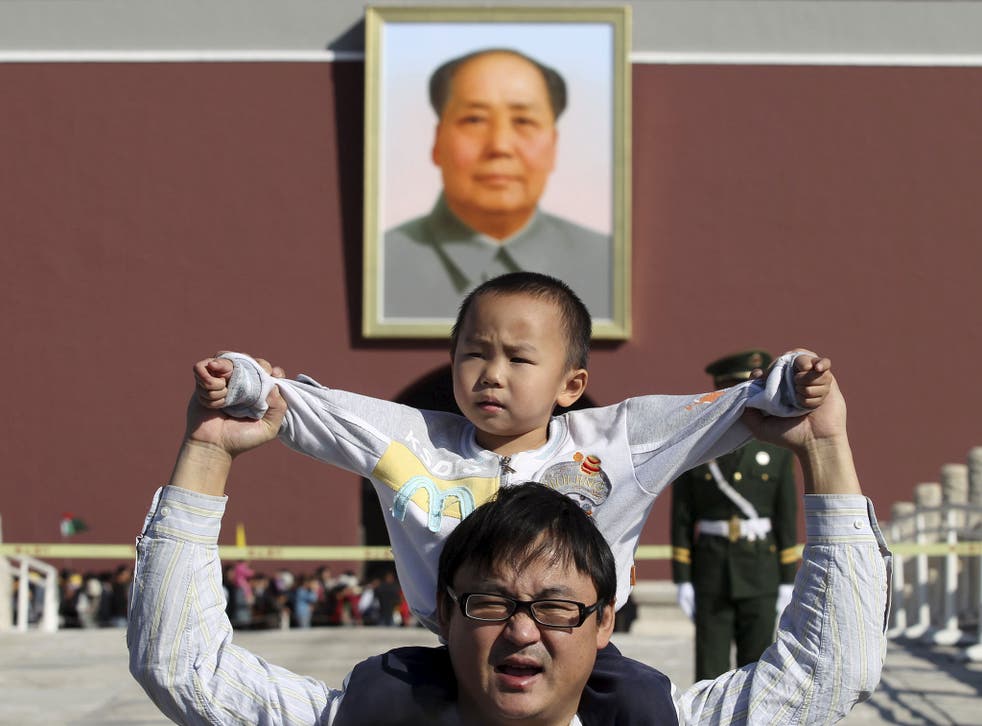 The slow decline of the "little emperors" may finally have been arrested.
Those born after China's draconian one-child policy was introduced in 1979 are ageing, and there are not enough children being produced by the country's 1.35 billion citizens. Now, after more than three decades of horrific accounts of mass forced abortions and sterilisations, China has abolished its one-child-per-family policy, allowing people to have two children.
The decision, explained Beijing, was to "improve the balanced development of population". With the single-child policy in place for 25 years – a generation – a one-child family has become almost the unequivocal norm in China. The familial unit of working parents and house-bound grandparents helping raise a child appears too deeply embedded for many to break out of. With living costs rising, and the economy, in relative terms, less buoyant, having a second child is a huge economic burden.
The government hopes that despite this, there will be enough willing couples to turn the ageing tide. In Beijing, however, opinion was mixed about the effect the policy would have. Chen Ping, 31, has a three-year-old son and works as a teacher. "I'm not very surprised because it has been discussed for a very long time and we all know they should abandon the one-child policy," she said. "What the government needs to do is encourage young couples to give birth to more children."
Ms Chen said she would not have another child for the foreseeable future. "I don't think so, because in Beijing we face such high pressure and children's education costs such a big sum of money, I don't think it's affordable to have more babies," she said.
"I have a parent's group. We often talk about it. Many of us really want a second child, but few can afford it, including me."
Lu Hong, 35, eight months' pregnant, now a housewife, formerly an editor and teacher, said: "People with a strong economic foundation have a chance to have a second child. It benefits society and is good for the next generation." But she added that she was not planning to have another child. "I don't want to leave the child to my grandparents. It's not necessary to have a brother or sister. In kindergarten, in school, the child can get along and socialise with other children. The child won't feel lonely."
The views of Ms Lu and Ms Chen contrasted with many others. In the sprawling port city of Guangzhou, Su Wihua, 36, said she now planned to have another child. "I have looked forward to this for so many years – even had dreams about it," Ms Su told the Associated Press. "I cried every time when I woke up and realised it wasn't yet true. I thought it was so unfair. I do not care if the second child is a boy or a girl, at my age, as long as he or she is healthy."
The World Health Organisation has predicted that 35 per cent of China's population will be over the age of 60 by 2050. The announcement is an apparent attempt to avoid this and it follows the 2013 declaration that the policy was to be relaxed in select provinces from March 2014.
Authorities expected a rush of applications and predicted two million more new births annually. But by September 2014, China's National Health and Family Planning Commission had received just 804,000 applications.
Around 11 million couples were eligible due to the policy shift. By the end of May 2015 the figure had risen to just 1.45 million couples applying. China's internet users remain unsure the policy will prove successful. "It won't help," one user of Weibo, China's Twitter, wrote. "Rocketing house prices, medical and childcare costs drive people to work harder. Women who work after having a second baby have a difficult time."
A statement from the party's Central Committee carried by the official Xinhua news agency said the decision must be approved by the top legislature before it is enacted, which is essentially a formality. It gave no indication of when that would happen.
The statement followed the panel's meeting this week to chart the country's economic and social development through 2020. In recent years, it has been unusual for such plenary sessions to result in major decisions. They generally focus on economic topics and there was no indication that this one would take action on the one-child policy.
China introduced the policy in 1979 to curb a surging population and limit the demands for water and other resources. Soon after, rural couples were allowed two children if their first-born was a girl. Ethnic minorities are also allowed more than one child.
Couples who broke the rules have been forced to pay a fee in proportion to their income. In some cases, rural families saw their livelihood in the form of their pigs and chickens taken away. Wu Xia, who gave birth out of wedlock in June, has to pay a 43,910 RMB (£4,498) "social maintenance fee".
This is because those who have unlawful births outside the policy, including unmarried parents, must pay an amount to be determined by the authorities. "I'm not sure if the policy will affect us [single mothers]", said Ms Wu. "I wonder how it affects births out of wedlock."
The government credits the one-child policy with preventing 400 million births and helping lift countless families out of poverty.
Sophie Richardson, China director of Human Rights Watch, said: "The shift to a two-child policy is to some extent a welcome state. But there should be no limit, and until the state removes itself entirely from people's most personal choices, today's announcement can only be considered a partial victory."
Join our new commenting forum
Join thought-provoking conversations, follow other Independent readers and see their replies