China opens 600ft high glass-bottomed bridge for thrill-seeking tourists
The record-breaking walkway is in Shiniuzhai Geopark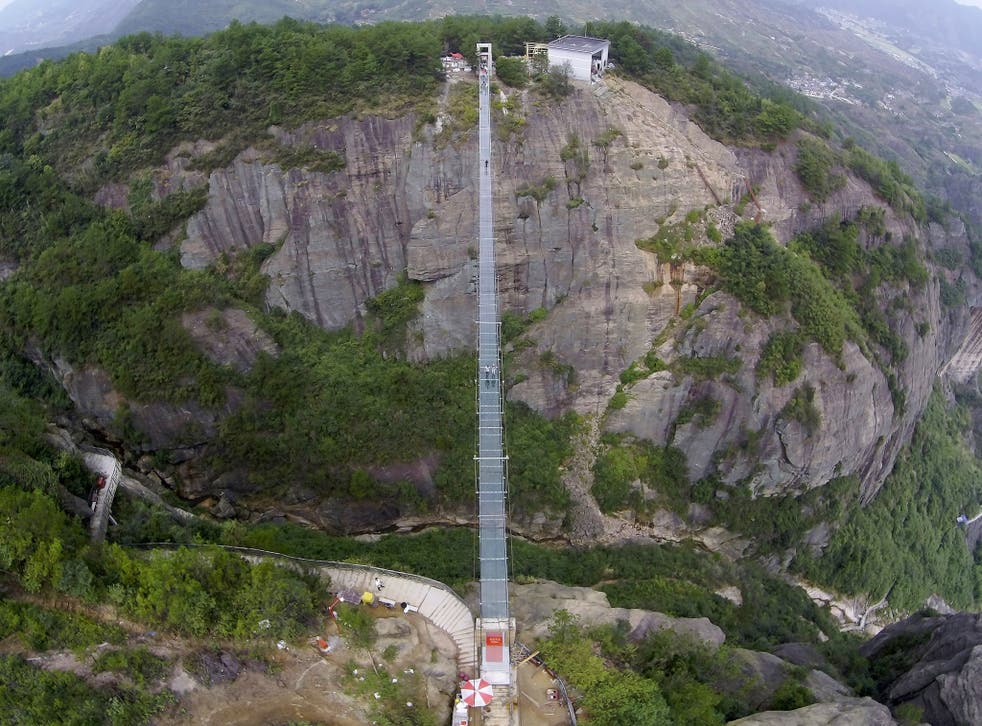 Nearly 600 feet above the ground in China's grand Shiniuzhai Geopark there's a brand-new suspension bridge — and it's made of glass.
The first batch of sight-seers crossed the glass-bottomed walkway nervously; some fell to their knees after glancing down at vast expanse of rocks and wildlife below.
The bridge, which connects the peak of the park to the Stone Buddha Mountain, was previously made of wood but after part of it was successfully converted to glass last year, authorities decided to for the complete overhaul.
Now completed, the 984-feet-long walkway in Hunan province is the longest of its kind in the world.
It took 11 engineers several months to replace all the planks of wood with plates of glass — these ones are 25 times stronger than regular window glass and designed to withstand all sorts of impact.
Designed with thrill-seekers in mind, the construction has been dubbed 'hero bridge' by the Chinese press because of how much courage it takes to cross; not only do you see how high you are, the walkway is said to wobble.
It's the latest in a series of glass-bottomed attractions in China, which have proven popular with tourists.
A glass elevator, for instance, recently opened at a scenic site in Hubei province; it's right next to a cliff and shoots up to more than 3500 feet above sea level.
Then when visitors reach the top, they can walk across a glass path along the cliff.
And earlier this year, a viewing platform in Chongqing became the world's longest cantilever walkway with a glass bottom.
Meanwhile there's another glass bridge being built in Zhangjiajie, Hunan that'll be even higher and longer than the one at the Geopark.
It will be an 984 feet high and 1,247 foot long.
Join our new commenting forum
Join thought-provoking conversations, follow other Independent readers and see their replies