China warship carries out fighter drills over open seas
Capabilities of carrier closely watched since Beijing announced it was ready to 'fight enemies'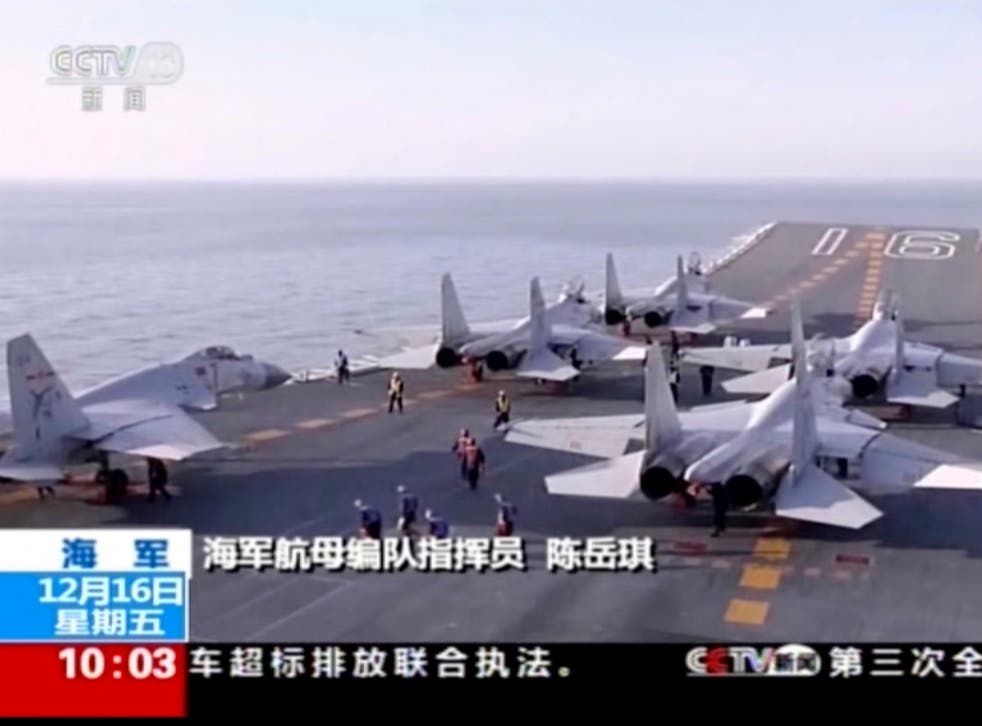 China has said its first aircraft carrier has carried out a set of combat drills in the Yellow Sea ahead of further planned missions, sparking fears the group could soon venture into the fiercely-contested South China Sea.
Aircraft performed air conflict manoeuvres along with practising launch and recovery from the Soviet-era warship, which China bought off Ukraine in 1998 and has since spent years refurbishing.
The capabilities of the Liaoning carrier group have been closely watched by the international community since China declared it was ready to "fight against enemies" in November.
The Defence Ministry announced the exercises in the Yellow Sea late on Friday, adding that the group "as a next step will conduct scheduled cross-sea training and tests."
The ministry did not specify its destination, but its "cross-sea" wording has prompted speculation in the Chinese media that the warships could soon sail into disputed waters.
The state-run Global Times newspaper quoted a well-known military analyst on Saturday as saying that the South China Sea would be an "ideal" next location because joint exercises could involve with troops on reefs controlled by China.
The growing capabilities of the carrier group and its movements have been closely watched since the Liaoning was declared combat-ready last month.
Tensions have mounted in the South China Sea, where the US and China accuse each other of engaging in a dangerous military buildup.
China claims nearly all of the sea and is pitted against smaller neighbours in multiple disputes over islands, coral reefs and lagoons.
The US-based Asia Maritime Transparency Initiative think tank said this month that satellite imagery showed China building large anti-aircraft guns on artificial islands in the contested waters, where China has also laid airstrips, built communications facilities and deployed suspected missiles.
China has characterised its moves as defensive in nature and accused US warships of making provocative passes through the region.
The Liaoning, commissioned by the Chinese navy in 2012, first sailed to the South China Sea in 2013, when it docked at a navy base near the Chinese holiday resort of Sanya. The vessel at the time was not outfitted with a full aircraft complement.
Glass-floored skywalk circling China's Tianmen Mountain

Show all 6
The Liaoning carried out its first live-fire exercise last week, with the military releasing video footage that showed Chinese J-15 fighters launching missiles and hitting targets.
State broadcaster China Central Television on Saturday showed footage of the Liaoning launching a large contingent of J-15 fighters. The navy's top commander, Adm Wu Shengli, was shown onboard watching the exercises.
Beijing has said the carrier would be used mostly for training and research as it prepares to deploy its first home-grown carrier, but it is widely viewed by analysts as a strategic piece in China's increasingly assertive claims in the South China Sea.
Additional reporting by Associated Press
Register for free to continue reading
Registration is a free and easy way to support our truly independent journalism
By registering, you will also enjoy limited access to Premium articles, exclusive newsletters, commenting, and virtual events with our leading journalists
Already have an account? sign in
Register for free to continue reading
Registration is a free and easy way to support our truly independent journalism
By registering, you will also enjoy limited access to Premium articles, exclusive newsletters, commenting, and virtual events with our leading journalists
Already have an account? sign in
Join our new commenting forum
Join thought-provoking conversations, follow other Independent readers and see their replies