Chinese plead with Google not to quit
Web users risk wrath of state with floral tribute outside internet giant's Beijing HQ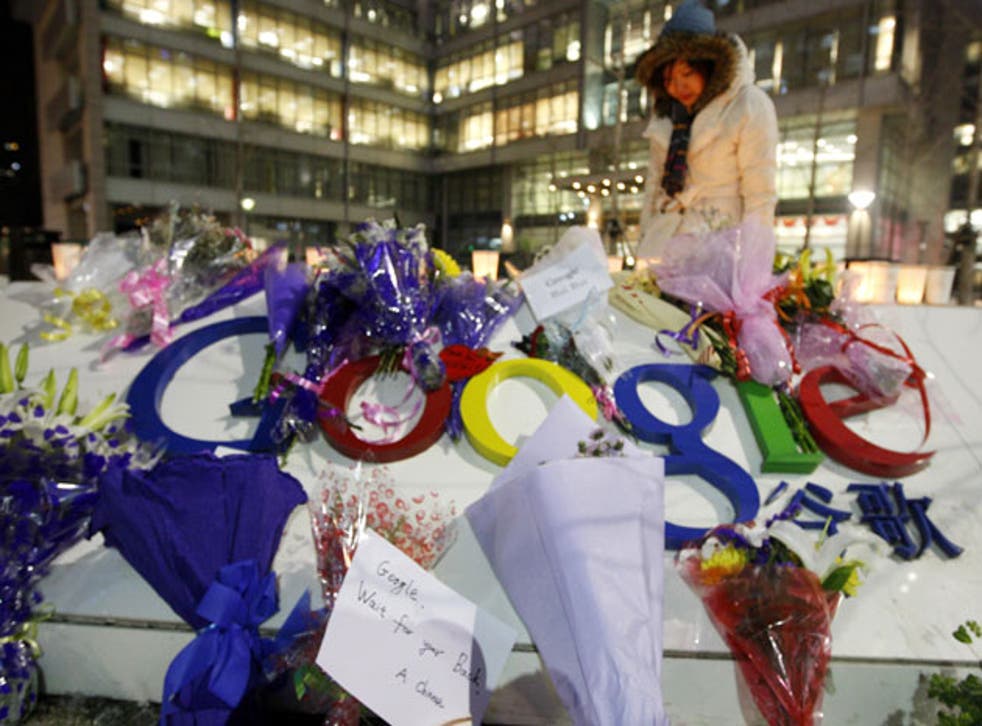 Google's threat to withdraw from China sent shockwaves through the country's internet users yesterday. Some pleaded with the search engine not to abandon them, while others applauded its tough stance after it uncovered cyber attacks on Chinese human rights activists.
While there was no official reaction from the government, ordinary people lit candles and left flowers outside the company's headquarters in Beijing. "Google – a real man" read one note attached to a bouquet at the Tsinghua Science Park. In such a politically charged environment as China, where dissent is not tolerated, the laying of flowers is a daring move.
Security at the science park has declared the act "illegal flower donation", according to a flurry of Twitter messages. "China has created a new term: 'illegal flower donation'. To put 'illegal' and 'flower donation' together in one phrase, we live in an era of truly distorted values," said one Tweet. (Although use of Twitter is blocked by the so-called Great Firewall of China, the web-savvy use virtual private networks or proxy servers to get around restrictions.)
China's online community is the world's biggest, with 338 million users, and the sheer scale of the outpouring illustrates the irritation of many with Beijing's "net nannies" and highlights the difficulty China faces in stopping freedom of speech online.
China's booming economy needs the internet, but the government dislikes the platform it provides for dissent and has tried to control content and steer it towards commercial applications, rather than into politically murky waters.
News that hackers had been trying to spy on Chinese dissidents and US and European human rights campaigners using Google's email system, brought swift retaliation from the Californian company. It said it would no longer censor search results on its website, as it controversially promised to do when it set up Google.cn four years ago. It was the highest-profile act of defiance by a foreign firm in China in the face of Communist Party influence.
So far the response from the Beijing government has been muted. An official with the information office of China's State Council, the country's cabinet, said that internet authorities were seeking more information on Google's statement. "It is still hard to say whether Google will quit China or not. Nobody knows," the unnamed official told the Xinhua news agency.
Everyone, from carmakers to widget factories to visiting theatre groups, has to bow to the government's stringent rules on how they operate in China. However, if a company of the stature of Google makes a stand on issues of censorship and freedom of speech, it could cause others to act in a similar fashion.
Chinese reporting of the story has focused on the fact that the decision triggered fears of job losses for 700 local staff, but there has been no reference to broader issues about censorship.
Google's China-based Google.cn site agreed to censor results by excluding sites that cited the 1989 Tiananmen massacre, Tibetan independence or Falun Gong. With around 30 per cent of search revenues last year, Google trails local competitor Baidu, which has about 60 per cent, but has been gaining market share.
As Baidu shares yesterday surged,its top executive called Google's move "hypocritical". "What Google said makes me sick," said Sun Yunfeng. "If you are to quit for the sake of financial interest, then just say it."
Cong, a 25-year-old internet user who lives in Beijing, said she preferred Google to Baidu. "But I don't like that it quits China for censorship," she said. "I know censorship is not fair sometimes. But I hope they can talk to the government, rather than blackmail them. I feel optimistic about this issue, since China is too important to lose."
Out of site: Internet censorship - By Jack Riley
In a country where censorship is rife, it's little surprise that of the internet's treasure trove of illicit, and often explicit, information, huge swathes are kept from the Chinese public via a number of highly advanced technological methods. The People's Republic of China has made more than 60 regulations on what is and isn't allowed on the internet in the country, which are enforced by an army of internet police, although the exact number is not known; conservative estimates say there are tens of thousands of them.
Though a version of Google.com was available earlier, it was 2006 when the first self-censored version of Google's search engine, Google.cn, appeared, and 2007 when the company's shareholders voted down a proposal which sought to resist censorship globally, after a Harvard study estimated that more than 18,000 websites were absent from search results in the country. The censorship process is shrouded in secrecy, but blocking a site involves suspending internet traffic destined for computer servers which have been flagged by authorities as containing unsuitable content as part of the government's $800m "Golden Shield Project", as well as banning any site whose address contains any of a number of potentially unsuitable keywords.
Blocked content goes deeper than just searches for pages related to the Tiananmen Square massacre or Taiwanese and Tibetan independence, though: in 2008, a former university professor described Google as "a servile Pekingese dog" for censoring his name from search results, after he founded a democratic opposition party which raised the ire of authorities.
Join our new commenting forum
Join thought-provoking conversations, follow other Independent readers and see their replies