Chinese social media users track down the pet owner who cruelly chained dog to moving car
Mr Zheng Weiyang told local press that he chained the dog to the car because his wife had told him to 'get rid' of the dog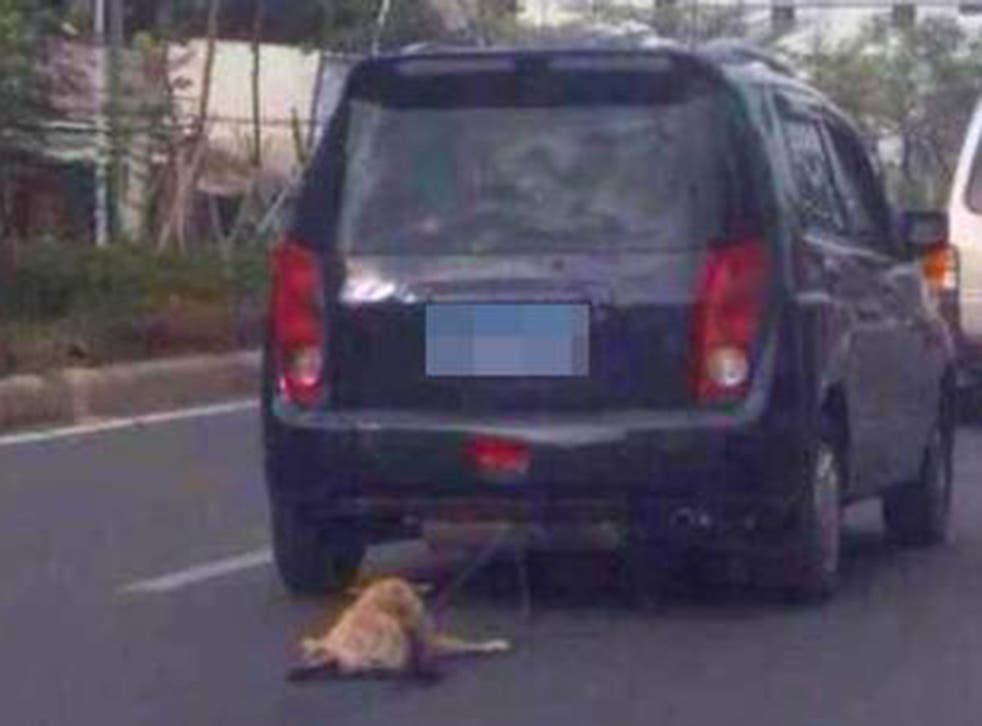 Chinese social media users have tracked down a cruel pet owner who attempted to "get rid" of his dog by dragging it behind his car on a busy road in the Guangdong province, south-east China.
Those using the Chinese social media site Sina Weibo were outraged when a video was posted of the driver now identified as Mr Zheng Weiyang driving his car with a clearly conscious dog chained to the vehicle's rear.
The footage shows the Labrador clearly in pain and leaving behind a trail of blood as his wounded paws drag along the tarmac.
Following the video being uploaded last week, it quickly went viral and led to a massive reaction from shocked viewers with an online manhunt for the perpetrator being organised across social media sites.
The 'human flesh search' as it was called by organisers, saw the registration number of the vehicle circulated across the web until the driver was identified as factory owner Mr Zheng.
After his address, national identification number and phone number were posted online, Mr Zheng spoke to Guangdong local television station Shantou TV to try and defend himself, pleading with people to stop sharing the video and expressing his regret at the situation.
Speaking to Shantou TV he said: "It was not my intention to do this … I had no choice because it bites a lot. Yesterday my wife told me to get rid of this dog. One friend suggested I should stone the dog to death. I couldn't do it, that's why I tied this dog behind my car to get rid of it.
"When I was driving, I couldn't see this dog from the rear-view mirror. Another driver questioned me about what I was doing. I told them that this is a mad dog and I am going to dispose of it."
According to the BBC, an animal rights charity in the Guangdong province has now launched a campaign to try and track down the mistreated canine, amid claims that the dog did not die as a result of the incident.
This is the second incident of animal cruelty to cause outrage throughout China and Hong Kong in recent weeks.
Two weeks ago, a Hong Kong resident calling himself Jacky Lo was lambasted after he posted images of a dog being killed after he placed it in a washing machine.
Over recent years, the movement for animal rights within China and Hong Kong has grown in force with more animal rights groups forming and more fervent activism taking place.
In June, activists stormed the annual Summer Solstice Dog Meat Festival in Yulin to try and put a stop to the controversial celebration.
Join our new commenting forum
Join thought-provoking conversations, follow other Independent readers and see their replies