Chinese tycoon Chen Guangbiao has the world's best business card
He's also 'very good at working with Jews,' he claims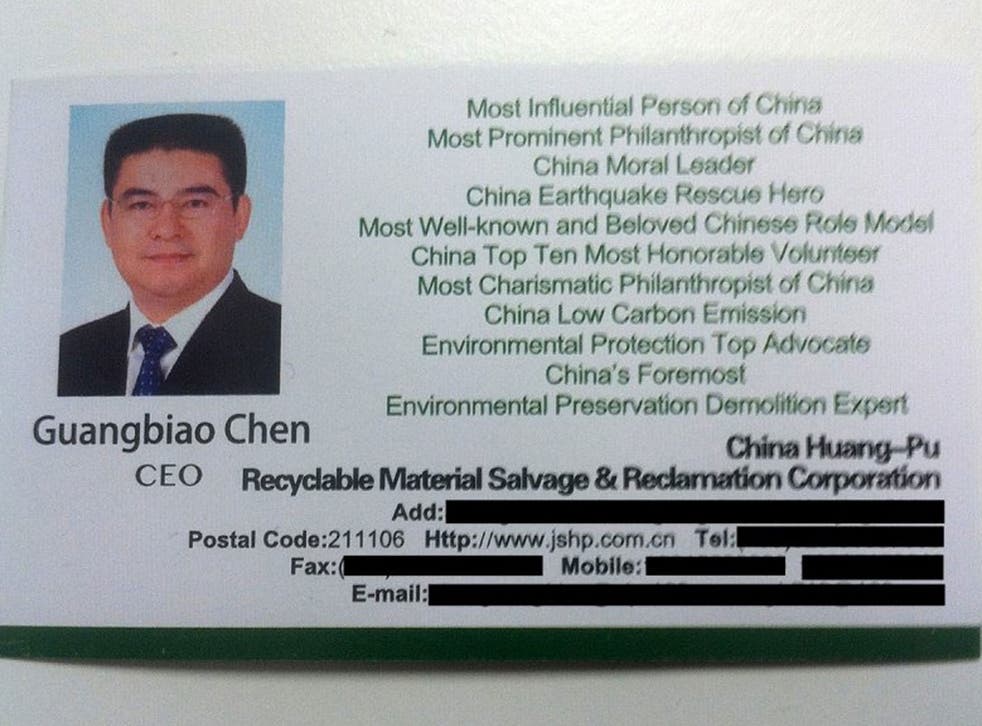 If you're a foreigner trying to convince one of the western world's most respected and venerable newspapers you're serious about buying it, you're going to need a solid PR push, and you'll certainly need some self-belief.
And eccentric Chinese billionaire Chen Guangbiao has proved he's certainly well-endowed in the latter category.
Listed as one of the country's 400 richest people, he has already claimed to have persuaded a Hong Kong entrepreneur to contribute $600m (£366m) so that he can buy the New York Times and reform its award-winning coverage of China.
Writing in a Chinese newspaper linked to the Communist Party, he insisted: "I may be a maverick, but it doesn't mean I like playing tricks. I want to purchase the New York Times. Please do not treat it as a joke."
But being treated as a joke may become a little harder to avoid now that his business card, shared by Business Insider has been derided online for its - shall we say? - immodest claims.
Before divulging such prosaic details as his actual job - CEO of a recyclable material salvage firm - it boasts his position as "China Moral Leader," "Earthquake Rescue Hero," and ""Most Well-known and Beloved Chinese Role Model."
He's also the "Most Charismatic Philanthropist in China," apparently.
And according to the South China Morning Post, Chen went one further in the controversial claims stakes in an interview with a New York-based Chinese TV station. Noting that many American newspapers are owned by Jewish people, he claimed: "I'm very good at working with Jews."
We're not entirely sure what that entails.
Chen made his fortune by founding Huangpu Renewable Resources in 1998. He is often criticised in China for his over-the-top publicity stunts, including selling canned fresh air to residents of smog-ridden Beijing, and handing out 100 yuan (£10) notes to the victims of the 2008 Sichuan earthquake.
Join our new commenting forum
Join thought-provoking conversations, follow other Independent readers and see their replies