Chinese university bans student couples from holding hands or feeding each other in canteen
'An assistant teacher will have private conversations with those who are in love, telling them not to have physical contact or engage in improper behaviour on campus'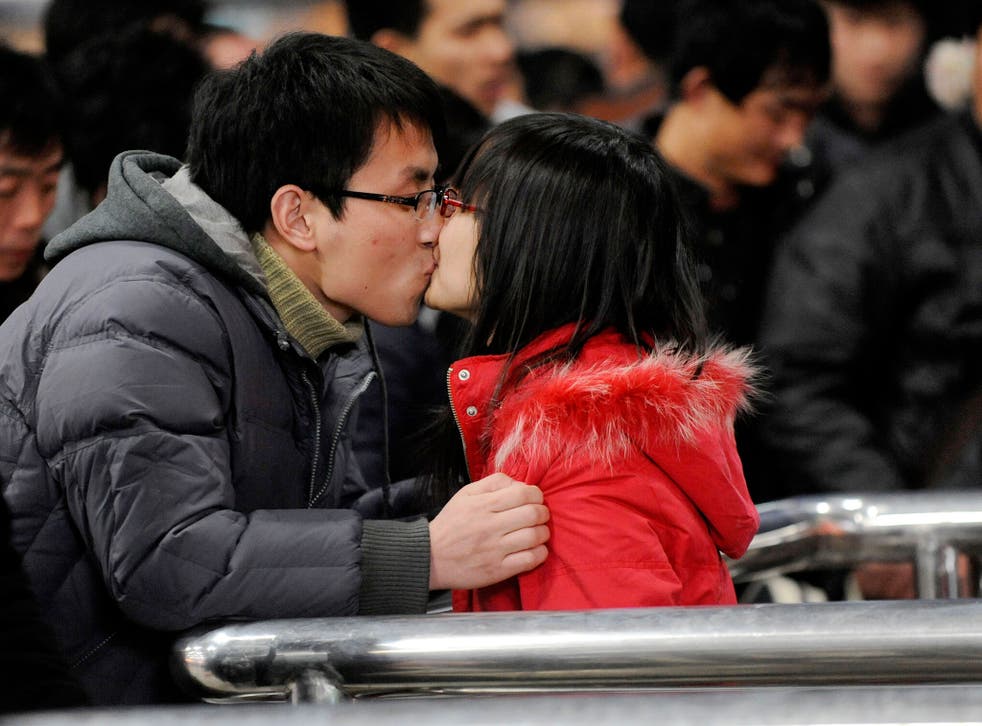 A university in China has intervened to prevent "uncivilised" behaviour among students by banning them from holding hands, putting their arms around each others' shoulders or spooning rice into their partners' mouths.
According to one teacher, the clampdown is intended to help students "cultivate themselves to become civilised people". But the new code of conduct, released by Jilin Construction University in the city of Changsha, has been mocked by students and many of China's social media users.
The rules pay particular attention to behaviour in the university canteen, where cameras have been installed. Students are banned from feeding each other or any such "intimate behaviour". According to China's New Culture View newspaper: "An assistant teacher will have private conversations with those who are in love, telling them not to have physical contact or engage in improper behaviour on campus."
A unnamed teacher at the university told the newspaper: "Improper behaviour, like kissing and hugging in public places such as the subway, have been [widely] revealed by the media. If such behaviours are seen in the canteen, we don't think it's proper."
The teacher admitted that the measure was a preventative one rather than a reaction to any specific incidents. "The norm is in place so that students will be aware of the problem and cultivate themselves to be civilised people. If such codes of conduct are deeply rooted in students' hearts they, as well-educated people, will hesitate next time."
The teacher said the measures were "just codes of conduct rather than a rule to be obeyed by everyone", but that did not prevent the move being mocked. One student said: "This norm is weird and we can't help laughing. It's the 21st century. As adults, we don't dare to behave so explicitly in public places. I never see lovers feed each other rice, so the norm is unnecessary."
Some, however, saw it as a positive move ahead of China's heavily commercialised Singles Day, which falls on Wednesday. Singles Day celebrates unattached people and has been promoted as a time to indulge in online shopping. But its underlying intent when first launched was to lessen the social stigma for those young Chinese who have yet to find a spouse or partner.
"I like the norm," one Chinese social media user wrote. "This is a gift from the university to single students as Single's Day is around the corner." A canteen worker said: "We've cameras covering the canteen to ensure safety. I'm pleased as it's necessary to prevent uncivilised behaviour." But admitted: "I've never seen students feeding each other rice."
Join our new commenting forum
Join thought-provoking conversations, follow other Independent readers and see their replies