Cloud of destruction: 20,000 evacuated as Mount Sinabung volcano erupts in Indonesia
Blistering gas sent panicked residents streaming down the sides of the mountain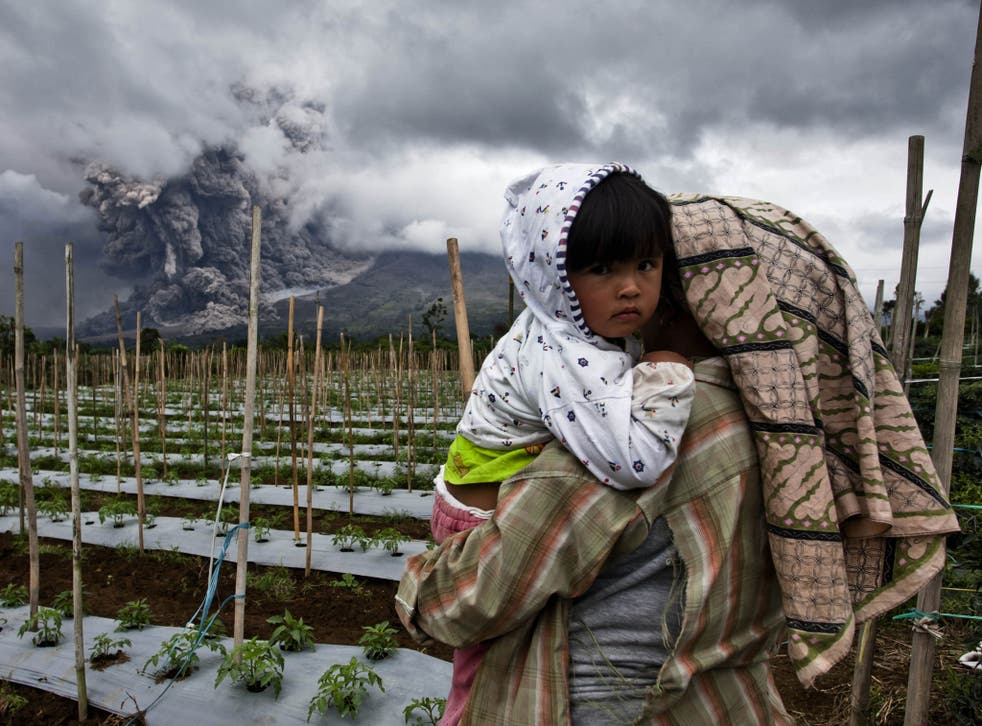 Authorities extended a danger zone around a rumbling volcano in western Indonesia on Sunday after it spewed blistering gas farther than expected, sending panicked residents streaming down the sides of the mountain.
Mount Sinabung's booming explosion just after midnight triggered a panicked evacuation. Men with ash-covered faces streamed down the scorched slopes on motorcycles, followed by truckloads of women and children, many crying. Officials barked orders on bullhorns as rocks and debris rained from the sky.
More than 50 eruptions on Saturday sent lava and searing gas tumbling out of the volcano in North Sumatra province down the south-eastern slopes up to three miles away, said Indonesia's disaster mitigation agency spokesman Sutopo Purwo Nugroho. The volcano was still spitting clouds of gas and lava as high as 13,000ft in several eruptions on Sunday, but no casualties were reported. Mr Nugroho said that the danger zone south-east of the volcano was extended from three to four miles from the crater's smouldering mouth.
More than 20,000 people have been evacuated from villages around the crater into several temporary shelters since authorities raised the alert status for Sinabung to the highest level in November.
"We've lost everything. We wonder about our lives after this disaster," said Anton Sitepu, who was among the villagers in a cramped shelter in Telagah village.
AP
Join our new commenting forum
Join thought-provoking conversations, follow other Independent readers and see their replies