Crater in Russia triples in size in ten months to become 120m wide sinkhole
The hole has already swallowed up 20 homes and threatens many more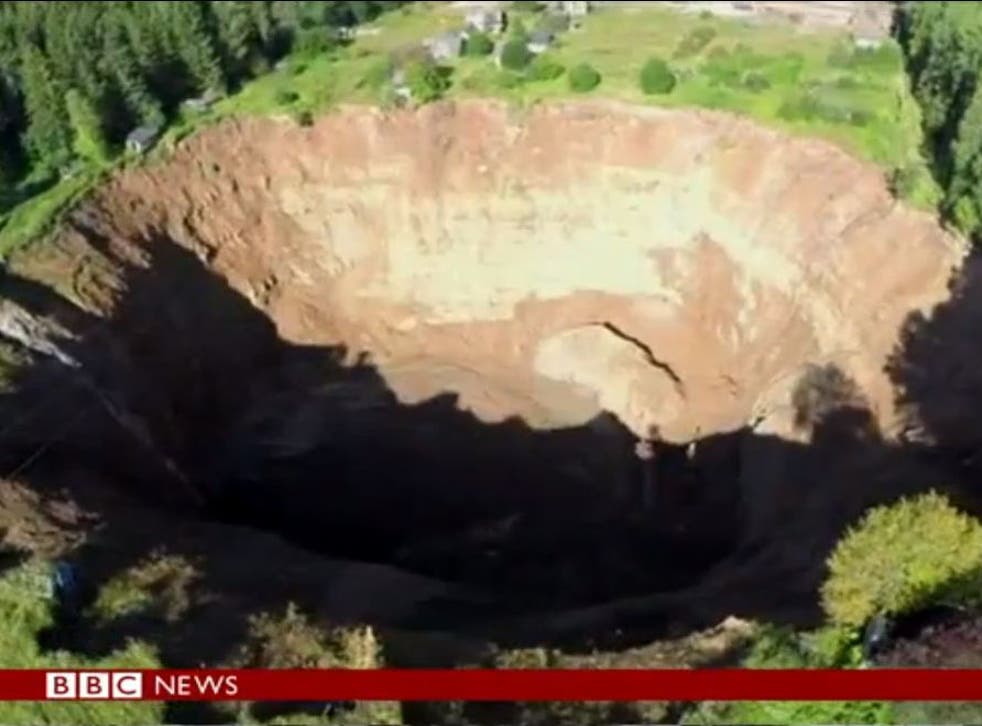 A crater which has swallowed up to 20 homes in Russia has tripled in size in the space of ten months to become a 120m-wide sinkhole.
The crater first appeared after the collapse of a former potash mine close to Solikamsk in the Ural Mountains at the end of 2014.
According to the BBC, officials believe the crater was caused by flood erosion in the underground mine.
It is now a staggering 76m deep and 120m wide and has swallowed up to 20 Russian weekend cottages.
The latest images taken by helicopters shows that earlier reassurance from an expert inspecting the site in April that the hole was "more or less stable" was incorrect, the Siberian Times reports.
The images show the nearby homes are now at risk of collapsing into the hole but local officials have said that no one is in physical danger.
Investigative team reaches giant Siberian hole

Show all 5
The mine, which was owned by Uralkali, the world's largest potash producer, was closed in November last year when the sinkhole first appeared 3.5km east of the mine and over 1,300 workers at the site where successfully evacuated, Reuters reported at the time.
In a company publication seen by the Siberian Times, Uralkali said it was doing all it could to contain the damage.
It said: "Uralkali continues to eliminate the accident consequences and to minimize potential adverse effects.
"The company continues pumping brines, working to strengthen the bridges between the mining fields Solikamsk-1 and Solikamsk-2, as well as plugging water carrying channels.
"As of August 24, 2015 the dimensions of the hole at the level of the earth's surface is 122 to 125 metres."
Join our new commenting forum
Join thought-provoking conversations, follow other Independent readers and see their replies