A digital escape from North Korea's secret state: Kim Jong-un faces threat from undercover films posted on the web
Kim Jong-un has almost total control over what North Koreans see of the world. But he is fighting against a digital revolution, in which pop culture, not guns, might bring down his totalitarian regime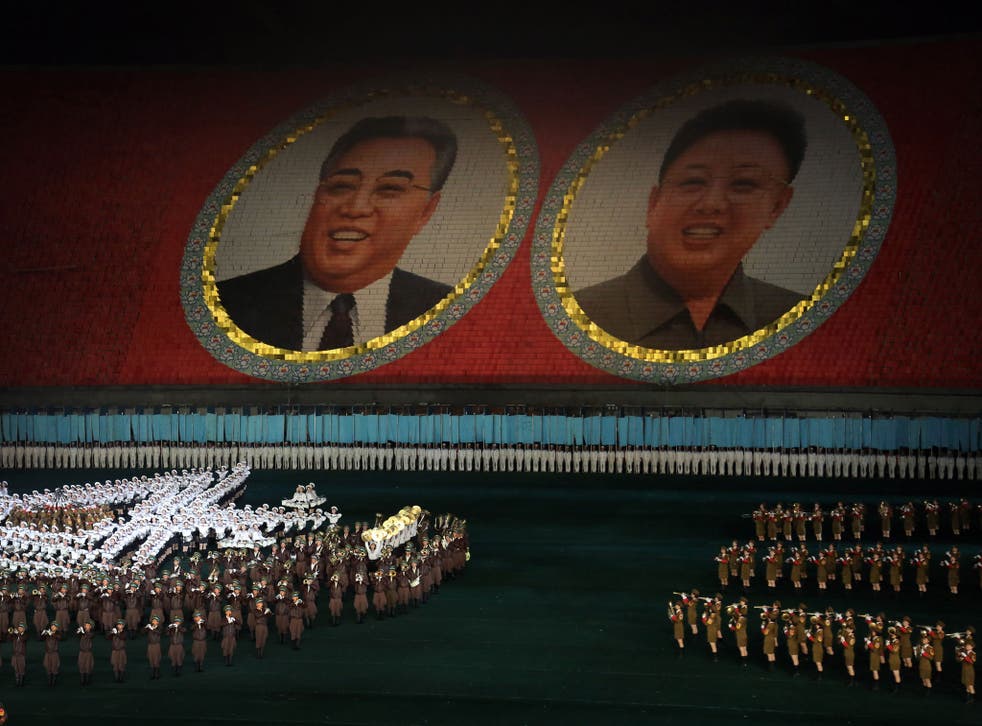 Eight-year-old Min staggers forwards, unsteady on his feet from hunger and exhaustion, wearing a shabby, blue overcoat discarded by an adult twice his size, and tells the hidden camera: "My mum tried to look after me but it got too hard so she told me I have to go, so I left and now I live outside."
Min is among dozens of homeless street kids who gather around North Korean markets begging for money and looking for scraps of food. Their lives are featured in undercover footage to be screened this week in a Channel 4 documentary.
A network of ordinary North Koreans have been filming secretly inside the country and smuggling the footage out across the border with China. The footage gives a rare insight into the most isolated nation on earth, revealing the reality of everyday life in North Korea and showing the first signs of cracks in the regime's control.
The network is run by Japanese journalist, Jiro Ishimaru, who has been training undercover reporters for 15 years.
"In North Korea, even filming everyday life is considered a form of political treason. If they are caught they'd be locked up and may never be let out again," he said.
Unseen footage filmed by Mr Ishimaru's reporters earlier this year shows Kim Jong-un's speeches being pumped from speakers on street corners. One speech, promising his people a bright, economic future, had been on a continuous loop for three months. The footage shows whole villages rounded up to build monuments to the new Supreme Leader.
Even making a joke at the expense of the Supreme Leader can lead to life in a political prison camp. Satellite imagery shows that since Kim Jong-un came to power two years ago the political prison camps have grown. Today it's estimated that almost one in 100 North Koreans is a political prisoner.
One former political prisoner who features in the documentary to be screened on Thursday is now leading the opposition to Kim Jong-un by revealing the reality of the outside world to North Koreans.
Mr Chung was caught crossing the border with China while doing business illegally in April 2000 and accused of being a spy. He spent three years in North Korea's most notorious political prison camp, Yodok, where he was beaten, tortured and starved.
"Before I got arrested I weighed 75kg," he said. "After 10 months I had a physical examination. When I looked at what I weighed I was 36kg. I couldn't endure it anymore."
After serving three years of his sentence Mr Chung was released when the authorities decided he wasn't a spy after all. Soon after, he illegally crossed the border again, but this time he escaped for good. He now lives in Seoul, South Korea's capital, and 'works with other defectors for NGO North Korea Strategy Centre plotting against the regime. He realises that the best way to break the spell of North Korean propaganda is by exposing the people to popular culture.
Mr Chung smuggles radios, USB sticks and DVDs of soap operas and entertainment shows into the North, posing as a mushroom importer.
"The men prefer watching action films," he said. "Men love their action films! I sent them Skyfall recently. The women enjoy watching soap operas and dramas. The more people are exposed to such media the more likely they are to become disillusioned with the regime and start wanting to live differently."
In September he filmed himself secretly travelling to the China-North Korea border, the same spot where he was caught and branded a spy 13 years ago.
Since Kim Jong Un came to power border control has become much tighter. He realises that his power depends on maintaining a tight grip on information flows across the border and stopping people like Mr Chung. Border guards have a shoot-to-kill policy. Being caught with illegal DVDs could mean immediate imprisonment, but it's now estiamted that half of North Koreans have watched foreign television.
David Kang of the Korean Studies Institute at the University of Southern California, told Channel 4: "It's these DVDs and USBs being smuggled in. Information and knowledge of the outside world is beginning to widen out. That means central control is breaking down."
In interviews with more than a dozen recent defectors a picture emerged of a rapidly changing society. Each has a story of the moment they saw the outside world in foreign films and television shows: the cars, the tall buildings, the abundance of food and the apparent freedom all caused the scales to fall from their eyes.
Far from regarding their South Korean cousins as American puppets and slaves, as portrayed in North Korean propaganda, they see they speak the same language but live in a country that is decades ahead in technology and prosperity.
Chanyang, 22, a recent North Korean defector, said: "The more I listened to the radio, the more I kept thinking what we've learned isn't true, I've been fooled."
Since the state stopped being able to feed its people in the late 1990s illegal markets sprung up all over the country. For the first time it was women who became the main breadwinners, running small market stalls to make money to survive. The state now tolerates some markets, but people are pushing the boundaries of private enterprise in what is still a communist state.
The undercover footage shows one woman chasing off a soldier trying to stop her running an illegal private bus service. "Where are your stars? If you're an officer where are your stars then? You bastard! You're an arsehole!"
Mr Ishimaru, editor of Asia Press, speaks of a noticeable shift in North Korean society. "People's willingness to confront or ignore authority has become more common," he said. "People around the world have this image of North Koreans as being brainwashed, but that's mistaken. Often now when North Koreans are challenged for infringing a certain law, as long as the offence is not political, they don't hesitate to protest if they believe the law to be irrational."
Recent defectors speak of the difficulty Kim Jong-un is having recreating the personality cult which surrounded his father and grandfather.
North Korean society respects age and experience; Kim Jong-un has neither. Aged 28 when he became Supreme Leader, Kim Jong-un came out of nowhere, having lived most of his life closeted away from the public gaze.
Chanyang, who escaped as Kim Jong-un came to power, told us: "The people would say, 'How can a boy still wet behind the ears seize power?'"
Another undercover reporter films a mid-ranking official speaking unhappily in private of Kim Jong-un: "He shouldn't be there. He can't do anything. He's too young, you know? No matter how hard he tries, even if it kills him, he's hopeless."
From young soldiers forced to build a railway in his honour to members of the Pyongyang elite upon whose support he is so dependent, people are recorded voicing their unhappiness with their leader. One reporter films a lunch with successful Pyongyang businesspeople who are envious of the freedom afforded to their Chinese neighbours.
"All we're saying is 'Give us some basic rights,' says one man. A woman responds: "It's not like that in China. In China they've got freedom of speech, you know. We North Koreans are wise and very loyal. An uprising is still something we don't understand."
That's true "only to a certain point", says the man – but the woman disagrees. "There can't be a rebellion," she says. "They'll kill everyone ruthlessly."
There is indeed no sign of anything that could lead to organised rebellion inside North Korea. There is no social media, and for almost all North Koreans, no internet either. Even so, the footage shows that far from being the goose-stepping, obedient population of media caricature, North Koreans are privately questioning the legitimacy of the Kim dynasty, and publicly challenging authority in ways unimaginable a decade ago.
With more information undermining the regime's credibility, a more cynical population and no sign of significant economic improvement, many now wonder how much longer the world's last totalitarian dictatorship can survive.
Sokeel Park, of Liberty in North Korea, an organisation which helps defectors escape, said: "These changes cannot be stopped. Marketisation, information flows, all of these trends lead to a transformation one way or another of North Korea. If I was a younger person in the North Korean ruling elite then I'd be looking at a way out of this doomed system."
North Korea: Life Inside the Secret State, directed by James Jones, will be broadcast on Channel 4 on 14 November at 11.05pm
Join our new commenting forum
Join thought-provoking conversations, follow other Independent readers and see their replies