Dr Sakena Yacoobi: Exclusive interview with WISE prize winner who faced up to the Taliban
"With the help of god I stayed calm and defended myself, telling them how the Quran states a woman's right to an equal education"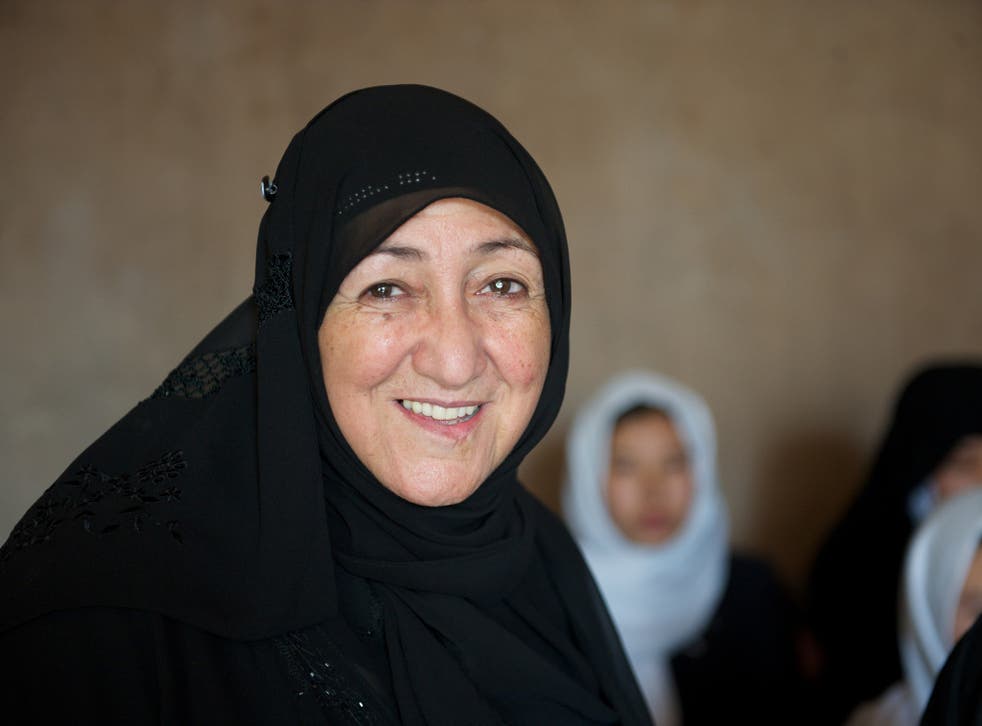 A courageous Afghan leader of education who confronted Taliban militants first hand has been awarded a prestigious global award in recognition of her humanitarian work.
When a group of armed men raided Sakena Yacoobi's school one day, she came out to greet them and defend her practise. While other staff members locked themselves in an office, terrified for their lives, the senior educator invited the group of Taliban members to sit down for a cup of tea, eventually convincing them to leave the school in peace.
"Of course I thought they were going to kill me," she said, "but I wasn't scared. With the help of god I stayed calm and defended myself, telling them how the Quran states a woman's right to an equal education."
At a ceremony in Doha, Qatar Dr Yacoobi was named this year's WISE Prize laureate in front of an audience that included Michelle Obama and a host of education experts from around the world. The award, established by the Qatar Foundation, has come to be regarded as the equivalent to a Nobel Prize in education and donates $500,000 towards the winner's causes
During the time of Taliban occupation, when education was banned for girls and strict laws dictated what could be taught to children, Dr Yacoobi returned from the US, where she was living as a refugee, to her native Afghanistan to help.
With the motive of helping to "counteract ignorance" and provide thousands of girls, women and underprivileged children with a better chance in life, the Herat born professor set up the Afghan Institute of Learning (AIL). Initially established to provide teacher training and a safe place for modern educational practice, AIL supported 8 underground schools for more than 3000 girls.
Speaking to the Independent, Dr Yacoobi said: "I was lucky when I was young in that my father supported my education. He treated me as an equal and gave me every opportunity - not many girls are so lucky."
The first of her family to complete an education, Ms Yacoobi applied to medical school and to study engineering at university in Kabul. She was offered places but unfortunately the university was far away from her family home in Hurat. With no female accommodation in existence, Ms Yacoobi applied for a bachelors degree in biological sciences in the US, where she went on to earn a master's degree in public health.
"When I was over in the US, Russia invaded Afghanistan and suddenly I became a refugee. My family were refugees at home, so I had a rough life trying to study, get scholarships and jobs to support myself all the while worrying about my family."
Despite having forged a comfortable life in the US, more than anything Ms Yacoobi wanted to return to Afghanistan to help. "I went to the UN and fought for my rights, for my family's rights and was able to sponsor them to come to the US."
By this time she was a professor and had a good job in a university. She put her younger brother in school, made sure the family were settled before announcing that she was going back to Peshawar to help.
"My mother was in tears. She couldn't believe that after so many years of being apart, I wanted to leave them to go to a war zone. But my father understood. He said, 'let her go. If that's what she wants to do, let her do it'."
Almost 20 years on, the NGO has 306 teaching centres as well as four health clinics and a hospital, but Dr Yacoobi is still not satisfied. She even has a 12 million listener-strong radio programme set up to help counteract geographical limitations.
"One day I want to have a television channel and open a university," said Dr Yacoobi, "there is so much more we can do.
Since the fall of the Taliban, the updated curriculum proposed up by AIL has been replicated by state-run institutes across the country.
"I have dedicated my life to promoting the importance of education because I really believe it is the only way to bring peace," said Dr Yacoobi.
"Conflict is the result of ignorance. International governments spend billions of dollars on weapons - just think what that money could do if it went towards education."
Alongside her work as CEO of AIL, Dr Yacoobi is also co- founder and Vice President of Creating Hope International (CHI). She has been awarded five honorary doctorates and was honoured as the 2013 Opus Prize winner. In 2005 she was jointly nominated with 99 other women for the Nobel Peace Prize.
Over 2.6 million Afghans currently live in exile - half of them are children.
Join our new commenting forum
Join thought-provoking conversations, follow other Independent readers and see their replies