Escaped dissident pleads for action on corruption
Chinese activist who evaded security cordon names officials who 'ignore the law'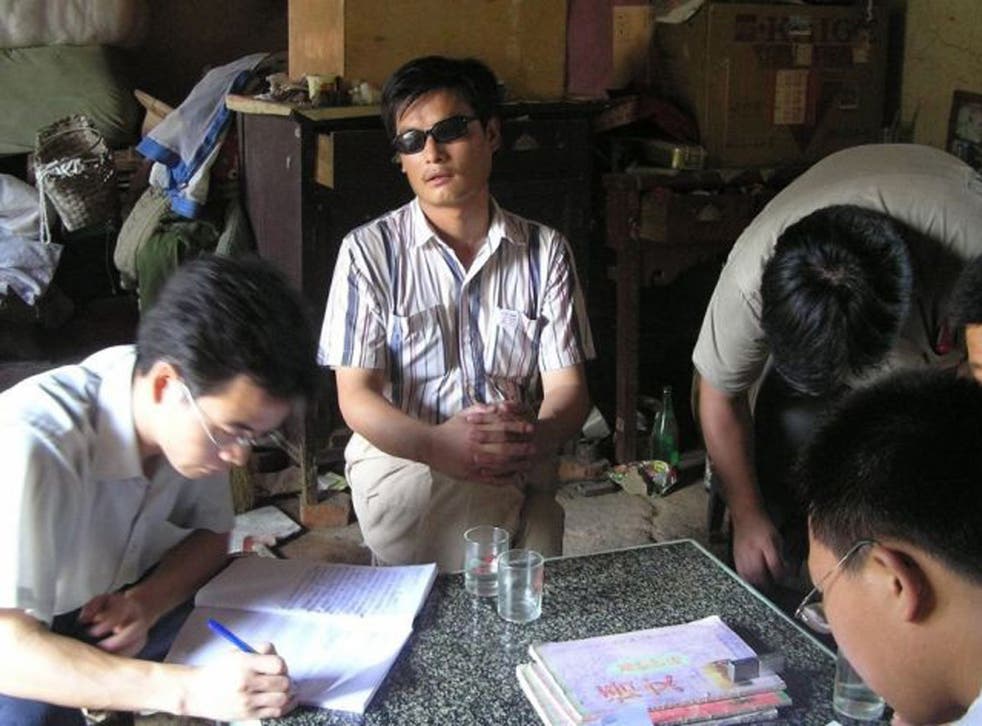 Chen Guangcheng, one of China's most prominent political activists, has pleaded with premier Wen Jiabao to take a tougher stance on corruption after escaping from house arrest this week.
In a YouTube video, Mr Chen, who is thought to have fled on Sunday after eluding security officers outside his home in Shandong province, urged Mr Wen to punish corruption. He named several local officials he said had told him that they "did not care about the law".
Mr Chen also appealed to Mr Wen to keep his family safe, and to probe the brutal treatment he claims they have suffered at the hands of local authorities guarding his home since his detention in September 2010.
"Dear Premier Wen, it was not easy for me to escape," he said in the video. "I can confirm that all the rumours on the internet about the violence done to me at Linyi were all the truth. The actual facts are even worse than the rumours you know from the Internet."
Unconfirmed reports suggest Mr Chen is safe in Beijing. Activists said his family are at the village home in Linyi, which is surrounded by police. "I am still concerned because my family – my mother, my wife, my child – are still in their hands," said Mr Chen.
The 40-year-old, who has been blind since childhood, had been detained in his home since his release from a four-year prison sentence in 2010. A self-taught lawyer, he fought against forced abortions and sterilisations in rural villages and the brutal enforcement of China's one-child policy. He was jailed in 2006 for "damaging property" and "organising a mob to disturb traffic".
His plight has drawn international criticism and the US Secretary of State, Hillary Clinton, has repeatedly called for his release.
Mr Chen's home was heavily guarded by hired men known to attack his friends and relatives, as well as diplomats and journalists who tried to approach the house. Violence resulted when the British actor Christian Bale tried to visit the "barefoot lawyer", as Mr Chen is nicknamed, last December.
Mr Chen has long highlighted corruption and heavy-handedness among local authorities, but China's central government has always distanced itself from the case.
Mr Wen is seen as a caring figure, often referred to as "Grandpa Wen" for his compassionate approach during disasters such as the Sichuan earthquake. He has also vocally supported political reform, though his influence is waning as he enters the last few months of his rule.
China's human rights movement is likely to take inspiration from Mr Chen's bold move. He Peirong, who has campaigned for Mr Chen's freedom, said yesterday that she had helped him reach "a relatively safe place" after his escape. Ms He said: "His mental state is pretty good. He's alive, but whether he's safe I don't know." She said she had last seen Mr Chen days ago. "There's absolutely no guarantee for his safety," she said.
Ms He also denied an online report by Singapore's Lianhe Zaobao newspaper which said that Mr Chen had taken refuge in the US embassy in Beijing on Thursday. By yesterday afternoon, her account on the Chinese social networking site Weibo had been shut down and an unconfirmed report from another of Mr Chen's supporters, Jia Jia, said she had been arrested.
The non-governmental organisation Human Rights in China (HRIC) said Mr Chen's nephew, Chen Kegui, had confirmed that his uncle had fled the family home. According to HRIC, he also said Mr Chen's father, Chen Guangfu, and the lawyer's older brother had been taken away on Thursday.
According to an HRIC statement, Chen Kegui said the head of Shuanghou Township, Zhang Jia, who was in charge of enforcing Chen Guangcheng's house arrest, arrived at the family home early yesterday morning. He said the local leader's assistants attacked him with sticks, only fleeing when Chen Kegui picked up kitchen knives to defend himself. He said he is now in hiding because he fears for his life.
China's opposition: Leading activists
Ai Weiwei
The worldwide fame of the outspoken contemporary artist has given China's persecuted band of dissidents more public attention than ever. His anti-authoritarian views have led to him being fined and imprisoned for alleged tax evasion, as well as placed under house arrest and surveillance.
Liao Yiwu
The author and poet first came to the attention of China's autocrats when he published a long stream-of-consciousness protest poem, titled "Massacre," about the violence against protesters in Tiananmen Square in 1989. His interviews with citizens suffering under the regime are banned.
Guo Quan
The human rights activist was detained in 2008 when he complained about the government's poor rescue and aid efforts after the devastating Sichuan earthquake. Currently serving a 10-year prison sentence for subversion, his wife and family have fled to the US.
Bao Tong
The most senior Communist Party official to be jailed for opposing the Tiananmen Square crackdown, he was given a seven-year jail term after supporting reformist General Secretary Zhao Ziyang, who was purged in 1989. Now out of prison, he was banned from giving interviews in 2009.
Huang Qi
Another activist to suffer from his reactions to the Sichuan earthquake, he was sentenced to three years in prison in 2009 for "illegally holding state secrets". He got into trouble for giving advice to victims of the disaster who wanted to sue the local authorities for the poor construction of schools that collapsed.
Rob Hastings
Join our new commenting forum
Join thought-provoking conversations, follow other Independent readers and see their replies