Filibuster record: South Korean MP's 12-hour speech denouncing proposed anti-terror laws is longest in history
Jung Cheong-rae said his 'foremost worry' as he prepared for his marathon speech was 'the need to go to the rest room,' so for 12 hours beforehand, he drank no liquids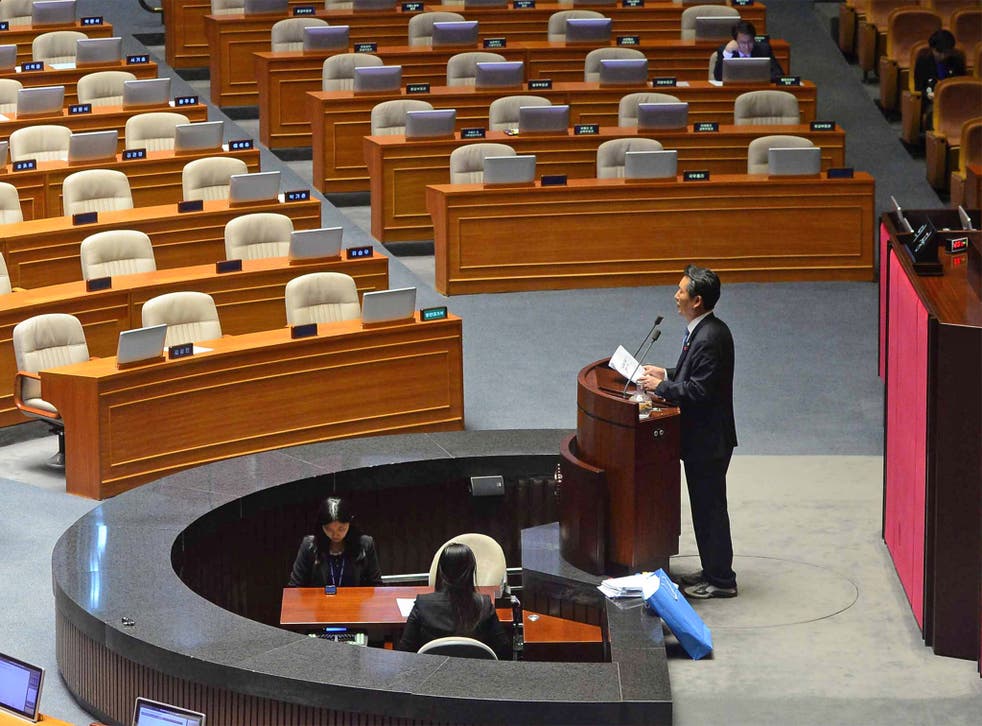 For more than eight days, over more than 11,000 minutes of non-stop talking, the MPs carried on, all the time thinking of new ways to denounce proposed anti-terror laws. When that failed, they read portions of books, legal briefs and court rulings, and previous assembly debates. All the while not thinking of the lavatory.
The longest filibuster in the history of any democracy persisted into the early hours this morning in South Korea before opposition National Assembly members tearfully decided to give up the talking in an atmosphere of bitter disappointment.
At issue was a debate surrounding an anti-terrorism bill that opponents claim will give the powerful National Intelligence Service (NIS) unlimited power to peer into telephone records and bank accounts whenever in need of a pretext to harass and intimidate government critics.
"This law will give the NIS the authority to decide who's a terrorist," said Jung Cheong-rae, a member of the main opposition Minjoo (Democracy) party after talking for 11 hours and 39 minutes, the longest of 39 speeches in approximately 185 hours of filibustering. "It will not prevent terrorist attacks. The NIS will track down anyone who criticises the government."
The filibuster had been launched as the ruling Saenuri party of President Park Geun-hye, holding 157 assembly seats, was poised to pass the law, overriding the Minjoo with 108 seats and two minor parties with 25 seats.
Eventually, Minjoo leaders decided they could not go on blocking the bill while looking ahead to National Assembly elections six weeks from now, in which they hope their persistence in battling the government on this other sensitive issues will increase their numbers in a time of discontent over youth unemployment, rising prices and a rich-poor gap fuelled by the powerful "chaebol" or conglomerates that dominate the economy.
World news in pictures

Show all 50
"Please vote for us," pleaded Park Yong-eun, a Minjoo leader, her voice alternating between shrill slogans and stern reminders of the power the anti-terrorism law will give the government. "We are fighting this law on behalf of the people. We are on your side."
Ironically, Ms Park had already said enough was enough. As she spoke, members of her party huddled outside the assembly hall debating whether or how long to carry on. "The NIS bill will be passed as it is," said an unhappy Minjoo Party aide. "There was no exit plan. It is so sad."
Members of the Saenuri party shouted at speakers whenever their remarks seemed to veer off topic.
President Park Geun-hye, battling for the bill, excoriated her foes. "The National Assembly is nearly paralysed at a time when the lives and safety of the people are threatened by various internal and external challenges as well as the danger of terrorism," she said, accusing assembly members of "a dereliction of duty tantamount to putting the lives and safety of the people in harm's way."
Some speakers burst into song while talking, playing upon emotions with snatches of numbers sung by crowds in demonstrations. Mr Jung Cheong-rae said his "foremost worry" as he prepared for his marathon speech was "the need to go to the rest room". For 12 hours beforehand, he drank no liquids.
Join our new commenting forum
Join thought-provoking conversations, follow other Independent readers and see their replies