Gang rape of toddler in India just one incident of many in the past week alone, activists say
Sexual violence against women and children have become 'common crimes'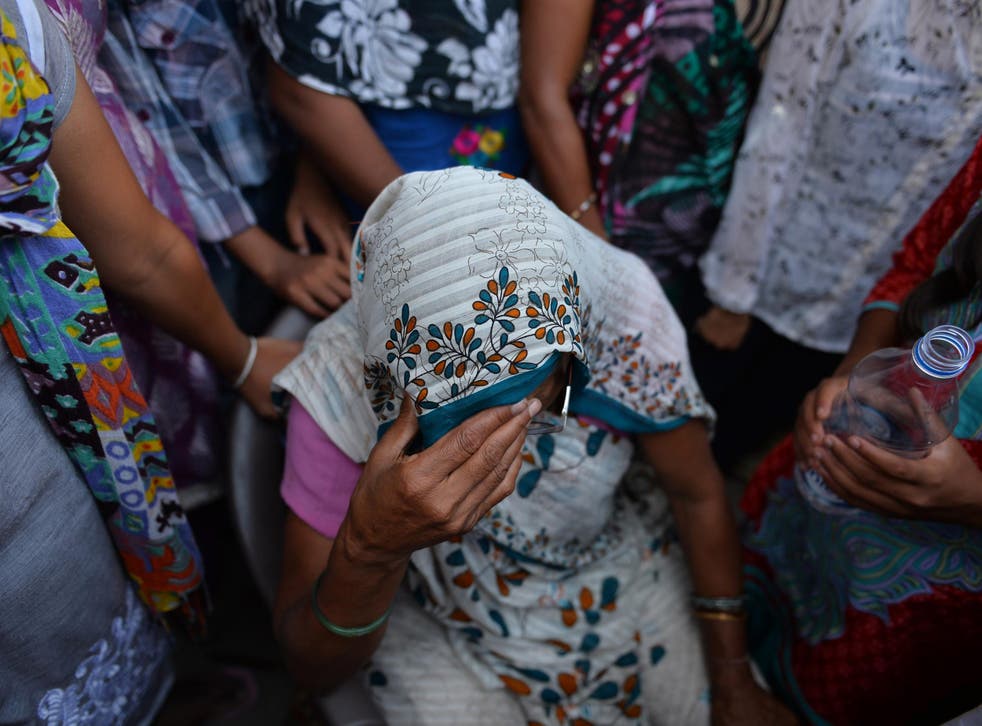 The gang rape of two young girls in India has sent shockwaves around the world – but activists within the country say such horrific crimes are depressingly common.
Police have arrested two teenagers in connection with the rape of a two-year-old girl who, according to officers in New Delhi was abducted during a 10-minute power cut on Friday. The girl was later found unconscious and bleeding.
"The recent series of rapes and gang rapes in India is absolutely disgusting and raises some basic questions of human rights in Indian society," said Girish Kulkarni, founder of the Snehalaya NGO which fights for justice on behalf of survivors of sexual abuse. "But those horrific attacks were incidences of many."
Mr Kulkarni revealed to The Independent the extent of the problem India is facing.
He said: "In the last week, a nine-year-old girl was gang raped and killed in West Singbhum in Zarkhand. An eight-year-old girl was raped by her maternal uncle in Saharanpur, Utter Pradesh. Six people also gang raped a 20-year-old woman in Gudgoan near New Delhi.
"In my Ahmednagar district, there have been four such incidents registered in last 15 days. If we think of the 600 district in 29 states in India, the picture and scale of the violence affecting women and children in India is horrifying."
Dr Jitendra Chavan, a director at the Institute of Health Management in Pune, Maharashtra state, said child abuse had become "endemic" in India.
Referring to the attack on the toddler, Dr Chavan said: "This is a shameful incident specially when Navratra festival is celebrated throughout India. We celebrate this festival to show gratitude and respect towards women, while on the other hand this kind of incident shows that we have great cruelty and injustice in our society."
India protests against sexual violence

Show all 20
Gayatri Buragohain, director of the Foundation for Social Transformation (FST) pressure group, called on the government to take responsibility for the safety of women and girls.
She said: "The rape culture of India is a direct proof of complete disregard for women's & girls' rights and bodily integrity."
"Even in the North East of India, where it is believed that women enjoy more privilege compared to women in other parts of India, rape and sexual assaults are common crimes against women.
"FST condemns all acts of violence against women and calls the government of India to take responsibility for women and girls' safety and security."
A month-long campaign called Her Voice has been set up to run throughout November and put pressure on the Indian government to take stronger action on the issue of sexual violence against women.
Eleanor Harrison, the CEO of GlobalGiving UK, said the campaign was "for our mothers, sisters, daughters, wives, girlfriends and the superb women we are yet to meet in our lives".
"We can, and we must, stop all forms of violence against women. The current situation is shameful. There are heroic individuals and organisations across India fighting for fairness, safety and respect for women. The #HerVoice campaign draws attention to the work of nine wonderful local organisations delivering results in India.
Suhaib Saqib, a UK-based campaigner and founder of the charity Movement for Peace, said he endorsed #HerVoice and stood "in solidarity with the victims of gender related violence".
"We also call upon all stakeholders and the Indian government to safeguard the basic rights of girls and women in India," he said.
Join our new commenting forum
Join thought-provoking conversations, follow other Independent readers and see their replies