Giant 'Not A Bug Splat' art installation takes aim at Pakistan's predator drone operators
The 90 by 60 feet vinyl image shows the face of a child whose parents were killed in a drone attack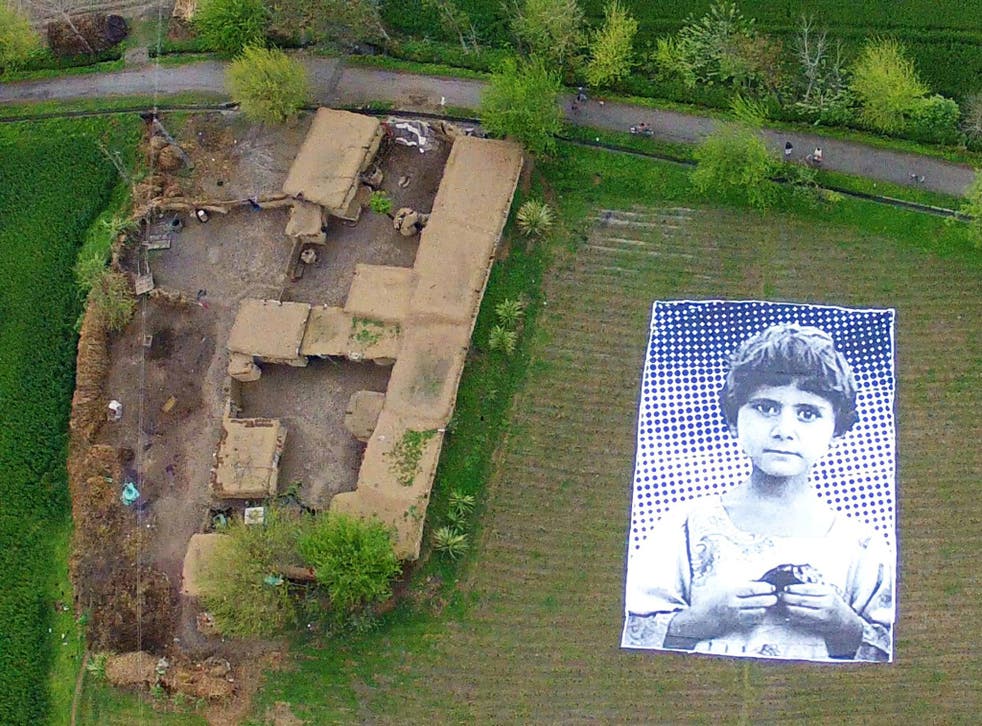 Around 900 adult civilians have been killed in drone attacks in Pakistan, along with an estimated 330 children, in operations that Amnesty International has said often targeted unarmed victims and could amount to war crimes.
Earlier this year, a US Department of Defence study found that the pilots of drones developed stress disorders as much as those in combat do - suffering mental health problems including post-traumatic stress, depression and anxiety.
It has been suggested that this is the reason drone operators refer to their kills as "bug splats" - in order to maintain their emotional distance from their targets. Some of the software used by the US government to assess the number of casualties is referred to in government circles as Bug Splat.
One campaign group has set out to address this by using a poster on the ground in a drone targeted region of Pakistan.
Artists in Pakistan target drones with giant posters of child victims

Show all 5
The 90 by 60 feet vinyl image shows the face of a child whose parents were killed in one such attack.
The picture is laid out in a field in the Khyber Pakhtunkhwa region.
Speaking to The Independent a representative of the #NotABugSplat group said the aim of the project was to "humanise" drone attacks, and was inspired "after learning the fact that drone operators refer to kills as 'bug splats'."
The aim of the poster is to challenge the insensitivity to drone strike victims as well as raising awareness of civilian casualties: "The piece was laid out in KPK province about 2 weeks ago into the field by village locals."
"It was left there until people decided to use the fabric for roofing and other useful purposes."
"The art was always meant to be utilized and not discarded after it was photographed. And of course, we dream of seeing peace in this beautiful region."
According to the group's website: "The group of artists traveled inside KPK province and, with the assistance of highly enthusiastic locals, unrolled the poster amongst mud huts and farms."
"It is their hope that this will create empathy and introspection amongst drone operators, and will create dialogue amongst policy makers, eventually leading to decisions that will save innocent lives."
"Now, when viewed by a drone camera, what an operator sees on his screen is not an anonymous dot on the landscape, but an innocent child victim's face."
Join our new commenting forum
Join thought-provoking conversations, follow other Independent readers and see their replies