Dhaka shooting: 'Foreigners' taken hostage by gunmen at restaurant in Bangladesh capital
Two police officers have been killed  in a gun battle between police and attackers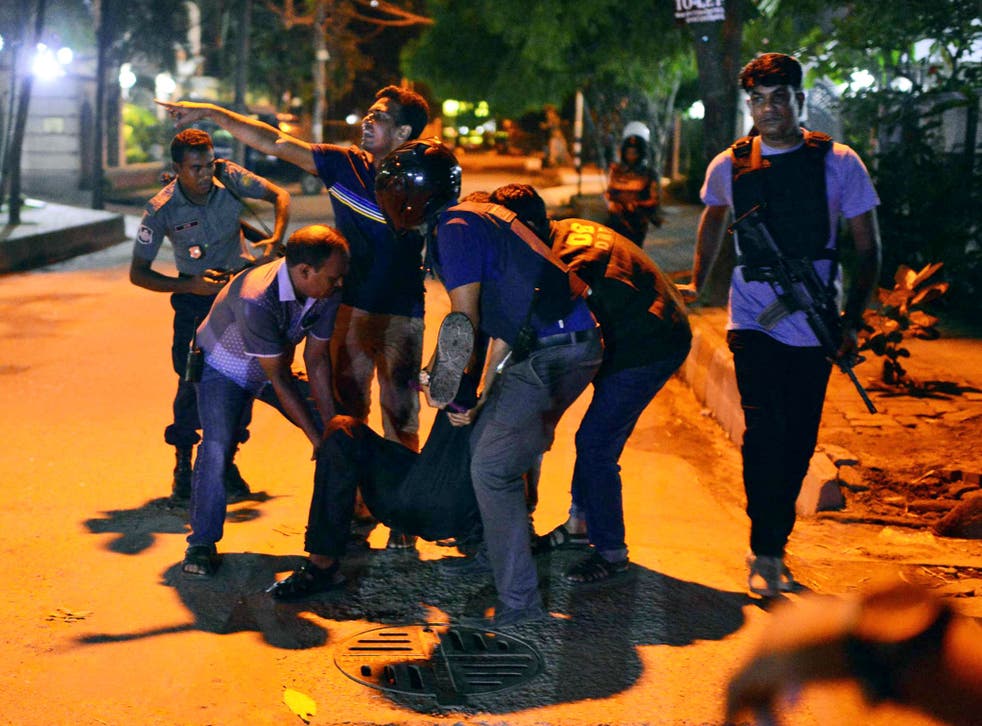 Up to nine gunmen have attacked a restaurant popular with foreigners in the diplomatic quarter of Bangladesh's capital of Dhaka and taken hostages.
Two police officers have been killed in a gun battle between police and attackers at the Holey Artisan Bakery in the Gulshan district, police said.
Hospital authorities said another 25 officers and one civilian were being treated for injuries, including 10 people listed in critical condition. The injuries include bullet wounds and broken bones, they said.
The Dhaka Tribune reports also said at least 20 civilians have been taken hostage, quoting Sumon Reza, a superviser at the bakery, who said that the hostages were all foreigners. This has not yet been confirmed.
In pictures: Bangladesh attacks

Show all 10
Isis have claimed responsibility for the attack. The group's Amaq news agency released a statement to say militants had attacked a restaurant "frequented by foreigners".
Seven Italian nationals are thought to be among the hostages taken by the gunmen, Italian state television said, quoting the Italian ambassador to Bangladesh.
Lori Ann Walsh Imdad, the principal of the American Standard School in the Bangladeshi capital, Dhaka, told The Independent she heard shooting sometime between 8.30pm-9pm.
The school, which is currently closed for the Ramadan holiday, is located just a street or so from the restaurant.
"I've been hearing gunshots all night long," she said. "And I've seen people running."
Mr Reza told reporters the attackers were armed with firearms and bombs as they entered the restaurant around 9:20pm and took customers and staff hostage at gunpoint.
Jamuna Television, quoting Mr Reza, said the gunmen chanted "Allahu Akbar" or "God Is Great" as they launched the attack.
Thousands arrested in Bangladesh killings' probe
Benazir Ahmed, director general of the elite anti-crime force Rapid Action Battalion or RAB, told reporters: "Some derailed youths have entered the restaurant and launched the attack. We have talked to some of the people who fled the restaurant after the attack.
"We want to resolve this peacefully. We are trying to talk to the attackers, we want to listen to them about what they want."
He added: "Some of our people have been injured. Our first priority is to save the lives of the people trapped inside."
Bangladesh has seen a series of attacks, mostly using machetes, targeting bloggers, atheists and religious minorities.
Both Isis and al-Qaeda have claimed responsibility for militant attacks in the country. But the government denies foreign militant organisations are involved and blames two local groups, Ansar-al-Islam and Jamaat-ul-Mujahideen.
More follows
Join our new commenting forum
Join thought-provoking conversations, follow other Independent readers and see their replies