Is Guru Ashutosh Maharaj dead or just meditating? Indian holy man with a £100m legacy
His chauffeur says he was poisoned. His son wants him cremated. But many of his followers say he isn't even dead. Andrew Buncombe reports on the unholy battle for the estate of a very rich holy man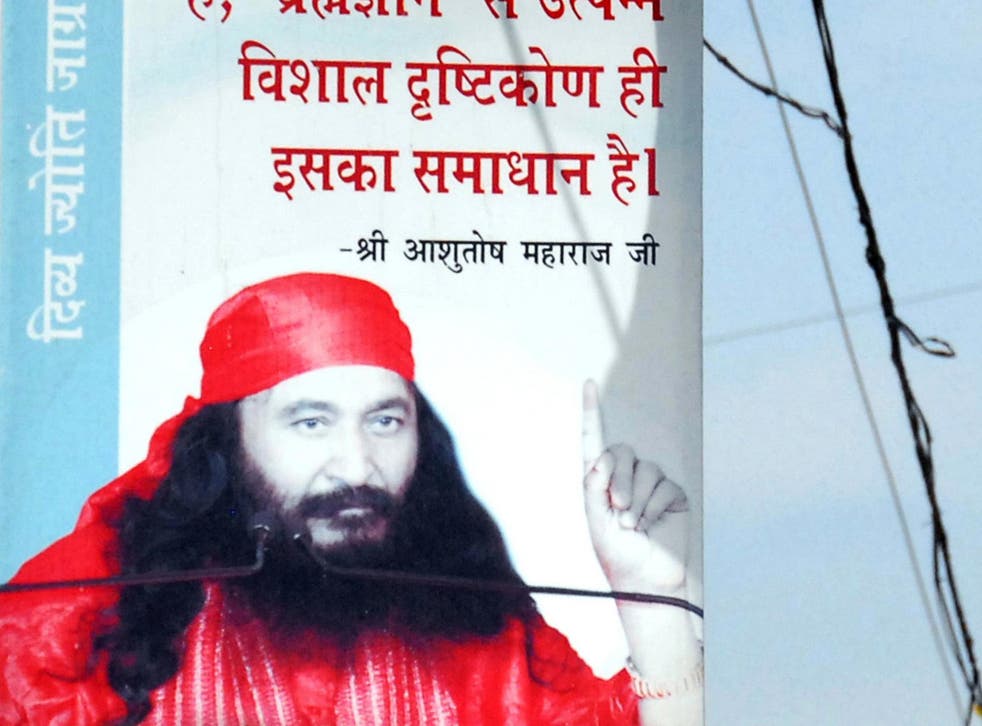 Guru Ashutosh Maharaj is lying inside a freezer. Those who have seen him say his skin is blackened, his face skeletal. They – along with his own doctors who declared him clinically dead on 29 January – are convinced he is no longer among the living.
But many of the guru's large numbers of devotees, along with those who control his network of ashrams worth up to £100m, insist he is still alive. He is, they say, simply in a deep meditative state, known as "samadhi".
"His Holiness Shri Ashutosh Maharaj Ji has been in samadhi since 29th January 2014," says a message on his group's website. "The [group] acknowledges your pledge to stand by the organisation under all circumstances."
This unusual state of affairs could have been simply ignored and the guru's followers could have carried on choosing to believe their leader was in deep contemplation in his "Himalayan conditions", set to emerge at any time; even more so given reports that locally powerful political interests are ready to protect his movement.
But the issue of the guru, said to be in his 70s, has now come before India's courts. A man who claims he is the holy man's former chauffeur has filed a petition seeking a post-mortem examination as he believes his former boss was poisoned.
Meanwhile, another man, who claims to be the guru's son, has asked the courts to order the ashram to release the body so it can be cremated according to Hindu tradition.
This will not be the first time Indian gurus have found themselves at the centre of controversy, or that their organisations have confronted a crisis after the leader's death. But the involvement of the courts will put the matter under intense scrutiny and could create discomfort for powerful people.
"This is the first case like this in history," said SP Soi, a lawyer who is representing both the chauffeur and the son at the High Court of Punjab and Haryana in Chandigarh. "We are demanding a probe by the Central Bureau of Investigation," he said.
It is said that Ashutosh Maharaj was born Mahesh Kumar Jha in the northern state of Bihar. After reportedly abandoning his wife and children after a spat in the early 1970s, he set upon a life of preaching and set his sights on Punjab, at the time the location of a fierce insurgency by Sikh separatists. He established his first ashram in 1983.
His Divya Jyoti Jagriti Sansthan (DJJS) group now has centres across India and around the world, including locations in the UK and US.
But it was at the sprawling, 100-acre retreat on the edge of the Punjab village of Nurmahal, surrounded by quiet farmland and police check-posts – Mr Maharaj received the highest level of security, after he was threatened – that the guru spent much of his time teaching followers. This is where his body now lies.
During a visit to the ashram this week, The Independent was treated to coffee and traditional Indian sweets made from milk collected from the ashram's own cattle.
A 27-year-old lawyer, who said he had been a follower since the age of 10, spoke enthusiastically about Mr Maharaj and the huge crowds his rallies attracted, but said he was not authorised to answer questions. He said few people knew the guru had entered samadhi on a previous occasion, though not for as long.
After an hour or so, the young man announced that no official was available to talk. Calls and emails to the DJJS's spokesperson and to its office in Delhi were not answered.
In a café in Nurmahal, Puran Singh, a former follower of Mr Maharaj, said he had been his official driver between 1988 and 1992. He claims he had fallen out with the guru and left the movement because of his master's alleged eye for the ladies. "He was a womaniser," he said. Sitting under the watchful eye of an armed police bodyguard, he said that after the ashram announced the guru had entered samadhi, he had filed a habeas corpus writ seeking the body. The court said it could not make such an order for a corpse. He has since filed another petition seeking a post-mortem examination.
Mr Singh said he did not believe his former guru had died a natural death. He claimed Mr Maharaj wanted his son to succeed him and that he may have been killed by people opposed to this.
From the café, Mr Singh telephoned Dilip Jha, the man claiming to be the guru's son. Speaking from Bihar, Mr Jha said he had met his father in Delhi in 2013. He said he had no interest in taking over the ashram but simply wanted his father's body to be handed over so that it could be cremated.
"I want to cremate my father according to Hindu tradition," said Mr Jha, who has offered to undergo a DNA test to prove he is the guru's child.
There are a number of instances in India of supporters of gurus refusing to believe their leader has died. Mukunda Lal Ghosh, also known as Paramahansa Yogananda, officially died in 1952 in the US from a heart attack. Yet his supporters claimed he entered samadhi and Time magazine reported that officials at the Forest Lawn Memorial Park Cemetery in Glendale, California, said the body did not deteriorate for 20 days.
Following the DJJS ashram's announcement, state authorities in Punjab were placed on high alert, concerned that the news could spark rioting or violence. A senior official, who asked not to be named, said that a group, including senior police officers, had gone to the ashram to see Mr Maharaj's body but had been refused permission to do so.
The official said police officers were informed by even more senior officers that they should not push the matter. "The [DJJS] is so powerful. There is nothing that could be done," said the official.
Yet after Mr Maharaj's son and driver filed their petitions, the court ordered the police and the state government to file an update.
Eventually, the officials were permitted to see the body, first at the beginning of March and then in May. The officials stayed for 25 minutes and detected no movement from Mr Maharaj's body.
On the second visit, the official said, the body had shrunk considerably and darkened. "It was like an Egyptian mummy."
The two cases before the High Court are set to be heard on 11 July and 25 August.
Mr Soi, the lawyer, claimed it suited the DJJS to keep maintaining that their guru was not dead. He said: "They want people to believe he is in samadhi."
Join our new commenting forum
Join thought-provoking conversations, follow other Independent readers and see their replies