Himalayas avalanches: Conduct of guides criticised as search for 65 climbers in Nepal goes on
Survivors of country's worst hiking disaster talk of heading into danger, while families wait for news of missing relatives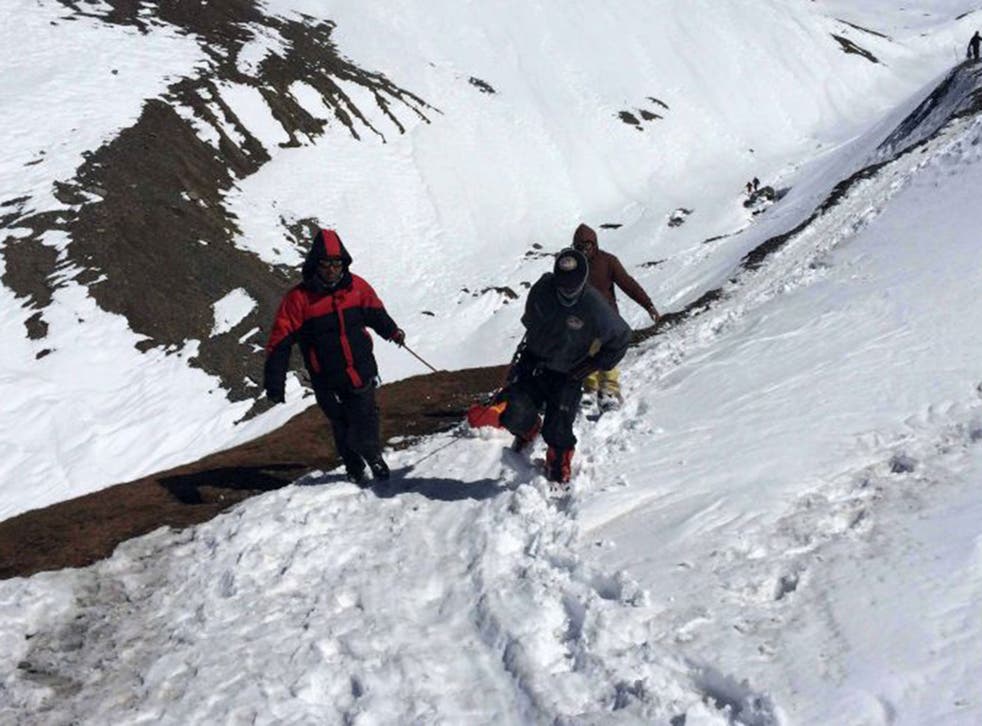 Scores of walkers, including up to nine Britons, were still missing in the Himalayan mountains of Nepal yesterday, after a blizzard that is now known to have claimed the lives of more than 40 people.
Nepalese officials said that as many as 65 people may still be missing, while a website set up to help people make contact with friends and relatives lists more than 250 individuals whose status is "unknown". The remote location, however, means that many of these may simply have been unable to get a mobile phone signal or charger.
Amid the uncertainty, there was concern that Nigel Vardy, a mountaineer and inspirational speaker known as Mr Frostbite after losing parts of his fingers, toes and nose to frostbite on Alaska's Mount McKinley, might have got into trouble while trying to climb the 7,126m peak Himlung Himal with two other Britons, but they were all reported safe last night.
The ongoing search operation found 60 survivors yesterday, taking the total number of people brought to safety to 371. But rescuers also discovered the bodies of nine Nepalese men and two Japanese tourists, taking the death toll to at least 43, among them people from Israel, Canada and Poland.
It is the country's worst ever hiking disaster. Some 175 people have been injured. Most of the deaths were caused by avalanches that hit the popular Annapurna route, a 150-mile path around the world's 10th highest mountain.
Paul Cech, a Canadian trekker walking with an organised party, said yesterday that the group he was with were in a village in the Nar-Phu Valley, at an altitude of about 4,100 metres, when the snow began.
"The guides got together and decided that it made sense to try and get down before we got snowed in," he said. "So we started making our way down the valley. We almost got hit by one avalanche. A second avalanche hit, and seven people died."
Mr Cech, whose Canadian friend Jan Tomlinson, a nurse, was among those killed, added: "In hindsight, the decision [to leave the village] was not a good one. All the local porters were suggesting that we did not go down. It was the foreign guides who made the decision.
"The main message we're trying to get out is that if you are somewhere where you have shelter, heat and food and it starts to snow – in Nepal or anywhere [mountainous] – then stay where you are."
A Doncaster police officer, Paul Sherridan, told BBC Radio 4's Today programme that he had heard that porters had left safety equipment behind to lighten their load, describing this as "an absolute disgusting folly" and claiming that they were "leading people to certain death".
However, Mr Cech said: "We told our porters to dump the gear. I think that's what most people were telling the porters: 'Your lives are more important than our stuff.'"
Gombu Sherpa, who was guiding a group of Germans, said yesterday that many people had got lost in the storm, including one of his assistants. "We found him the next morning wandering in the snow. It is a miracle that he is alive," he said.
Mr Vardy's sister Amanda told BBC News yesterday that the family had been "at a loss" after they stopped getting messages from him.
But she later received an email to say the team he was with were all "fine and secure".
"We will get full confirmation when people have talked to him - so, good news," she said. "We just need now the 'Nigel is drinking whisky in a tent' and I'll be very happy."
Mr Vardy was climbing with Jamie and Clare Glazebrook, of Sutton Scarsdale, near Chesterfield. A relative of the Glazebrooks said he had heard separately that they were also both safe. A Foreign Office spokesman said they are "in close contact" with the Nepalese authorities, and are "not aware of any British nationals injured or killed".
Join our new commenting forum
Join thought-provoking conversations, follow other Independent readers and see their replies