Hong Kong 2017 elections: Protests begin in China as authorities criticised for anti- democracy crackdown
Occupy Central has vowed to stage a sit-in protest in central business district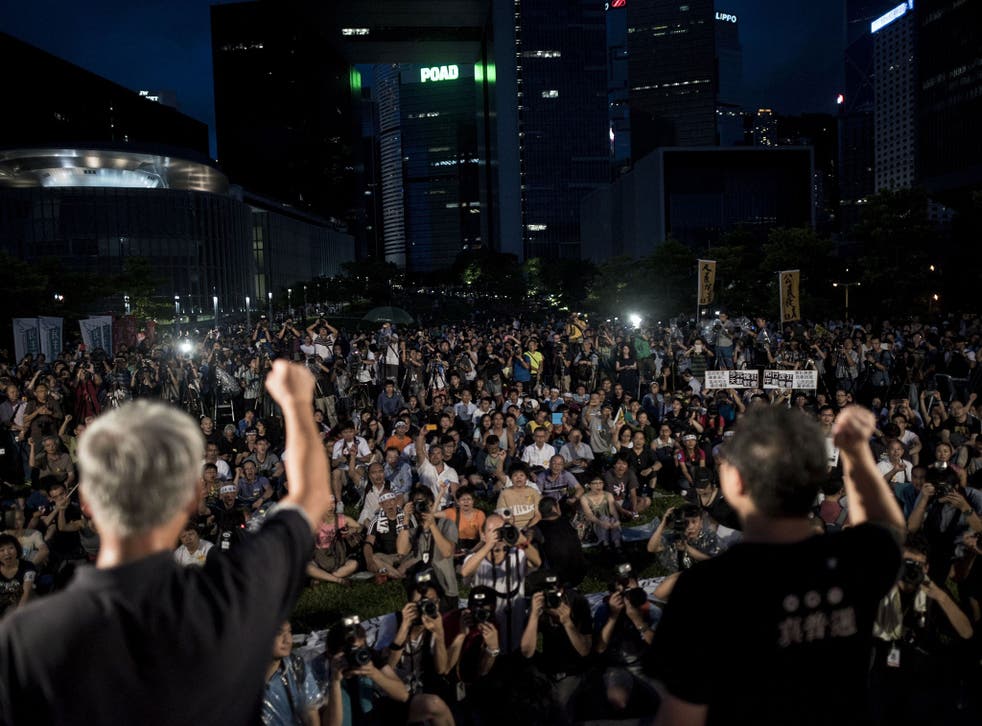 Protesters have rallied outside Hong Kong's government headquarters after authorities ruled out open nominations during the landmark 2017 elections.
The Standing Committee of the National People's Congress (NPC) said it has backed a framework to let only two or three candidates run in the 2017 vote.
The legislature's powerful Committee said all candidates should be approved by more than half of a special nominating body in order to go before voters.
The election will mark the first time the post of chief executive is chosen by voters.
Li Fei, deputy secretary general of the National People's Congress' Standing Committee, told a news conference that openly nominating candidates would create a "chaotic society."
He insisted the decision was "legal, fair and reasonable", saying: "These rights come from laws, they don't come from the sky. Many Hong Kong people have wasted a lot of time discussing things that are not appropriate and aren't discussing things that are appropriate."
Candidates for chief executive should be loyal to China's ruling Communist Party, he added.
Hundreds of Occupy Central with Love and Peace campaigners began protesting after the restrictions were announced and vowed to stage a massive sit-in if in the central business district.
"We are very sorry to say that today all chances of dialogue have been exhausted and the occupation of Central will definitely happen."
Beijing's announcement comes after a summer of protests and counter-protests that have gripped Hong Kong, including a rally two weeks ago by pro-Beijing activists to denounce Occupy Central as threatening the city's stability.
Earlier, Chinese state media warned foreign countries "meddling" in Hong Kong's politics and accused some people there of "colluding" with people outside of China.
An article in Chinese state-run People's Daily quoted a foreign ministry official as saying: "This can absolutely not be permitted".
Join our new commenting forum
Join thought-provoking conversations, follow other Independent readers and see their replies