Hong Kong protests: Demonstrators set for backlash as China's strangulation of the Umbrella Revolution begins
Fears that Beijing may use deadly Triad attacks to end stand-off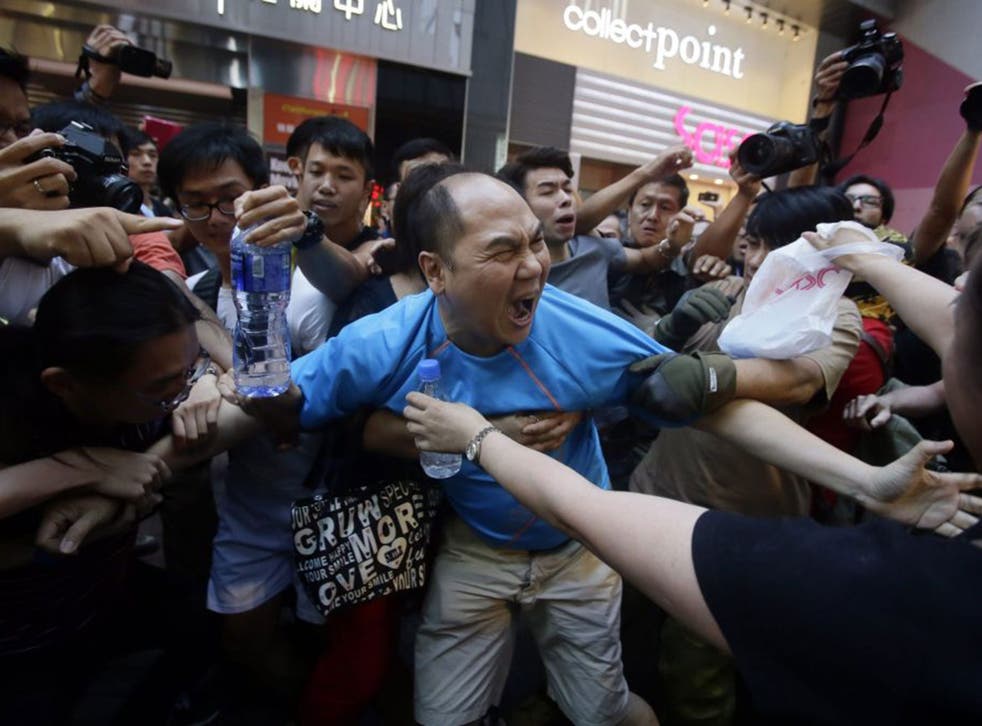 Tens of thousands of protesters continued their occupation of large swathes of Hong Kong yesterday, but the embattled chief executive of the former colony, Leung Chun-ying, warned that the protest's days were numbered.
With a return to normal government working due tomorrow, he warned that all blocked roads must be cleared and access to all government offices opened. Achieving that would effectively end the occupation.
But Leung and his colleagues understand that Hong Kong is now a tinderbox. It was the brutal attempt to disperse a small demonstration one week ago that brought the masses on to the streets in the first place. Heavy-handed efforts to clear the roads could provoke a second surge.
Yet many observers agree that the protests have reached an impasse. Leung has refused the protesters' demand to resign. The Hong Kong Federation of Students in turn rejected the offer of talks with his top civil servant, the key concession that offered hope of a dialogue, accusing police of allowing violence against protesters to break out in the bar district of Mong Kok on Friday.
With no progress on either side, many believe that something has to give. A prominent pro-democrat legislator, Law Chi-kwong, warned last night that government action could be imminent. Enter the Triads. Police confirmed that 19 of those arrested in Mong Kok had Triad backgrounds.
Why should Triads be involved? Mafia-like gangs have been a part of life in Hong Kong for generations, living off extortion, prostitution and illegal gambling. Others are established in legitimate businesses, concentrated in dense commercial areas such as Mong Kok. The gangsters, though theoretically secret, are easily recognised: they tend to chain smoke, wear sunglasses at night, use foul language and have a distinctive swaggering walk. At Mong Kok they attacked in formation.
We may never know for sure who paid the gangsters in Mong Kok. But whoever it was would have been confident of the approval of Beijing.
With sensitivity to police violence now so acute in Hong Kong, the mind of mainland officialdom is undoubtedly going over the strategic options for closing down the protests as quickly as possible, with minimum blowback.
Professor Michael DeGolyer, director of the Hong Kong Transition Project, this week proposed five scenarios available to Beijing for ending the protests, from the most emollient (Leung resigns) to the most draconian (the mainland shuts off the water supply – an abiding fear while the British ruled).
The scenario that has drawn most attention is the most cunning. Professor DeGolyer calls it "the anaconda strategy". A large, non-venomous snake, the anaconda kills its prey by hugging them to death, then crushing and eating them. This strategy, as he explained yesterday, involves: "The slow strangulation of the umbrella revolution using a divide-and-conquer strategy."
In practice it means slowly turning off the economic tap from the mainland, inflicting "painful but easily reversible economic damage in incremental doses as a means to pressure Hong Kong people to turn against the student movement". An example he gave was the barring of tour groups from the mainland visiting Hong Kong. Tourists from the mainland account for 9 per cent of employment in Hong Kong, so the economic pain of visits stopping is considerable.
This prediction came true within hours of him airing it, when Beijing announced the banning of visas for group tours to Hong Kong by mainlanders.
The Triads come into play in the second stage of DeGolyer's strategy, what he calls the crushing phase. He said: "As economic damage escalates, more and more of the public begins to demand government action to bring the demonstrations to an end, or at least, to clear the streets and prevent loss of business. Triads … try to intimidate protesters, to move them out of [Mong Kok, Wanchai bar] areas crucial to their operations."
And that, in his vision, is only the start of it. "As tourism drops, and as local travel in and out of lower Kowloon becomes more restricted, Triad violence escalates. Unemployment soars over 5 per cent from 3 per cent before the protests, with the trend moving upward. Shops start closing, posting signs 'thank you students and democrats for putting us out of business and taking away our livelihood'. If protesters do not clear the streets in these areas and perhaps all areas, 'flying squads' of Triads armed with bats and choppers begin running attacks, flying in, seriously injuring or killing protesters...."
This reads like the description of an apocalypse. But two of his predictions have already come true.
And if the subsequent ones seem implausibly dark, it's worth bearing in mind that, for the authorities, the present state of affairs around the Hong Kong government's offices already has the complexion of an apocalypse.
For the students strolling or lolling around yesterday, Hong Kong in these days may feel like Woodstock without the music. But last night a veteran democratic politician warned that the hour of reckoning could be at hand.
In an email published by the South China Morning Post, Dr Law Chi-kwong wrote: "When the students say no to talk, they have removed their last line of protection. Things can turn very drastic within the next couple of hours. I am begging everyone I know to leave … I believe no one in Hong Kong can stop what may happen in the next couple of hours. I beg with tears."
Join our new commenting forum
Join thought-provoking conversations, follow other Independent readers and see their replies