Hong Kong protests: Pro-democracy protesters threaten to occupy government buildings
Thousands are gathering on the streets during China's national holiday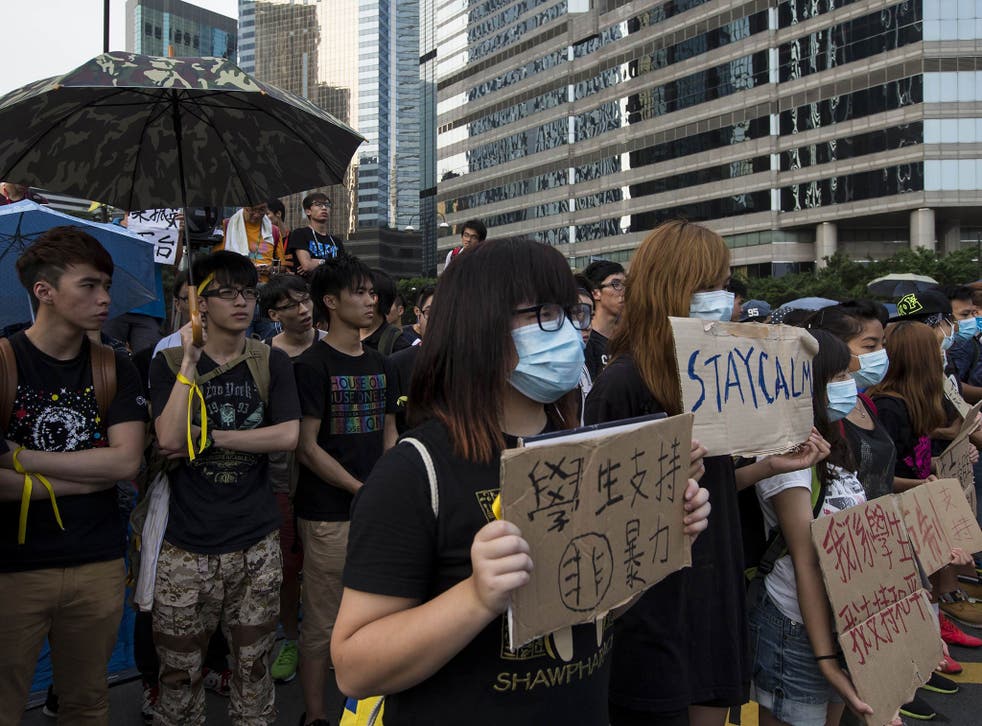 Student leaders of pro-democracy protests in Hong Kong have threatened to occupy government buildings if the territory's leader does not step down.
Honk Kong's embattled leader Chief Executive Leung Chun-ying took part in a ceremony to mark the National Day holiday after refusing to meet demonstrators, who are calling for democratic reforms for Hong Kong's first direct elections in 2017.
National Day marks the founding of communist China in 1949.
Tens of thousands of protesters have now threatened to expand their demonstrations unless he resigns and the Chinese leadership agrees to broader electoral reforms.
The student leaders, who have played a key role in organising the protests to press for greater electoral reforms, would welcome an opportunity to speak to a Chinese central government official, Lester Shum, vice secretary of the Hong Kong Federation of Students, said at a news conference.
"However, we ask them to come to the square and speak to the masses," Mr Shum said. "This is a movement of Hong Kongers and not led by any specific group."
Mr Shum demanded that Mr Leung resign by the end of Thursday and said the student leaders had no interest in talking to him.
Demonstrations have so far taken the form of a six-day stand-off that has blocked city streets and forced some schools and offices to close.
However, the flag raising ceremony passed peacefully, as protesters behind police barricades fell silent and turned their backs.
In pictures: Pro-democracy protests in Hong Kong

Show all 20
In a speech to officials, Mr Leung said it was better to have the right to vote than not to have that right at all.
"It is definitely better to have universal suffrage than not," Mr Leung said.
"It is definitely better to have the chief executive elected by five million eligible voters than by 1,200 people.
"And it is definitely better to cast your vote at the polling station than to stay home and watch on television the 1,200 members of the Election Committee cast their votes."
As he spoke to a group of dignitaries, pro-democracy politician Leung Kwok-hung shouted for him to step down before he was bundled away by security.
Local councillor Paul Zimmerman held up a yellow umbrella - with umbrellas being used by protesters to deflect police pepper spray, they have become a symbol of the non-violent civil disobedience movement.
China took control of Hong Kong under an arrangement that guaranteed its seven million people semi-autonomy, Western-style civil liberties and eventual democratic freedoms that are denied to Chinese living on the communist-ruled mainland.
The territory's first direct elections are set for 2017, but the recent move by the Chinese government saying the special committee will screen the candidates is seen as reneging on a promise that the chief executive will be chosen through "universal suffrage."
China's government has condemned the student-led protests as illegal, though so far it has not overtly intervened, leaving Hong Kong authorities to handle the crisis.
Additional reporting by agencies
Join our new commenting forum
Join thought-provoking conversations, follow other Independent readers and see their replies