Hong Kong protests: The politest demonstration ever – but where do they go from here?
Despite more than four days of continuous occupation by tens of thousands, you could just about eat your chow mein off the tarmac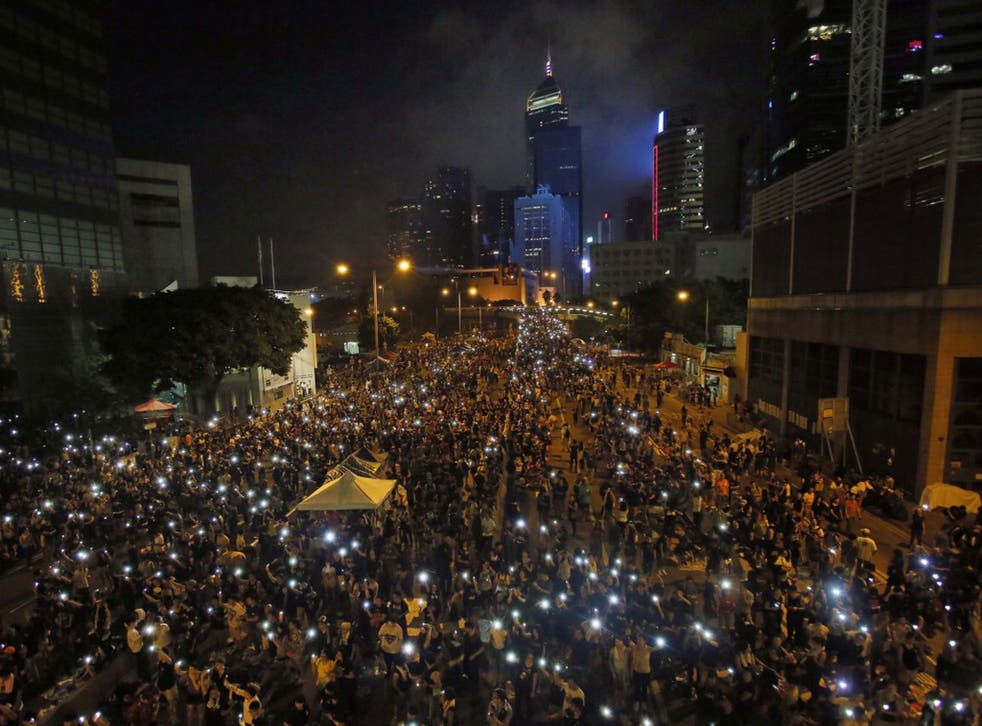 When and how did Hong Kong gain a reputation for good manners? When I came here a generation ago – when thousands took to the streets in sympathy with their mainland cousins protesting in Tiananmen Square – the crown colony's Cantonese population was rough, abrupt and coarse: hawking and spitting, screeching and cursing. You could get a good suit in double quick time and an excellent meal, but the last thing you expected was manners.
But as tens of thousands of Hongkongers reinforced and widened their extraordinary grip on the Special Administrative Region's central areas, this demonstration was probably the politest place to be on the whole planet.
Along the eight-lane highway that links the ex-colony's business heart with the high-end shops and restaurants of Causeway Bay, volunteers dispensed water, towels, umbrellas, face masks and yellow ribbons.
Despite more than four days of continuous occupation by tens of thousands, you could just about eat your chow mein off the tarmac: volunteer rubbish collectors with black sacks patrolled constantly.
A group of men got on their hands and knees to clean chalk graffiti off the road. Ladders were set in place to allow people to clamber over the central reservation; more volunteers handed us up and over. Students with atomisers sprayed hot heads with water.
"Somebody from the BBC asked if there had been any looting," said one protester. "Looting! What's happening is the opposite of looting! They are giving stuff away!"
This is ostensibly a protest about political bullying and betrayal. But when the police tried to close it down by dousing protesters in tear gas it became something else, less clearly focused but more passionate: a roar of indignation from a population who feel that their special identity, fashioned in direct contrast to the mainland's and including very un-mainland qualities like cleanliness and consideration, was being taken away.
"When they use tear gas in the US," said one Hongkonger who lived in America for many years, "it's because they know people in the crowd are armed or there is looting going on. Here the police had no excuse."
"The Sunday protest was completely peaceful and gentle, like the one today," said another, a resident of 11 years originally from Malaysia.
"But police blocked more people from joining it then sprayed them with pepper gas and tear gas. And when people saw that, they said, this is really turning into China, this is very heavy-handed in a mainland way.
"Political pressure is present here all the time as a simmering issue in the background, but when the police used tear gas it was like – damn it!"
Tens of thousands more, most of student age, poured into the streets and have been there ever since.
Since the first, impromptu, demonstrations last Friday the protests have steadily built in size. Now they have swallowed the whole harbourside drag from the Bank of China headquarters and Norman Foster's HSBC building along to the government, police and army headquarters, including the seat of the Legislative Council and the office of chief executive, Leung Chun-ying, and on past Reunification Monument and Golden Bauhinia Square, scene of official pantomime marking the Chinese Communist Party's first 65 years.
This thoroughfare is usually choked with traffic; today it was car-free and protesters walked along its length, enjoying air quality that was measurably better than usual.
But in the latest proof that the movement, fuelled by social networks, has completely outpaced and outgrown the Occupy movement that provided its initial impetus, new occupations blossomed on the far side of Hong Kong harbour, in the bustling shopping districts of Tsim Sha Tsui and Mong Kok.
As darkness fell in Mong Kok, the streets beneath the glitzy banking towers were carpeted by young protesters, at least 20,000 of them, sitting in quiet rows on striped plastic sheeting as people from the crowd stood up and gave two-minute speeches.
"My mother and head teacher told me not to come," said one woman, "but I had to because I love Hong Kong." That theme – of pressure from the prudent older generation to stay at home – was repeated more than once. "I never thought the police would tear gas students!" a man in his thirties shouted indignantly down the microphone. "Hong Kong people are great!" The crowd took up the cheer.
Mong Kok showed the same features as the other nodes of protest: detailed, painstaking, thoughtful preparation and organisation, within what appeared to be a strategic vacuum – and within a strange vacuum of policing, as well. No police officers were visible at all in Mong Kok. Over on the island a few stood in shirt sleeves and apparently unarmed outside police and government headquarters, but otherwise there were none to be seen anywhere. In one sense the task – ending this vast, wholly illegal protest – was far beyond their capabilities. In another sense, it was all so civil and orderly that no policing was required.
But where do the protests go from here?
When it laid its plans for 1 October, the Occupy movement knew what it was trying to do: to bring the financial life of the city to a temporary halt by flooding the central business district with protesters, thus putting pressure on the chief executive to listen to the people and stand up to Beijing's bullying.
This plan, drawn up by the middle-aged professors who head the movement, was in any event a flawed one: 1 October is a bank holiday so the protests would have been ineffectual. The mass impromptu protests earlier this week, falling on ordinary business days, have forced a few bank branches to close, but otherwise have done negligible damage to business activity, and relatively little damage to the stock market.
The damage that has been done is to the prestige of Mr Leung, and to the authority of Beijing. Protesters in Hong Kong have a track record of success, having forced the withdrawal of odious, mainland-inspired reforms in 2003 and 2012.
But the new deal on elections for the next CEO, widening the suffrage but limiting the candidates to three hand-picked in Beijing, comes not from Hong Kong's government but straight from His Master's Voice, the Master being President Xi Jinping, widely described as the toughest leader China has had since Mao himself.
Nobody can imagine Mr Xi backing down in the face of the Hongkongers' rage: the message such "weakness" would send to other recalcitrant outposts of empire, from Taiwan to Tibet to Guangdong to Xinjiang, would unfailingly damage his prestige. But like other protests that social media have generated in recent years, from Athens to Cairo to Ferguson, Missouri, these events are easily brought into being, but tend to be inchoate and extremely difficult to control – however polite the participants.
Back in 1989, Tiananmen Square was also a very well-mannered affair, and it went on for more than six weeks, with minimal policing – until suddenly it was brought to a very ugly end.
That couldn't possibly happen here, Hongkongers were telling each other, more in hope than confidence.
Join our new commenting forum
Join thought-provoking conversations, follow other Independent readers and see their replies