Hong Kong protests: Students complete homework in the streets as occupation continues
Thousands are protesting for democratic reforms. Picture: Richard Frost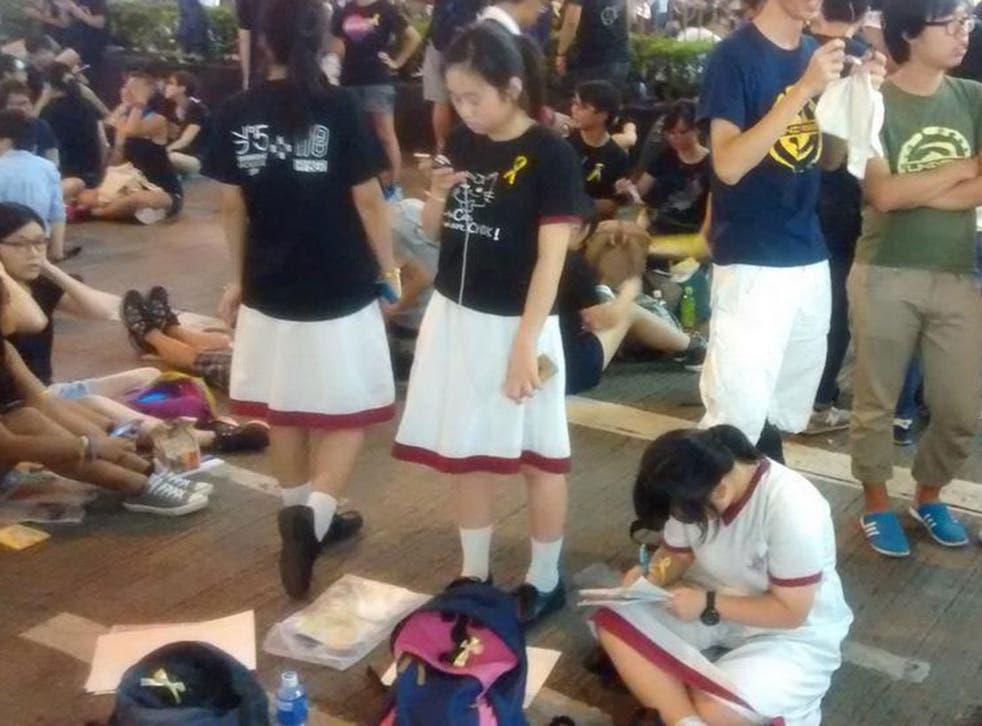 Students are doing their homework on the streets of Hong Kong as they continue to occupy the city centre demanding democratic reform.
Thousands of people are living, eating and sleeping in the road despite a crackdown by police who have fired tear gas and doused protesters in pepper spray in efforts to disperse crowds.
Students started the civil disobedience on Friday, with a sit-in aiming to reclaim Hong Kong's Tamar site, which is also known as Civic Square.
The Occupy Central with Love and Peace movement then started a larger protest in the early hours of Sunday morning, aiming to paralyse an administrative area of the city and put pressure on the Beijing establishment.
Despite the clashes with police, the mood among demonstrators appears to have remained remarkably civil.
After an isolated case of vandalism to a police van, a note was posted on the vehicle apologising for the damage.
"Sorry, I don't know who did this but we are not anarchists - we want democracy," it read.
Volunteers have also been seen distributing free food and water, as well as cleaning up after themselves in the famously orderly city.
At the main occupation at the city's Government headquarters, students sorted plastic bottles for recycling even as they wore goggles and plastic sheets to protect against pepper spray.
Thousands of people are camping out in the Admiralty district in continued opposition to the Chinese Government's refusal to let them select their own candidates for leadership elections in 2017, allowing only Beijing-backed politicians to stand.
China has called the protests illegal and endorsed the Hong Kong government's crackdown, taking a hard line against threats to the Communist Party's power.
Instagram has reportedly been blocked across large areas of China, including in Beijing and Shenzhen, to stop the spread of protest images and Facebook has also been limited.
The unpopular Beijing backed leader of Hong Kong, Chief Executive Leung Chun-ying, has urged people to leave the protests.
"We don't want Hong Kong to be messy," he said in a statement broadcast on Monday.
In pictures: Hong Kong democracy protest 2014

Show all 32
Hong Kong was returned from British to Chinese rule in 1997 with a degree of autonomy and freedoms not enjoyed in mainland China under a formula known as "one country, two systems".
Universal suffrage was set as an eventual goal but Beijing last month rejected demands for people to choose the city's next leader in 2017, allowing a vote but only with pre-selected candidates.
The Chief Executive is elected by a 1,200-strong committee and must be approved by China's central Government.
Under colonial rule, the Westminster Government appointed British "governors" of Hong Kong, with the last being former MP and chairman of the BBC Trust Chris Patten.
Join our new commenting forum
Join thought-provoking conversations, follow other Independent readers and see their replies