Hong Kong protest talks to go ahead despite police attack on student demonstrators
Officers use pepper spray in effort to break up occupation blocking city roads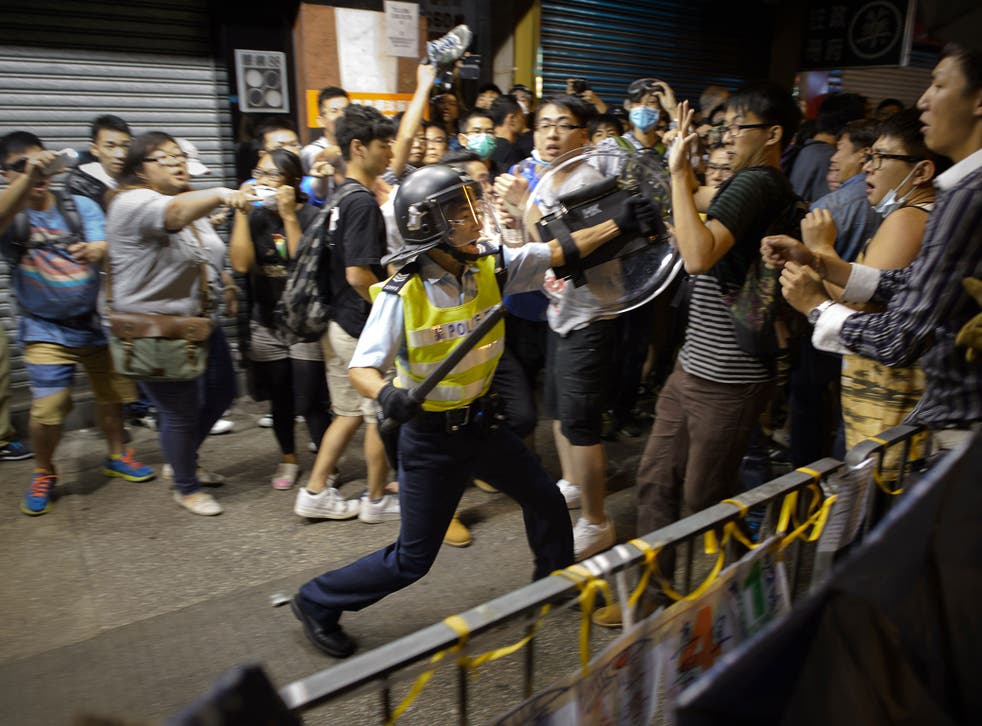 Pro-democracy demonstrators returned to the streets of Hong Kong on Sunday night, undeterred by two days of violent clashes with police.
Some came equipped with helmets and home-made foam arm protectors to defend them against police batons. "I will continue to stay here until C Y [Leung, the city's chief executive] resigns," said Lap Cheung, 40, who left his IT job in the United States to return to Hong Kong for the protests. He added he had no hope of a breakthrough tomorrow at planned talks between student leaders and the authorities. The negotiations will be televised live.
In the early hours of Sunday morning, officers used pepper spray on demonstrators in the shopping district of Mong Kok, parts of which have been closed to road traffic by the demonstrators since the end of September.
The protests were sparked by anger over Beijing's proposal for electing the city's next chief executive in 2017. The plan, set out in August, dictates that all candidates require majority approval from a committee of mostly pro-Beijing members of the city's elite. But Mr Leung suggested yesterday one area where the protesters might find concessions is in the make-up of that screening committee. He said: "There will be plenty of room for us to talk about how we can structure a nomination system so that we have genuine choice of candidates come 2017."
In pictures: Police push to clear Hong Kong protesters

Show all 19
He maintained that certain things remain off the table, reiterating that civic nomination, under which Hongkongers would put up their own candidates, would run contrary to the Basic Law – the mini-constitution under which Hong Kong is governed from Beijing but maintains greater freedoms than the mainland.
During the two-hour talks, Carrie Lam, the city's chief secretary, will lead the government team, and five members of the Hong Kong Federation of students – including Lester Shum and Alex Chow – will represent the protesters. Both Mr Shum and Mr Chow have become well-known spokesmen for the mostly leaderless occupations, which are focused on the city's political and financial power centre.
This is the third time both sides have agreed to meet for talks, but looks like being the first meeting actually to take place. The first was called off by protesters after violence from a counter-protest, and the second was cancelled by the government after it accused students of trying to use the meeting to rally more demonstrators.
On Sunday in Mong Kok occupiers attempted to grab territory on the arterial Nathan Road. Scuffles erupted before police surged forward with riot shields, forcing the protesters back. Dozens of people, including at least 22 police, were reportedly injured in the two consecutive nights of clashes going into yesterday morning.
The police chief superintendent Hui Chun-tak said the crowd included "activists from radical organisations as well as trouble-makers" and that four men were arrested.
He said protesters "charged the police cordon, trying to occupy the road junction. Repeated warnings were issued to stop charging the cordon. However, they were all ignored."
Mr Leung said authorities would continue trying to clear the streets "in parallel" with the dialogue. This two-pronged strategy has fanned protesters' anger further, with many major voices in the movement claiming that the continued attempts at clearance call into question Mr Leung's sincerity in offering the talks.
In Mong Kok, protesters appeared defiant and also angry that the city government was portraying their campaign as increasingly radicalised and violent. Igloo Novas, a student, told Reuters that Hong Kong leaders must tell Beijing the "truth", that the majority of Hong Kong people wanted to choose candidates in elections freely. "This is one compromise I can accept from the government," she said.
The situation in Hong Kong also surfaced during weekend talks between US Secretary of State John Kerry and the Chinese state councillor Yang Jiechi in Boston.
According to Reuters news agency, a senior US State Department official said Hong Kong was discussed as part of "candid exchanges" on human rights while a Chinese foreign ministry statement said Mr Yang had told Mr Kerry that no country should interfere in Hong Kong, "purely an internal affair of China".
Join our new commenting forum
Join thought-provoking conversations, follow other Independent readers and see their replies