Hundreds of thousands turn out to see Pakistan's rising son
200,000 turn out to see Benazir Bhutto's heir take his first step on the path to political power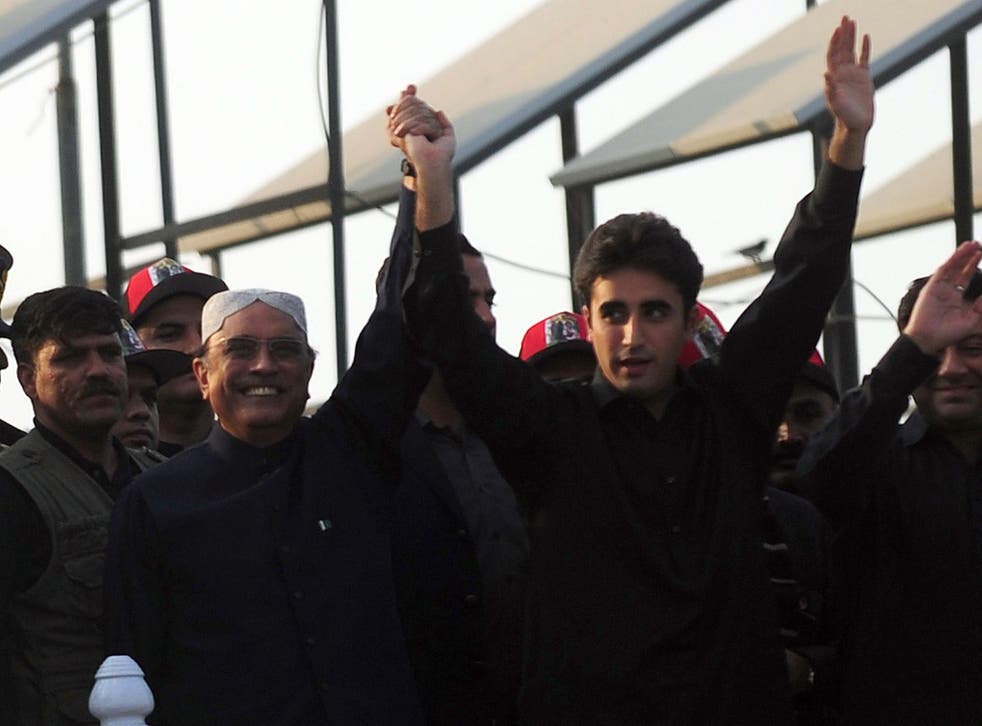 Five years after the assassination of Pakistan's former Prime Minister Benazir Bhutto, her son and political heir has outlined his vision for the country in a speech his supporters claimed marked the launch of his own career in politics. Critics said it underscored the enduring presence of dynastic politics, more than 65 years after the creation of Pakistan.
More than 200,000 party workers and supporters gathered at the Bhutto family mausoleum near Larkana in the southern Pakistani province of Sindh to hear 24-year-old Bilawal Bhutto Zardari deliver his first major political address. Security was reportedly very tight and more than 15,000 police were on duty as the Oxford University graduate and other leaders of the Pakistan People's Party (PPP) addressed the crowds, and paid emotional tributes to the late Ms Bhutto.
"Benazir sacrificed her life to uphold democracy," Mr Bhutto Zardari said of his mother, who was killed five years ago in Rawalpindi while campaigning ahead of parliamentary elections. "The beacon of democracy continues to shine."
Within days of the 27 December 2007 killing of Ms Bhutto, who twice served as the nation's premier, her son was appointed co-chairman of the PPP, along with her widower, Asif Ali Zardari, who became President.
At the time of his mother's assassination by the Taliban, Mr Bhutto Zardari was aged just 19 and for several years he kept a low profile. But the late premier's supporters have always wanted to push the young man to take on more responsibility within the party, even though he cannot stand for election until his 25th birthday in September next year. Earlier this year, he accused Pervez Musharraf of "murdering" his mother by sabotaging her security – an allegation the former military ruler has denied.
The desire to utilise the Bhutto name – his grandfather Zulfikar Ali Bhutto served as President and Prime Minister – is all the greater given the unpopularity of Mr Zardari and that elections are scheduled to be held in the spring. Mr Zardari, who has repeatedly been forced to deny allegations of corruption, is prohibited from leading his party's campaign. "This is his political career's first public meeting," Mr Bhutto Zardari's spokesman, Aijaz Durrani, told AFP. "A new Bhutto is emerging today in the shape of Bilawal who has vision of his mother and grandfather, and people are excited."
The party's intention to capitalise on the Bhutto legacy was underscored by Prime Minister Raja Pervez Ashraf. In a statement, he said: "Bilawal Bhutto Zardari, following in the tradition of generations, will prove to be an important turning point for democracy and politics."
Dynastic politics remains pervasive in many parts of south Asia, and in Pakistan, there is no more powerful dynasty than the Bhutto family. Rasul Baksh Rais, a political analyst, said Mr Bhutto Zardari's political blooding had long been anticipated. "Politics is dominated by influential political families who build coalitions to hold power," he said. "There's no ideology, no questions about past allegiances or support for the military. It's a pragmatic approach."
Raza Rumi, a writer and analyst with the Jinnah Institute, said Mr Bhutto Zardari's "foray into politics" is "an opportunity for the party to connect with the younger Pakistanis who now comprise majority of the population".
Join our new commenting forum
Join thought-provoking conversations, follow other Independent readers and see their replies