'I wouldn't come any further': when Blair lost his cool with a protester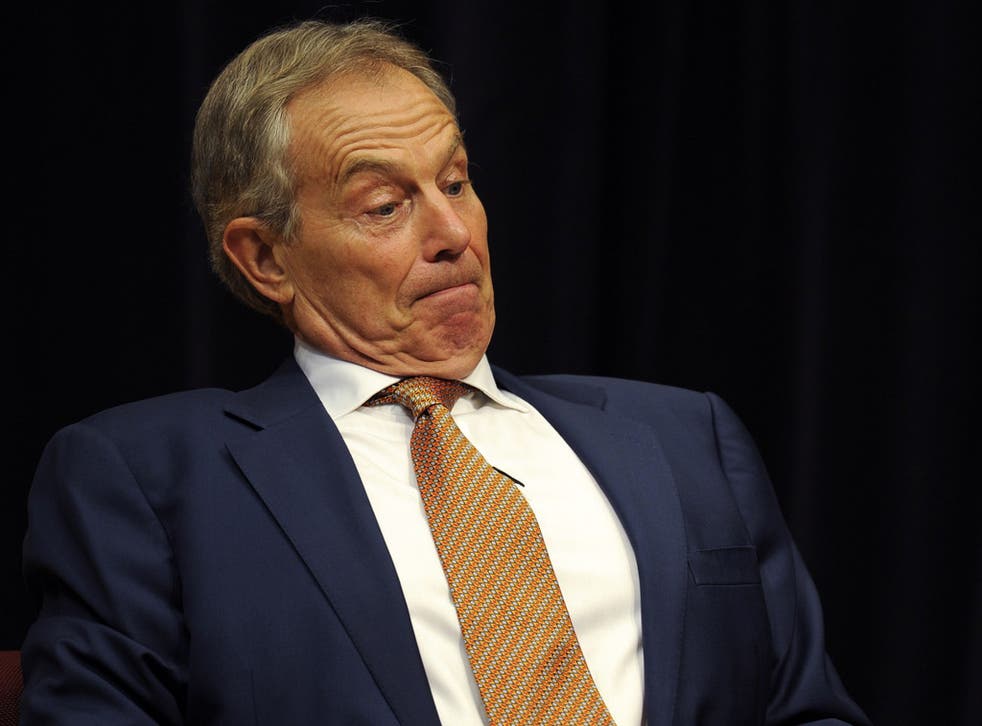 An anti-war protester has tried to arrest Tony Blair in Hong Kong - the third occasion in as many weeks in which demonstrators have heckled the former prime minister.
Mr Blair told the protester: "I wouldn't come any further," before saying later: "Actually, I am used to it."
This time the intruder, Tom Grundy, got within a few feet of the former PM before being ordered out by security staff. On 20 May Mr Blair was interupted while giving a speech in the US and seven days later an intruder approached him at the Leveson Inquiry in London.
Mr Grundy issued his challenge in Hong Kong where Mr Blair was about to give a speech on religion and globalisation for the Tony Blair Faith Foundation at the University of Hong Kong.
Security officials blocked the path of the protestor as he cited breaches of the Geneva Convention and several other international codes before leaving peacefully when threatened with arrest. Outside the autditorium Mr Grundy explained he believed Mr Blair was guilty of offences tantamount to war crimes: "I attempted a citizen's arrest against Tony Blair today because back in 2009 he admitted he would have gone to war with Iraq regardless of the WMD's [Weapons of Mass Destruction], and that means it's in defiance of the Nuremburg Principles, the UN Charter, the Geneva Convention, and a pending International Criminal Court, a Rome Statute." Mr Blair shrugged off the intrusion. "That's democracy for you. Actually I am used to it", he said.
Anti-war protestors seem determined that Mr Blair's role in starting the war against Iraq will not be forgotten or ignored. He has been dogged by accusations of being a war criminal for ordering British troops to invade Iraq in 2003. The most striking occasion recently was when film-maker David Lawley Wakelin managed to evade security to get into the Leveson Inquiry and accuse him of being a "war criminal". Nor was it the first time he had confronted the former PM, having previously won loud applause on the BBC's Question Time programme when he said: "This country is led by liars prepared to kill in the name of oil." Having breached the Leveson security team Mr Lawley Wakelin was arrested but later released.
A week before Mr Blair had to break off from giving evidence at the inquiry, he was interupted while delivering a graduation speech at Colby College in Maine in the United States.
One man was arrested as a group hurled abuse at the "warmonger". In the speech Mr Blair called for international co-operation and urged people to understand each others' cultures.
Register for free to continue reading
Registration is a free and easy way to support our truly independent journalism
By registering, you will also enjoy limited access to Premium articles, exclusive newsletters, commenting, and virtual events with our leading journalists
Already have an account? sign in
Register for free to continue reading
Registration is a free and easy way to support our truly independent journalism
By registering, you will also enjoy limited access to Premium articles, exclusive newsletters, commenting, and virtual events with our leading journalists
Already have an account? sign in
Join our new commenting forum
Join thought-provoking conversations, follow other Independent readers and see their replies