India election body blocks release of controversial Bollywood Modi biopic as country goes to polls
Voting begins in India's mammoth general election on Thursday, and will run for six weeks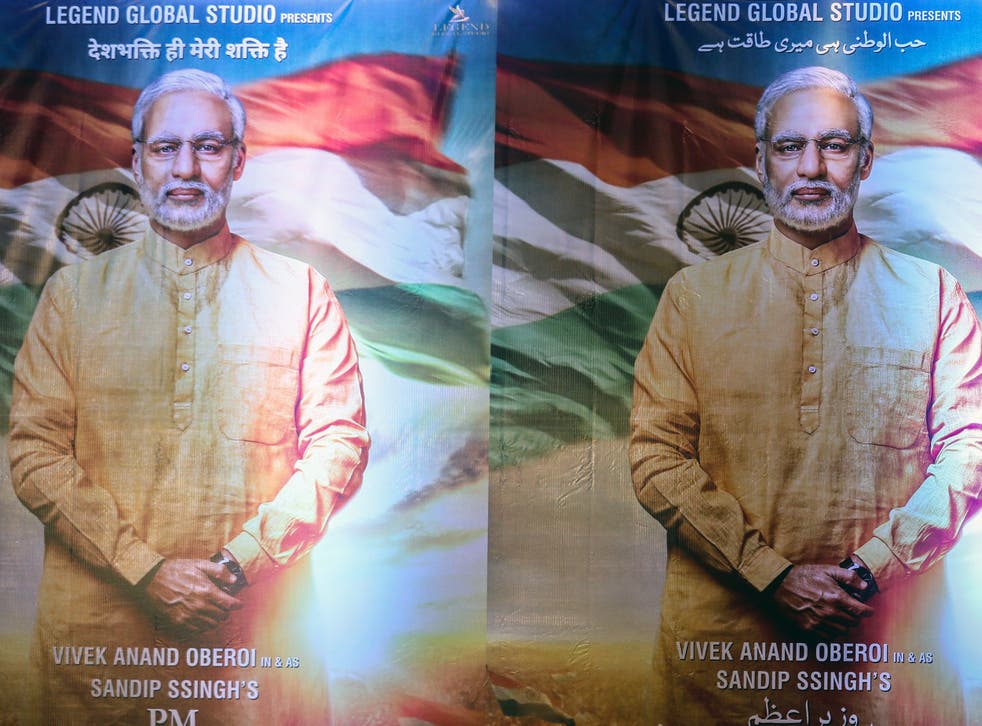 India's independent election body has dramatically blocked the release of a controversial biopic on the life of prime minister Narendra Modi, which was due to hit cinemas on Thursday just as the country's general election gets underway.
Opposition parties had complained that the Bollywood film would unfairly favour Mr Modi's ruling Bharatiya Janata Party (BJP) as he seeks re-election for a second term.
Voting in the mammoth, six-week election begins tomorrow in 91 of the 545 seats in India's lower house, the Lok Sabha, and will conclude on 19 May, with results to follow a few days later.
It comes as Bollywood stars have taken on an increasingly important and polarised role in the election season, where traditionally actors would consider backing any single party a risky career move.
Surprisingly, it has been not manifestoes or major speeches but the issue of the Modi biopic that has dominated news about the election in recent days.
Best photos from India's Republic Day parade

Show all 20
With a self-confessed fan of the prime minister, Vivek Oberoi, in the titular role, PM Narendra Modi tells the story of how the politician rose from being a Gujarati tea-seller to lead the country.
Producers have defended the film, saying they have no links to the BJP or wishes to influence the result of the general election.
Director Omung Kumar, in a recent interview, said he was "not politically inclined" and that the timing of the release was simply a commercial decision. "Of course we will benefit," he said. "Why shouldn't we? If other producers benefit out of Diwali, Christmas and Holi, are we [not] doing the same?"
The film's release appeared set to go ahead, as the industry's certification board cleared it on Tuesday and gave it a "U" rating, meaning it was appropriate for all viewers.
But on Wednesday afternoon, an order was issued by the Election Commission of India stating that any "biopic material in the nature of biography/hagiography" risked violating the election code of conduct.
PM Narendra Modi, it said, "has the potential to disturb the level playing field during the elections", and therefore "should not be displayed" in any format until after the polls have closed.
Congress leader Kapil Sibal has previously described the biopic as clearly "politically motivated" and lacking in "artistic venture". "The purpose of this film is only political – to get some extra mileage in the elections," he said.
The backlash against the film was not only about the influence it might have on cinemagoers. In Delhi, the chief electoral officer condemned full-page adverts for the film that appeared in two major Hindi dailies as "a clear case of surrogate [political] advertising".
In his report, electoral officer K Mahesh said the adverts had been booked by Acharya Manish, a producer for the biopic who had "strong political inclinations" towards the prime minister.
Though political advertising is not strictly banned in India's elections, all instances must be pre-approved by the election authorities so that any spending is accounted for. Approval had not been sought in this case, Mr Mahesh said.
Also on Wednesday, an account by the Reuters news agency described how Mr Modi had actively reached out to influential figures in Bollywood in a bid to use their soft power as part of his election campaign.
It recalled a meeting on 10 January in which the prime minister flew a dozen of Bollywood's biggest names in a private jet to the capital Delhi for a private audience, after which stars including Ranveer Singh, who has nearly 22 million followers on Instagram, posted pictures of themselves hugging and smiling with Mr Modi.
Mr Modi asked the filmmakers and stars to "talk about patriotism, and Indian culture and values", in their films, said producer Mahaveer Jain. "He recognises the soft power of Bollywood, and the impact it can have."
Support free-thinking journalism and attend Independent events
Joyojeet Pal, a University of Michigan professor who has analysed Mr Modi's social media feed since 2009, said: "There is perhaps no politician in the history of Indian politics who has been able to create a celebrity outreach programme like Narendra Modi."
Since the meeting, Bollywood has released three movies with lead actors in prime ministerial roles. They include the year's biggest box office smash, Uri: The Surgical Strike, a film about a 2016 operation targeting alleged terrorist training camps in Pakistan-administered Kashmir. Since the start of the year, Mr Modi has made national security his number one talking point for the election.
Meanwhile, other groups of actors, filmmakers and cultural influencers have been unusually outspoken about the election, issuing joint statements in recent weeks urging the public to "vote hatred out of power".
To his critics, Mr Modi and his senior BJP cohort have used identity politics and Hindu nationalist messaging to muster up votes, dividing communities in the process.
Swara Bhasker, one of the most outspoken actors, campaigned on behalf of a prominent left-wing student leader who is taking on a BJP minister for his seat in Bihar state, saying that a win for activist Kanhaiya Kumar would be a "victory for democracy".
And in a series of joint letters, close to 1000 artists, theatre actors and filmmakers called on voters to reject "hate politics". They included the actors Naseeruddin Shah and Girish Karnad, the director Pa Ranjith and the authors Amitav Ghosh and Arundhati Roy.
Register for free to continue reading
Registration is a free and easy way to support our truly independent journalism
By registering, you will also enjoy limited access to Premium articles, exclusive newsletters, commenting, and virtual events with our leading journalists
Already have an account? sign in
Register for free to continue reading
Registration is a free and easy way to support our truly independent journalism
By registering, you will also enjoy limited access to Premium articles, exclusive newsletters, commenting, and virtual events with our leading journalists
Already have an account? sign in
Join our new commenting forum
Join thought-provoking conversations, follow other Independent readers and see their replies