Climate crisis could have contributed to landslide in India that killed 70, probe finds
Global warming 'could have partially contributed', experts say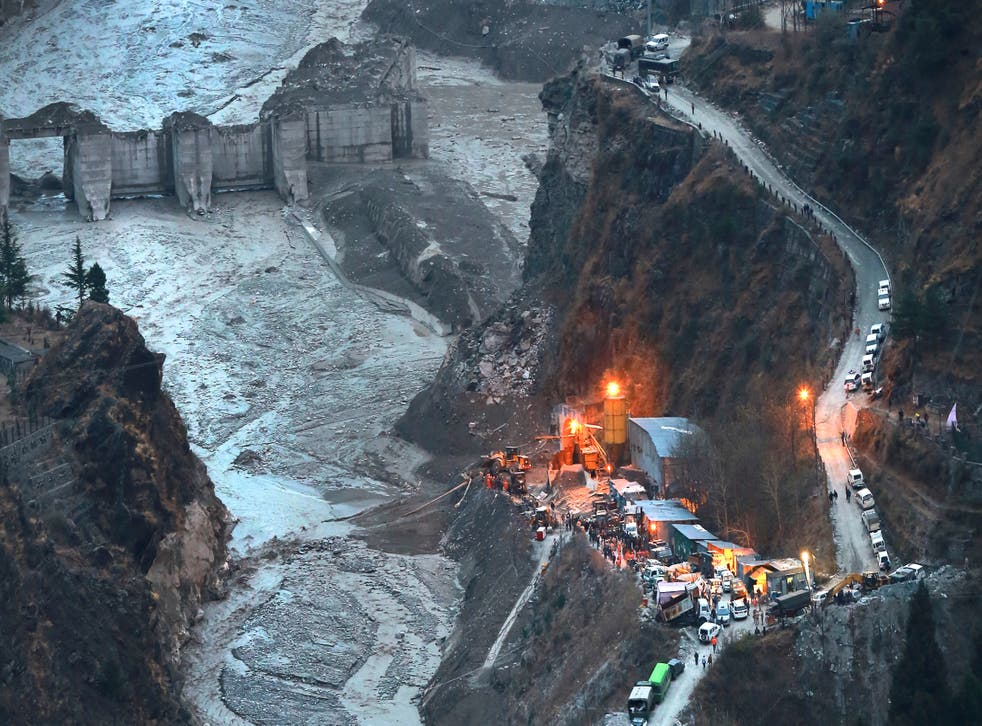 The climate crisis may have partly contributed to a deadly flood in India last month, a research institution has said.
The flash floods in the Chamoli district of Uttarakhand on 7 February left more than 70 people dead and 134 missing, according to official figures.
The International Centre for Integrated Mountain Development (ICIMOD), which works across eight countries in Asia, said the tragedy was caused by a massive rockslide, dismissing speculation that it was triggered by a glacial lake bursting.
In a report released on Friday, the centre wrote that the energy unleashed by the landslide resulted in ice melting. This was compounded by heavy rainfall in the area a few days before the event.
"Infrastructure in the flood path, particularly hydropower projects, exacerbated the impact of the flood," it added.
This is something that activists have been warning the authorities about for decades.
Shortly after the flood, Vimal Bhai, a long-time activist with civil rights group Matu Jan Sangathan,
He said he was certain "the large dams over the river have increased the natural disasters" by "violating every environmental norm".
On the subject of the climate crisis, the ICIMOD said the disaster could not be "directly attributed" to it, but that the "increased thaw-freeze cycle of permafrost could have partially contributed to the event".
The report's authors also noted that this January was the warmest in Uttarakhand for six decades.
Last month, Stephan Harrison, a professor of climate and environmental change at the University of Exeter, said it would be "extremely difficult" to attribute global warming as the cause.
"What such events do show is that development of infrastructure such as hydroelectric power in high glaciated valleys requires a good understanding of the likely climate and geological risks in such rapidly evolving systems," he added.
Join our new commenting forum
Join thought-provoking conversations, follow other Independent readers and see their replies