India to launch Moon rover to search for water at satellite's south pole
Lander could become first ever spacecraft to land in the region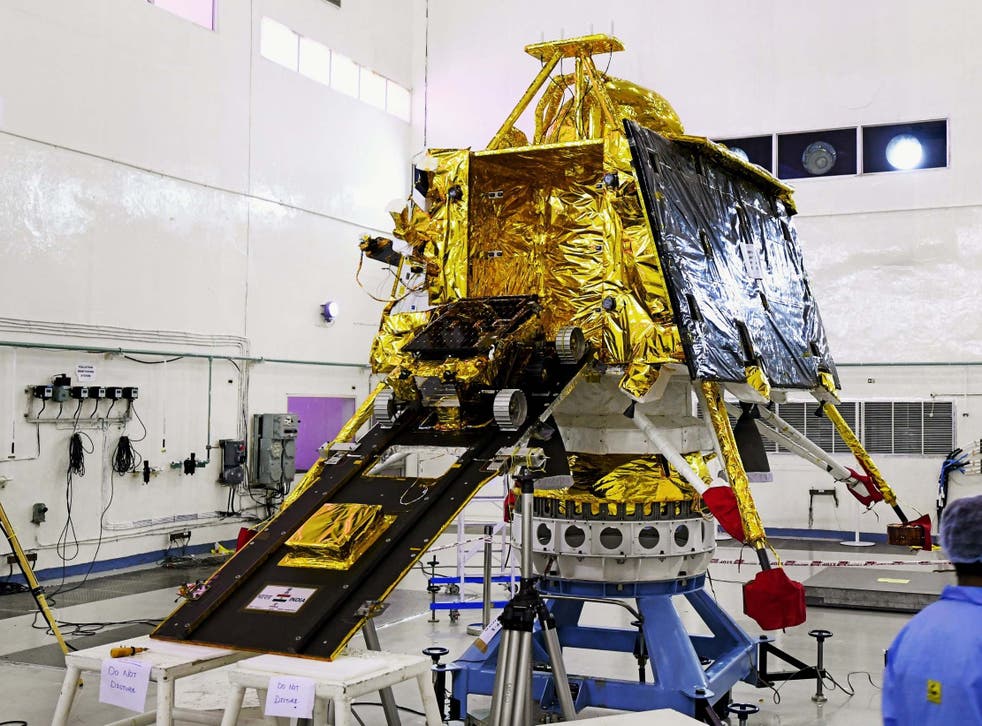 India is preparing to launch a spacecraft to the Moon, becoming the only the fourth country to make a soft landing on the surface.
The unmanned lander and rover had been due to lift off on Monday and to touch down near the Moon's unexplored south pole on 6 or 7 September, becoming the first ever spacecraft to land in that region. However, India postponed the launch.
After that the rover will analyse minerals, map rock formations on the surface and search for water.
The lunar south pole is especially interesting because a much larger portion of it is in shadow than the north pole, presenting a greater possibility of water.
Water is an essential ingredient for life, and finding it is part of science's broader goal of determining whether there is life elsewhere in our solar system.
Apollo 11 mission: Historic first moon landing in photos

Show all 19
The $141m (£112m) Chandrayaan-2 mission will "boldly go where no country has ever gone before" the Indian Space Research Organization said.
Previously only the US, China and the former Soviet Union have made soft landings on the Moon.
India's first lunar mission, Chandrayaan-1, Sanskrit for "moon craft", orbited the Moon in 2008 and helped confirm the presence of water.
In 2013-14, India put a satellite into orbit around Mars in the nation's first interplanetary mission.
Some have questioned the expense in a country of 1.3 billion people with widespread poverty and one of the world's highest child mortality rates.
But author and economic commentator Gurcharan Das said the cost of the second moonshot was small compared with India's overall budget and that the project could have a multiplier effect on the economy.
With India poised to become the world's fifth-largest economy, the nationalist government of prime minister Narendra Modi is eager to show off the country's prowess in security and technology.
Join our new commenting forum
Join thought-provoking conversations, follow other Independent readers and see their replies