India rape lynching: Police block internet for two days over fears footage of killing could spark more organised violence
The mob dragged Khan from his cell in Dimapur jail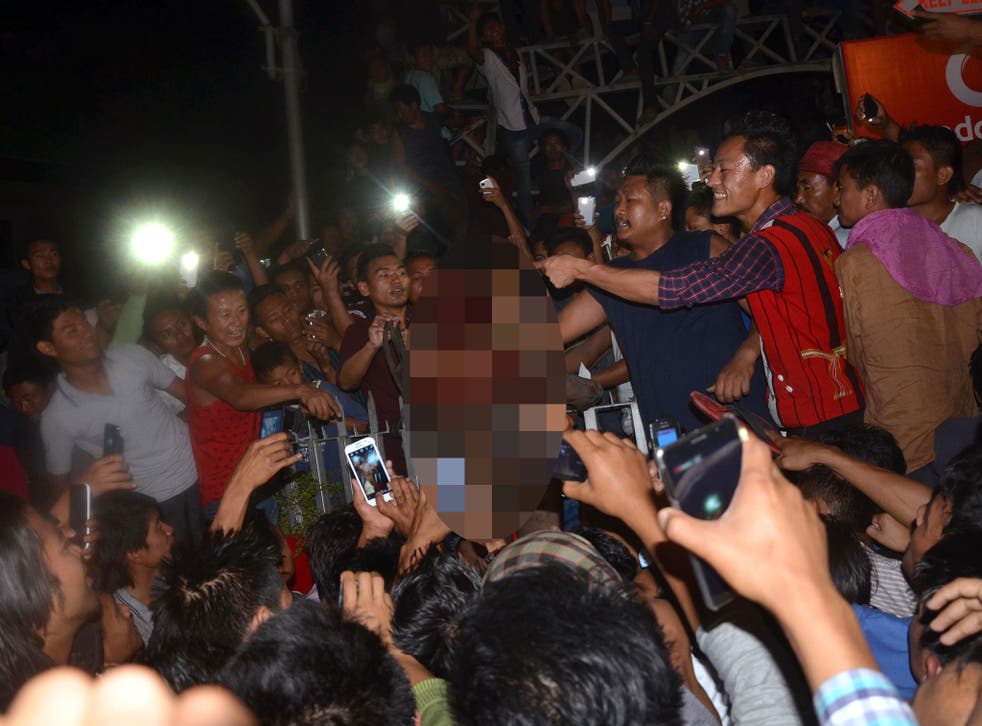 Police in north-eastern India have arrested 21 people and blocked text messages and internet connection after a rape suspect was lynched by a mob.
Rape suspect Syed Farid Khan was dragged from a high-security jail in Dimapur city on Thursday in front of a crowd of several thousands and then pelted with stones and beaten to death.
On Monday, police said they had arrested 42 people in connection with the attack and that they had placed a ban on the sending of all SMS messages after it emerged video and images of the attack were being widely shared on social media.
Nagaland Police Dimapur range IGP Wabang Jamir said: "We want to stop circulation of the images and videos of the lynching, as these might escalate tensions." It is also thought that the block is to stem the coordination of further organised violence in the state.
The Nagaland government further imposed a curfew from 3pm to midnight in the city.
Khan, 35, a businessman and native of neighbouring Assam, was arrested on 24 February after being accused of raping a 19-year-old girl multiple times in a hotel.
On Thursday night he was dragged out of his cell in the Dimapur prison, paraded naked and pelted with stones before his dead body was tied to a clock tower.
The crowd also set fire to homes and shops in the area where the suspect ran his business.
A spokesman for Amnesty International said: "Violence against women needs to be tackled with swift and effective responses from the state, not with barbarism by self-appointed vigilantes."
The Chief Minister of Assam, Tarun Gogoi branded that attack "barbarous, heinous and inhuman."
The woman, who cannot be named, said Khan had given her 5000 rupees (£52.90) in return for her silence.
However, Khan's brother Naseerudin, told the Daily Mail that: "The girl told us that if we paid her 2 Lakh rupees (£2000), she would withdraw the case. We are sure that this was just an attempt to get money out of our family because we have done well for ourselves."
The vigilante attack comes at a time when the issue of sexual assault on women has been at the centre of debate in India.
The government recently blocked the broadcast of a documentary about the fatal gang rape of a 23-year-old woman in Delhi and yesterday a 25-year-old man was arrested in Ahmedabad after reportedly abducting, beating and sexually beating a six-year-old girl.
In pictures: India in shock after teenage girls 'gang raped and hanged'

Show all 13
Khan's brother Naseerudin, who also in Dimapur told the Daily Mail: "We were all terrified for our lives; we left the city as the protests started. We fled to our ancestral home in Assam. We thought we were in danger too.
He added: "We can't believe that our brother was a rapist."
Join our new commenting forum
Join thought-provoking conversations, follow other Independent readers and see their replies