Indian people apologise en masse to British woman after man masturbated at her at bus stop
Lucy Hemmings called the response to a blog about her experience 'humbling'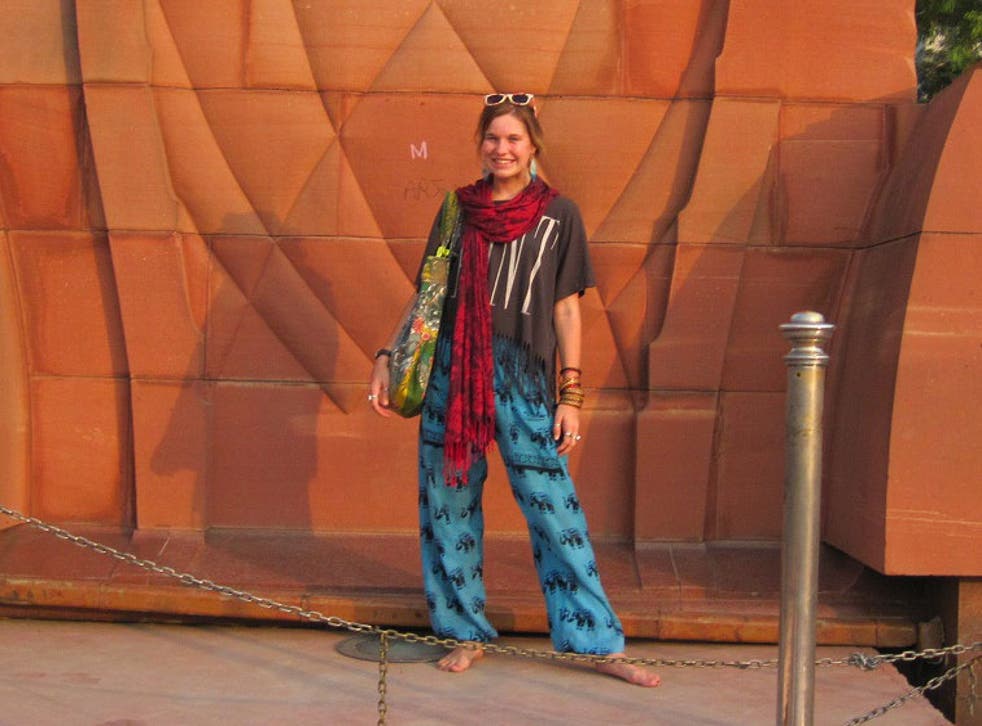 A British woman left shaken after a man publicly masturbated while staring at her in India has been inundated with apologies and support.
Lucy Hemmings, 27, said Indian men and women had sent her countless messages after reading her blog post about the incident to say sorry.
"On behalf of my fellow countrymen I would like to apologise for what happened," one man wrote.
"It is truly disheartening to know that you have had such an experience while you were in my country…I pray that you will have a safer environment from now on."
Another Indian well-wisher wrote that they felt "ashamed and sorry", while another said: "A bunch of people, out of a billion population, make the whole of India ashamed.
"So I just thought to say sorry (on behalf of everyone in India). I know you have moved on...but I still believe a sorry could make a difference."
Ms Hemmings, who was travelling in India for three months and has since returned to the UK, wrote about the experience on her Lucy's Miles Away travel blog in March.
She was sitting at a bus stop in Mumbai when she noticed a man move closer to her.
"From the corner of my eye, to my horror, I realised that he had pulled out his penis and was masturbating, staring intently at me," she wrote. "I felt sick."
Ms Hemmings wrote that although she respected Indian culture by covering herself completely in loose clothes and had followed safety advice about travel and conduct with strangers, it was not the first time something similar had happened.
On a previous visit to India in 2012, she and a female friend spotted another man masturbating while watching them from bushes at an ashram. They laughed at him and moved on.
When it happened to her second time as she waited for a train, she alerted fellow travellers and he disappeared.
But Ms Hemmings said that the latest incident "felt different" and affected her far more, making her nervous walking alone and avoid eye contact with strangers.
She told The Independent: "I found it really frustrating because I'm someone who really loves interacting with people and I really struggled because suddenly I was afraid to look at people.
"I kept on thinking: 'Is it going to happen every time?'
"Of course it doesn't but for about three days I really found it difficult."
After deciding that she would not allow the man and his "tiny penis" to affect her, Ms Hemmings decided to write about the experience and discuss it with others, which she said was "cathartic".
The former Bournemouth University student said she had no idea of the impact her blog would have and hopes it will encourage other women to talk about their experiences of sexual harassment around the world.
"It could easily have provoked a really negative reaction but it's been absolutely wonderful and so humbling that people are writing to me to say they are sorry," she said.
"There are very few countries in the world I can think of where that would happen.
"I would love to think that if this happened to an Indian person visiting the UK we would do the same but I'm not sure."
The ordeal did not dampen Ms Hemmings' love for India, which has been heavily criticised for its record on women's rights and sexual violence since the Delhi bus rape in 2012.
She said she is hoping to visit the country several more times, perhaps visiting some of the people who offered to show her around their home cities after reading the blog.
"I know that it is a tiny minority who behave this way," she added. "Good and bad people most certainly exist in every country, and India has an absolutely astonishing amount of good people."
Join our new commenting forum
Join thought-provoking conversations, follow other Independent readers and see their replies