Indian sisters fight back against sexual harassment by beating alleged attackers with a belt
Viral video shows two sisters fighting back against 'eve teasing' incident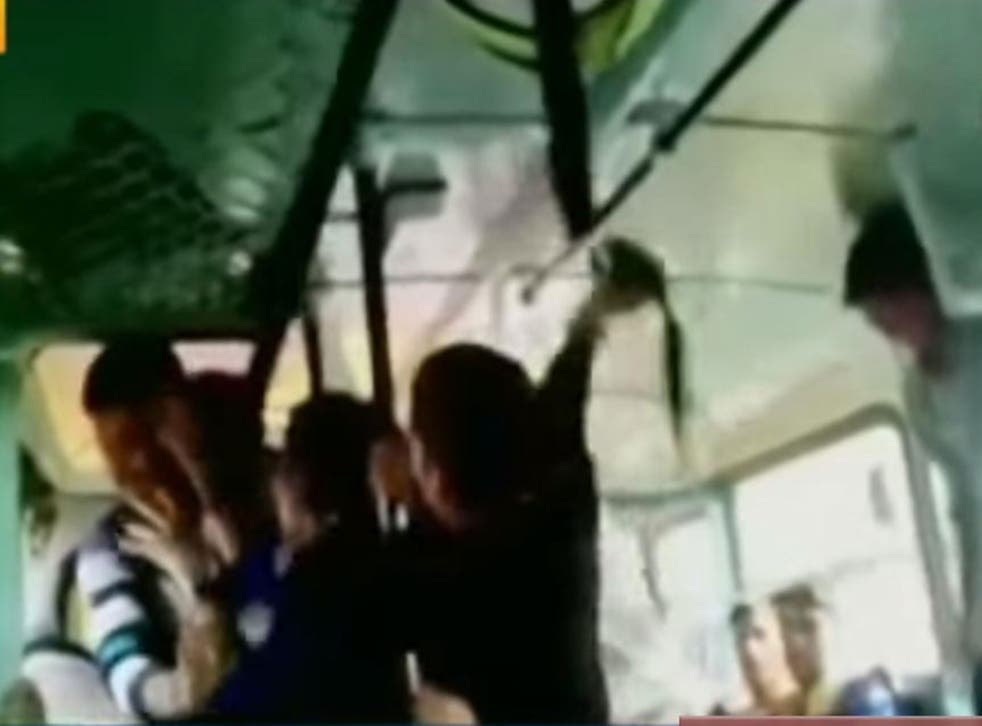 Footage of two sisters hitting a man with a belt after a group of men allegedly sexually harassed them on a bus has gone viral.
A video of the 'eve teasing' incident saw the sisters thrashing the men after they allegedly touched them inappropriately on Friday.
Eve teasing, or public abuse of women - particularly on public transport, is reportedly common in parts of India.
One of the women told BBC Hindi three young men in total "threatened us and abused us" on board a bus in the Rohtak district as they were travelling home.
The two students, aged 22 and 19, said they took on their alleged attackers when no-one else on the bus came forward to help them.
One of the women told the BBC: "After a heated exchange, one of the boys called his friends asking him to beat us up. One of them beat my sister while two others caught hold of me."
The sisters responded by repeatedly beating the men with belts.
They said the bus eventually came to a halt and one of the men pushed them out of it and attacked them again. This time, they retaliated by throwing a brick and the men fled.
A female passenger recorded the incident on her mobile phone.
"We fought the assaulters all alone. No one came forward to help us as the youth hit us and even pushed us out of the moving bus," they were quoted by the Times of India as saying.
"Passengers in the bus stopped us from calling the police. We were thrown out of moving bus and then conductor told us to file police complaint, but by that time they had all escaped."
Both women say they called the police who initially failed to respond to the incident. "The helpline attendant told us that they will call up in two minutes. But we got no call and no help," one of the girls said.
Police say three men were arrested on Sunday evening.
A senior police official said they were considering action against the bus driver for not driving to the nearest police station.
"The driver was supposed to take the bus to the nearest police station. But he did not do so. The conductor also did not intervene. We are considering legal action against them," he told The Hindu newspaper.
A spokesperson for Human Rights Watch told The Independent: "The girls were reacting to lewd gestures and comments. Ever since the 2012 gang rape of a young student in India, there has been increasing dismay over sexual attacks.
"It is unfortunate that these men still felt that they were able to get away with this kind of attack, despite new stronger laws. The law should be properly enforced and the perpetrators prosecuted."
Join our new commenting forum
Join thought-provoking conversations, follow other Independent readers and see their replies