Indonesia's five-year-old child jockeys stare down death to stave off poverty
They hurtle without saddles at 50mph. Some will fall; a few will die. These are the child jockeys of Indonesia – and the youngest of them is aged just five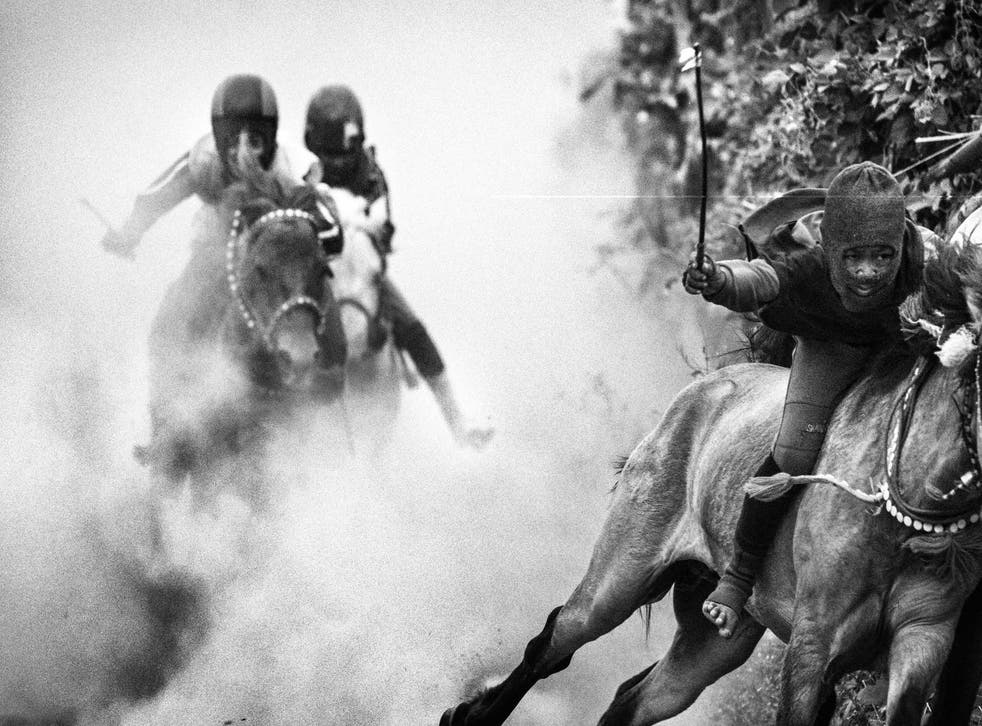 Fahri is seven years old, and when he's not studying at school, he leads a very different existence – working as a jockey, he races horses at up to 50mph on a dusty 1,400m track.
Horse-racing is in the blood on the Indonesian island of Sumbawa, and many families from this rural community pass their knowledge down from generation to generation. Riding since he was five, Fahri is one of 25 to 30 young boys who race 10 times a season across several tracks.
Although it is illegal for children under the age of 15 to work in Indonesia, Fahri comes from a long line of child jockeys, whose families' meagre livelihoods have long been supplemented by their youngest members' racing careers.
"The races have been held for as long as anyone can remember," says the Indonesian photographer Romi Perbawa, who began documenting the phenomenon when visiting a friend on the island, in 2010. His series, "Stormy Riders", charts the young riders' frenetic, often perilous existence.
"They still play like other children," says Perbawa – but the tradition is taken so seriously that these youngsters have their schooling interrupted for practice three times a week; and for 100 days a year, they skip school to train during the racing calendar, which begins at the end of the rice-harvesting season, around April.
While the children are paid a fee of $2 to $5 per race – not insignificant given 28 million Indonesians lived on incomes of less than $1 a day in 2012 – the real money changes hands around the track, flouting the Islamic country's ban on gambling.
Indonesia's child jockeys

Show all 13
Perbawa says it is "exhilarating" to watch a race, and that the winners are treated as heroes. But beyond the excitement lies a darker side: quite apart from the poverty that has led them to this employment, it is a sport that is highly dangerous: the riders lack standard equipment such as a saddle or even harnesses, and injuries are a regularity; there are even, on occasion, deaths. A jockey will fall from his mount in almost every race, claims Perbawa. "Two jockeys who I knew died from falling off while I was visiting." Yet, he believes, "The children do not know it's dangerous; it's like play time for them."
Although this long-standing tradition is exploitative, such is the history of the practice that both local government and parents appear blithe to the dangers posed. "They can't just ban the races, as they are such an important culture in this society," says Perbawa. "But maybe they could change the rules of the game, starting with better safety equipment."
Not that the children have time to worry about such things: being a jockey in Sumbawa is a short career. The horses reared here are small – often standing just 4ft high – so the jockey's weight is important: although the wounds on his face from his last race fall, two years ago, are still visible, at 11 years old, Fahri's older brother Saldy is now too heavy to compete, and he recently retired.
After retirement, many young jockeys continue to work on family smallholdings, and Saldy, who has since graduated elementary school, will shortly begin working with horses. But for Perbawa, this does not mark the end of his project. "I want to witness what will become of them as adults, so I will continue this project, until one day all the young jockeys that I have documented have grown up."
Join our new commenting forum
Join thought-provoking conversations, follow other Independent readers and see their replies