Isis Bangladesh attack 'mastermind' identified as former student from Canada killed in police raid
Tamim Chowdhury appeared in Isis propaganda under the name Abu Ibrahim al-Hanif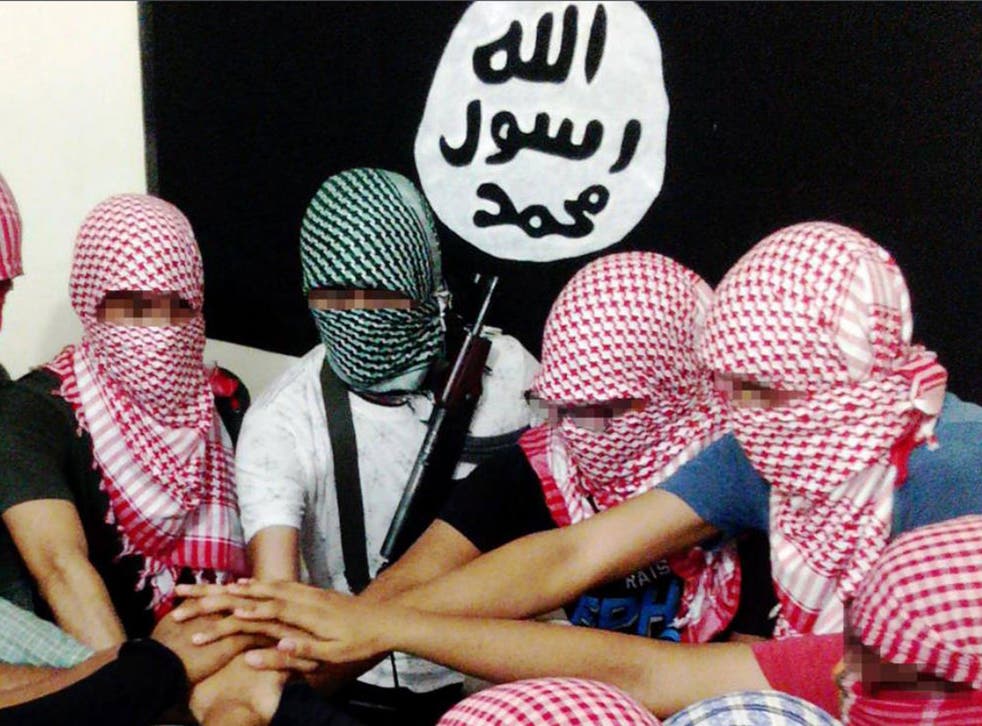 The suspected mastermind of an Isis attack that killed more than 20 people at a café in Bangladesh has been shot dead by police.
Tamim Chowdhury, a Bangladeshi-Canadian militant, died in a gun battle after security forces raided a building near Dhaka on Saturday.
AKM Shahidul Hoque, head of the national police, said he was killed alongside two unidentified men in Narayanganj.
Officers raided the house acting on a tip that it was hideout used by Chowdhury and other militants, he said.
The suspects opened fire at police, who retaliated and shot the men dead after they failed to surrender.
Bangladeshi authorities previously named Chowdhury as the mastermind of café attack and a bombing and shooting massacre that targeted people gathering for Eid prayers six days later.
Police identified him as the head of Jamaat-ul-Mujahideen Bangladesh, an Islamist militant group, but Chowdhury has appeared in Isis propaganda as the leader of the terrorist group's faction in the country.
The so-called Islamic State claimed responsibility for the Dhaka café attack following a series of machete attacks and assassinations, but the government has denied the group has a presence in the country and blamed the atrocity on local organisations.
Five militants armed with guns and knives stormed into the Holey Artisan Bakery and took diners hostage on 1 July, forcing them to recite parts of the Quran to be spared and killing anyone who could not.
Nine Italians, seven Japanese people including a pregnant woman, an Indian teenager, American student and several Bangladeshis were murdered in the 10-hour siege.
Police admitted mistakenly shooting the pizza chef dead as they stormed the building, initially saying six attackers had been killed but later revising the number to five.
Isis published photos of the gunmen through its propaganda agencies, showing them dressed in black with Arab-style headscarves, smiling with assault rifles in front of the group's black flag.
The group has been prominently advertising its expansion into Bangladesh, featuring an interview believed to be with Chowdhury in the April edition of its English language magazine.
In pictures: Bangladesh attacks

Show all 10
Hailed as the "emir" of the faction under the war name Shaykh Abu Ibrahim al-Hanif, Chowdhury vowed to target Shia and Ahmadi Muslims, "crusaders", Hindus and missionaries.
"We let our actions do the talking," he was quoted as saying. "Our soldiers are presently sharpening their knives to slaughter the atheists, the mockers of the Prophet and every other apostate in the region."
Criticising the Jamaat-e-Islami group blamed for previous terror attacks, Chowdhury made no mention of Jamaat-ul-Mujahideen Bangladesh.
Isis is believed to have drawn much of its local membership from the group, which has been praised in propaganda but made no known pledge of allegiance.
Chowdhury, believed to be around 30 years old, was born in Bangladesh but grew up in Canada.
Bangladesh attack raises security questions
He lived in Ontario with his family and completed a chemistry degree at the University of Windsor but left Canada in 2013 in a suspected attempt to travel to Syria.
Several suspects have been arrested in connection with the café attack, including a British-Bangladeshi man who has been imprisoned without charge for almost two months.
Hasnat Karim's family say militants forced the father-of-two to act as a human shield during the siege of the Holey Artisan Bakery, where he had been celebrating his daughter's 13th birthday.
But Bangladeshi authorities suspect him of colluding with jihadists and refused to release him, despite accusations of "arbitrary detention" and human rights violations by lawyers.
No charges have been brought in a series of court appearances and a judge refused another bail application on Wednesday, leaving the 47-year-old detained without access to a lawyer or visitation rights for his family.
"Hasnat is a loving and devoted father and husband and we will continue to cooperate with the authorities to secure his release," a statement from Mr Karim's relatives said.
Join our new commenting forum
Join thought-provoking conversations, follow other Independent readers and see their replies