Isis supporters hack elderly Hindu priest to death in Bangladesh
It was the latest machete attack on religious minorities and secularists in the country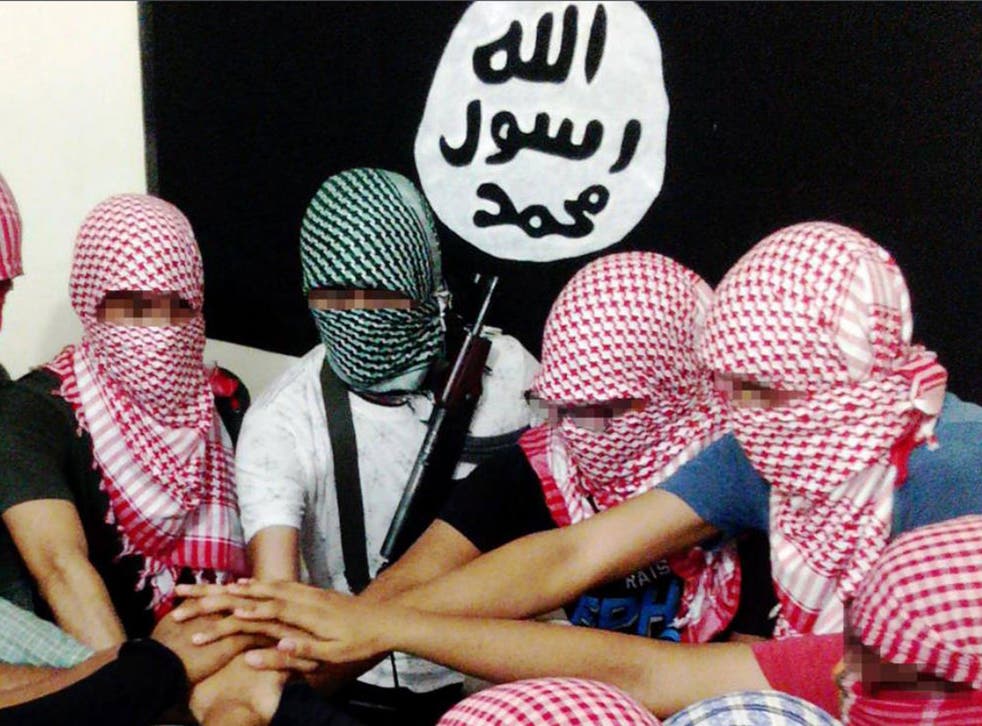 Isis has claimed responsibility for hacking an elderly Hindu priest to death in Bangladesh in the latest horrific machete attack in the country.
Three motorbike-riding militants attacked Ananta Gopal Ganguly as he made his way to his temple in Karatipara, Jhenaidah district, on Tuesday morning.
Hasan Hafizur Rahman, a local police officer, told Reuters they slit the 70-year-old's throat and mutilated his body.
"They almost beheaded him before they fled the scene," he added.
The government had banned more than one person riding pillion on a motorcycle the previous day, after the wife of a prominent anti-terror security official was shot dead by three suspected militants.
Isis claimed responsibility for killing Mr Ganguly in a propaganda statement saying "Islamic State fighters" had assassinated a Hindu priest.
The statement gave no reason for the murder but it follows a series of similar attacks on Hindus, Christians and people accused of promoting secularism in Bangladesh.
Isis announced its presence in the country late last year and analysts believe they are recruiting from pre-existing Islamist extremist groups who have been carrying out such attacks since 2013.
Bangladeshi authorities have repeatedly denied the group's existence in the country and Mr Rahman dismissed the claim as "baseless".
But it has been increasingly advertising its alleged expansion into the country through official propaganda channels, featuring two large features on the subject in the most recent issue of its English language magazine.
Two gay-rights activists hacked to death in Bangladesh
Calling the faction its "Bengal" province, it hailed the recent killing of Hindu businessmen and priests, as well as a Shia preacher that Isis claimed militants murdered in Jhenaidah from their nearby "base".
A militant named as the "emir" of the faction, Shaykh Abu Ibrahim al-Hanif, vowed to target Shia and Ahmadi Muslims, "crusaders", Hindus and missionaries.
Criticising the Jamaat-e-Islami group blamed for previous attacks, he claimed Hindus were responsible for "anti-Islamic propaganda" in Bangladesh, as well as spreading fahishah (adultery or sin) among Muslims.
In April, a Hindu tailor was hacked to death by militants inside his shop in another attack claimed by Isis.
A 60-year-old Christian grocer was also hacked to death after prayers on Sunday, while in April a liberal professor was killed in Rajshahi in April.
Since February last year, militants have killed more than 30 people in Bangladesh, including members of religious minorities, liberal bloggers and academics.
Timeline: The emergence of Isis

Show all 40
Isis and an al-Qaeda offshoot – al-Qaeda in the Indian Peninsula - have claimed responsibility for most of the killings but few attackers have been caught.
Last month, junior foreign minister Shahriar Alam said the so-called Islamic State was trying to ride a wave of religious radicalisation by falsely claiming killings, and said there was evidence implicating domestic militant groups.
The government has launched a crackdown on organisations wanting to impose strict Islamic law in Bangladesh, with at least eight suspects killed in shootouts since November, including three on Tuesday.
It has blamed the growing violence on its political opponents linked to Islamist parties, which it says are aiming to create chaos and prevent war crimes trials from going ahead.
Tension has risen since Prime Minister Sheikh Hasina ordered Islamist leaders suspected of atrocities during the 1971 war of independence from Pakistan to be put on trial.
Her rivals accuse her of settling political scores by hunting down members of the Jamaat-e-Islami, an ally of the main opposition group headed by former Prime Minister Khaleda Zia – a claim denied in Dhaka.
Hindus and Christians make up about 10 percent of Bangladesh's 160 million residents.
Join our new commenting forum
Join thought-provoking conversations, follow other Independent readers and see their replies