Jakarta attacks: Timeline of Indonesia's worst terror atrocities
Attacks in Indonesia have often targetted Western tourists or businesses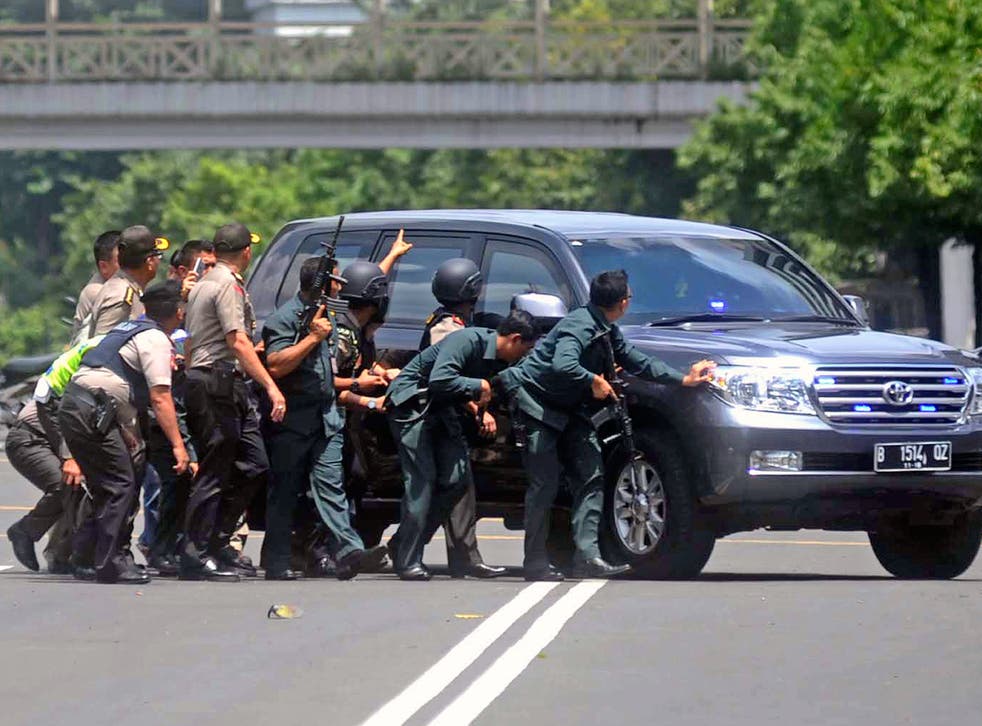 Indonesia is home to Asia's deadliest attack by Islamic extremists: the 2002 Bali bombings that killed more than 200 people. There have been many attacks since then, though all resulted in substantially less loss of life.
They have often targeted Western tourists or businesses, as the bombings on 14 January in Jakarta did.
A look at some of Indonesia's most serious extremist attacks in this century:
* 13 September, 2000: A car bomb explodes inside the garage of the Jakarta Stock Exchange building, killing 10 people and injuring 16. Police blame Acehnese separatists, who deny involvement.
* 24 December, 2000: Bombs explode at 11 churches across the country on Christmas Eve, killing 19 people and injuring around 100. The al-Qaida-linked, Southeast Asian militant group Jemaah Islamiyah is blamed.
* 12 October, 2002: An Islamic militant sets off a bomb attached to his vest after walking into a busy nightclub on the resort island of Bali. Many of the revelers who fled are killed by a larger car bomb that explodes minutes later outside another nightclub nearby. The attacks killed 202 people, mostly foreign tourists, including 88 Australians and seven Americans. Authorities blame Jemaah Islamiyah.
* 5 December, 2002: Three people are killed and 15 wounded in the bombing of a McDonald's restaurant in the city of Makassar on Sulawesi island.
* 5 August, 2003: A car bomb in front of the J.W. Marriott Hotel in Jakarta kills 12 people and wounds 150. Fifteen alleged members of Jemaah Islamiyah were convicted for the blast.
* 31 December, 2003: A bomb tears through a crowded New Year's concert in Indonesia's Aceh province, killing 10 people, including three children. Authorities blame separatist guerrillas, who denied involvement.
* 10 January, 2004: Four people are killed by a bomb in a karaoke cafe in Palopo on central Sulawesi island.
* 9 September, 2004: A bomb explodes close to the Australian Embassy in Jakarta. At least three people are killed and about 100 wounded.
* 1 October, 2005: Suicide bombers strike Bali again in near-simultaneous attacks, this time at two seafood cafes in Jimbaran Bay and a third restaurant in the popular tourist district of Kuta. The attacks killed 23 people, including the three bombers.
* 31 December, 2005: A bomb explodes at a market popular with Christians in Palu, on Sulawesi island, killing seven people.
* 7July, 2009: Suicide bombers walk into the lounges of the Ritz-Carlton and J.W. Marriott hotels in Jakarta and blow themselves up, killing seven people and wounding more than 50.
* 14 January, 2016: Attackers set off bombs at a Starbucks cafe in central Jakarta and engage police in gunbattles. Police say five attackers and two civilians were killed.
AP
Join our new commenting forum
Join thought-provoking conversations, follow other Independent readers and see their replies