Japan election: Shinzo Abe calls snap vote and dissolves lower house of parliament
Liberal Democratic Party leader looks to take advantage of improved approval ratings amid North Korea tensions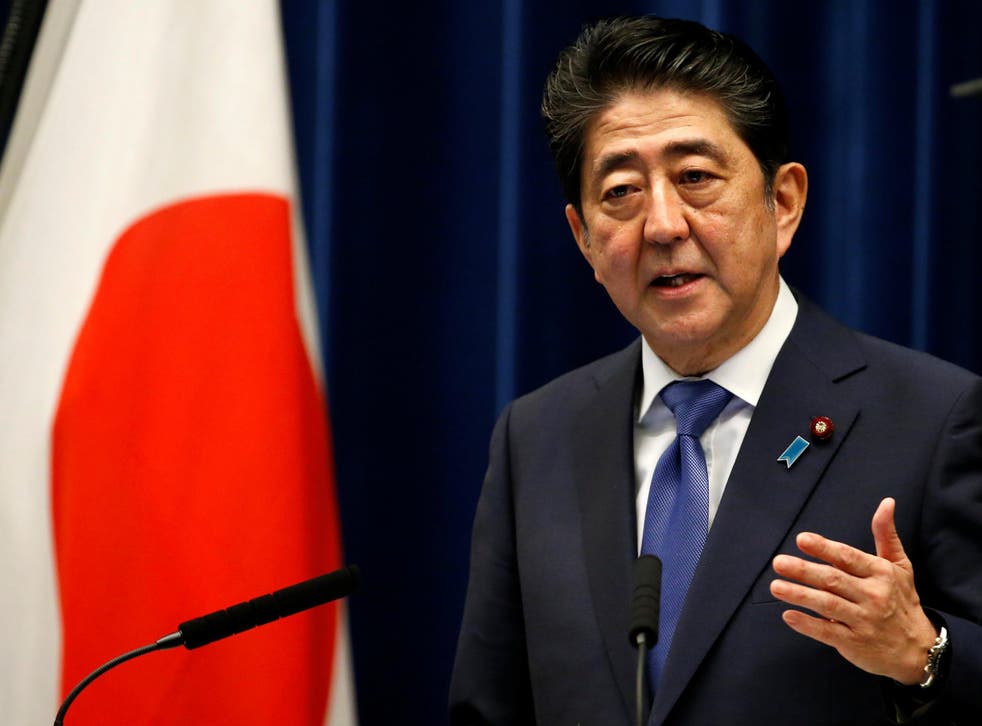 Japanese Prime Minister Shinzo Abe has announced he will dissolve the country's lower house of parliament and call national elections next month.
Mr Abe, who has held for power for five years, is thought to be looking to capitalise on improved ratings and opposition disarray.
The more powerful house in Japan's two-chamber parliament will be dissolved on Thursday when it convenes after a three-month summer recess, he announced.
The snap election will be held on 22 October.
Mr Abe said he needed a fresh mandate to proceed with plans to use tax hikes to increase social spending and take a tough stance towards North Korea's nuclear weapons programme and missile tests.
But the decision to call an election has largely been seen as an attempt to take advantage of his improved popularity.
The announcement came after his approval rating rebounded to 50 per cent from a record low of 30 per cent in July.
His image as a strong leader is thought to have bolstered support amid rising tensions over North Korea, overshadowing allegations of cronyism that had eroded his popularity.
Pyongyang has fired two intercontinental ballistic missiles over Japan and tested a hydrogen bomb in the past month.
Mr Abe said the election would not distract his government from responding to North Korean threats, pledging to increase pressure if Pyongyang failed to halt its missile and nuclear weapons development.
Opposition MPs said the election, called a year early, was unnecessary.
Some pundits described the election as a gamble, pointing to surprise results in other countries.
"Abe's big gamble could yield a big surprise," said independent political analysts Minoru Morita.
The popular governor of Tokyo has announced she will launch a new political party to challenge Mr Abe's ruling Liberal Democratic Party (LDP) in the elections.
Yuriko Koike said she the Hope Party would stand candidates in some of the 475 seats in the lower house.
Ms Koike's regional Tokyoites First no Kai group won a landslide victory in the city assembly election in July, dealing a major blow to Mr Abe's scandal-plagued ruling party.
Videos capture moment Japan alert siren goes off following North Korea's missile launch
Support for Mr Abe's party has since rebounded, helped by his cabinet reshuffle last month and fading scandals during the parliament's recess.
He is expected to put education and childcare spending pledges, staying tough on North Korea, and revising the constitution at the forefront of his election campaign.
He used the news conference to announce a 2 trillion yen (£13.2bn) package of education, debt reduction and social spending.
Mr Abe's popularity slumped in the summer as he faced questions over one his close friend receiving government backing to open Japan's first new veterinary college in decades.
He denied having personal involvement in the project.
A weekend survey by the Nikkei business daily survey showed 44 per cent of voters planned to vote for Mr Abe's Liberal Democratic Party (LDP) ahead of 8 per cent each for main opposition the Democratic Party and Ms Koike's new party.
Register for free to continue reading
Registration is a free and easy way to support our truly independent journalism
By registering, you will also enjoy limited access to Premium articles, exclusive newsletters, commenting, and virtual events with our leading journalists
Already have an account? sign in
Register for free to continue reading
Registration is a free and easy way to support our truly independent journalism
By registering, you will also enjoy limited access to Premium articles, exclusive newsletters, commenting, and virtual events with our leading journalists
Already have an account? sign in
Join our new commenting forum
Join thought-provoking conversations, follow other Independent readers and see their replies