Japanese minister Taro Aso refuses to stand down over praise for Nazi militarisation tactics
Aso said Japan could learn from the way the Nazi party stealthily changed Germany's constitution without anyone realising
Adam Withnall
Friday 02 August 2013 16:49 Comments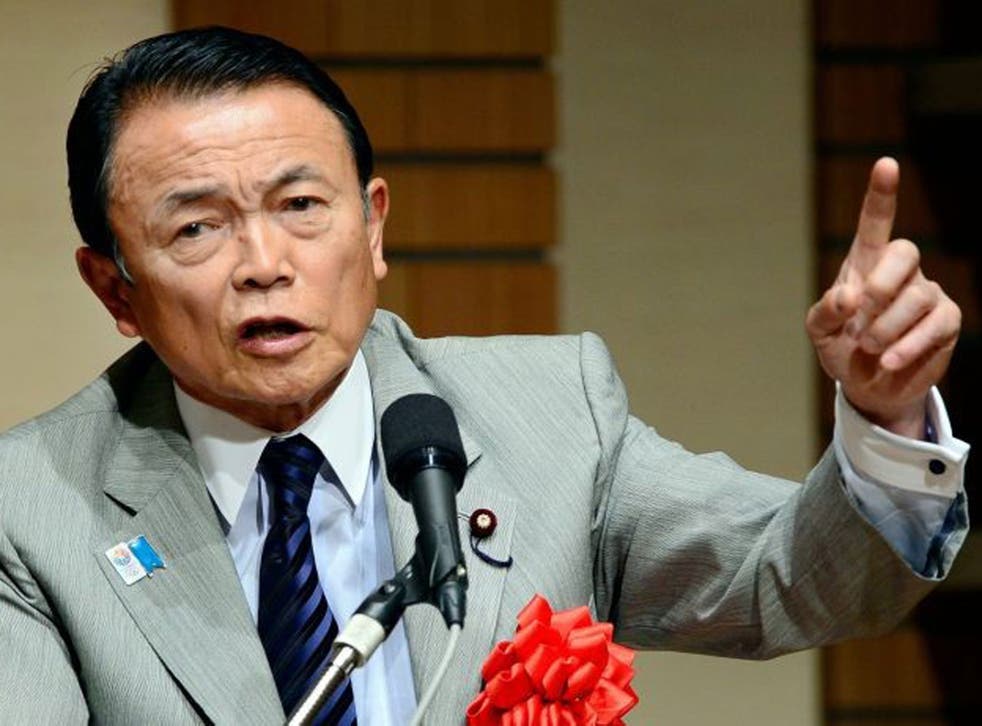 The Japanese deputy prime minister Taro Aso has refused to resign or even apologise for comments suggesting Japan follow the example of the Nazis in how to build up more powerful armed forces without causing public outcry.
The outspoken politician, who is also the country's finance minister, made the remarks in a speech at an ultra-conservative conference in Tokyo earlier this week.
In retracting his comments, he said it was "very unfortunate and regrettable" that they were misinterpreted.
The government said the matter should end there, and Mr Aso said: "I have no intention to step down."
According to a transcript of the speech published by the newspaper Asahi Shimbun, Aso decried the lack of support for revising Japan's pacifist constitution, wrought after the company occupied large parts of Asia before and during the Second World War.
"I don't want to see this done in the midst of an uproar," Mr Aso said, according to the transcript. Since revisions of the constitution may raise protests, "doing it quietly, just as in one day the Weimar constitution changed to the Nazi constitution, without anyone realizing it, why don't we learn from that sort of tactic?"
Opposition leaders and representatives from other Asian nations condemned the remarks, and many demanded Mr Aso resign.
The comments "sounded like praise for Nazi actions and are totally incomprehensible," said Akihiro Ohata, secretary general of the Democratic Party.
In South Korea, foreign ministry spokesman Cho Tai-young said Aso's remark "will obviously hurt many people".
And a spokesman for China's foreign ministry said the comments showed that "Japan's neighbours in Asia, and the international community, have to heighten their vigilance over the direction of Japan's development."
Mr Aso reportedly also encouraged people to visit the controversial Yasukuni Shrine in secret to avoid diplomatic flare-ups. The shrine commemorates Japan's 2.3 million war dead, including 14 wartime leaders convicted of war crimes.
Register for free to continue reading
Registration is a free and easy way to support our truly independent journalism
By registering, you will also enjoy limited access to Premium articles, exclusive newsletters, commenting, and virtual events with our leading journalists
Already have an account? sign in
Join our new commenting forum
Join thought-provoking conversations, follow other Independent readers and see their replies