India brands Pakistan a 'terrorist state' after 17 soldiers killed in Kashmir attack
Four rebels were also killed in the assault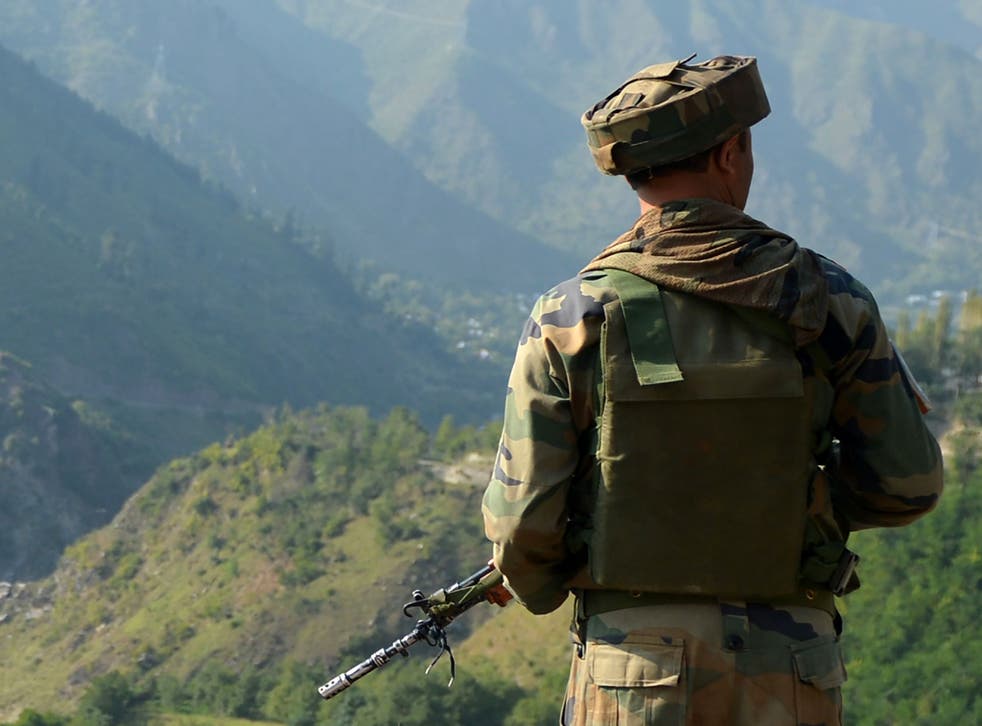 India stepped up patrols along its de facto border with Pakistan on Monday after gunmen killed 17 soldiers at a nearby army base, as Prime Minister Narendra Modi's administration weighed its response to an attack India blames on its neighbour.
The assault, in which four commando-style gunmen burst into the brigade headquarters in Uri at 5.30am on Sunday, was among the deadliest in Kashmir and has sharply ratcheted up tension between the nuclear-armed rivals.
Indian Home Minister Rajnath Singh called Pakistan "a terrorist state" and Lieutenant General Ranbir Singh said troops were "ready to give a befitting response", without elaborating.
Loud explosions were heard and several barracks caught fire in the initial hours of the attack. Afterwards, military helicopters hovered over the base as the army conducted what it described as "mopping up" operations.
Officials said at least 30 soldiers were wounded in the attack, including about a dozen who were in a critical condition.
The casualties were high because a large number of soldiers were turning over the base to new units and were stationed in tents and temporary shelters that caught fire in the attack, the army said in a statement.
The base, in the town of Uri, west of the region's main city of Srinagar, houses the Indian army's regional brigade headquarters along the de facto border separating Indian and Pakistan-controlled Kashmir.
Soldiers were conducting searches in the area, but army officials said it appeared that they had killed all four rebels involved in the attack.
Army officials said the rebels had infiltrated into the Indian side of Kashmir from the Pakistan-controlled part.
Lt Gen Ranbir Singh, the army's director general of military operations, said all four gunmen killed were "foreign terrorists" and that initial investigations suggested they belonged to Jaish-e-Mohammed, a militant group that has been active inKashmir for more than 15 years.
India blames the outlawed group, which is based in Pakistan, for a series of attacks in the Himalayan region and Indian cities, including the attack on India's parliament in 2001 that brought nuclear rivals India and Pakistan to the brink of war.
World news in pictures

Show all 50
Lt Gen Singh said the gunmen were carrying "some items that had Pakistani markings". He said he had spoken to his Pakistani counterpart and conveyed India's "serious concerns".
Indian prime minister Narendra Modi condemned the attack and tweeted: "I assure the nation that those behind this despicable attack will not go unpunished."
Pakistan's army said in a statement that the allegations were "unfounded and premature", reiterating Islamabad's stance that no infiltration is allowed from Pakistani soil.
Kashmir is divided between India and Pakistan, but is claimed by both in its entirety.
Reporting by AP
Join our new commenting forum
Join thought-provoking conversations, follow other Independent readers and see their replies